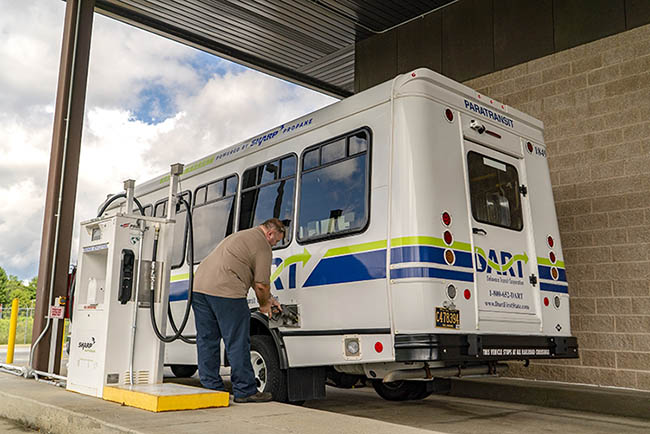 PERC is providing propane marketers an opportunity to hear directly from fleet owners about why they chose to transition to propane autogas.
On Wednesday, May 24, beginning at 2 p.m. EST, PERC will host a new webinar, "Learn How to Grow Your Gallons with Propane Autogas Fleet Vehicles," as part of its "Propane Presents Technology Series."
Attendees will learn how to take advantage of the fastest growing transportation sectors for propane autogas: student transportation, paratransit, food and beverage, and delivery fleets. During the live webinar, PERC's Steve Whaley, director of autogas business development, will be joined by the following experts: Lisa McAbee, owner of McAbee Trucking in South Carolina; Diana Mikelski, director of transportation at Township High School District 211 in Palatine, Illinois; and Greg Powell, director of transportation at Cherokee Area Transportation Systems in Georgia.
These fleets owners will discuss how and why they made the switch to propane autogas and how that change has furthered their goals of environmental sustainability without risking financial stability.
"Propane autogas's popularity has extended into nearly every community with more than 60,000 vehicles on the road in the United States — and it's continuing to rapidly grow every day. Because propane autogas provides fleets with the lowest total cost-of-ownership and unmatched reliability, more fleet owners are making the transition," said Whaley. "Marketers that attend this webinar will walk away knowing how to approach these market segments from a buyer's perspective to start growing their own autogas sales."
PERC's "Propane Presents Technology Series" focuses on new and emerging propane technologies, education, and best practices to approach the ideal customer. Hosted and facilitated by PERC, in partnership with various OEMs, the series aims to showcase various propane products across multiple markets, answer questions directly from the industry and end-users, and provide relevant resources and training information.
Click here to register for the webinar.