We're glad to have you here! In an effort to make your user experience as simple as possible, we've provided troubleshooting tips and answers to a few common subscriber questions regarding BPN Pricing & Supply below. 
General FAQ & Troubleshooting 
The newsletter is no longer an email with a PDF attachment, but a link that you click to download the PDF.
The subject line should read: BPN Pricing & Supply Newsletter 
New Email & IP Address
The email is now sent from a new email and IP address. To ensure you continue to receive our newsletter, please add BPNPricing@news.cahaba-media.com to your contact list (and/or your company's safe sender's list).
If you receive your newsletter at a corporate email address, you may have to ask your IT department to whitelist the IP address below:
New Email Address: BPNPricing@news.cahaba-media.com
New IP Address: 205.162.46.14
Please check the following locations: Promotions, SPAM, Clutter, Inbox, Focused, Other, Junk, McAfee Anti-Spam or possibly even Infected Items, and drag newsletters into your Focused/Primary tab. This will be a major help to whitelist the new domain so it goes directly to your inbox. 
The following is an example of what the new email looks like: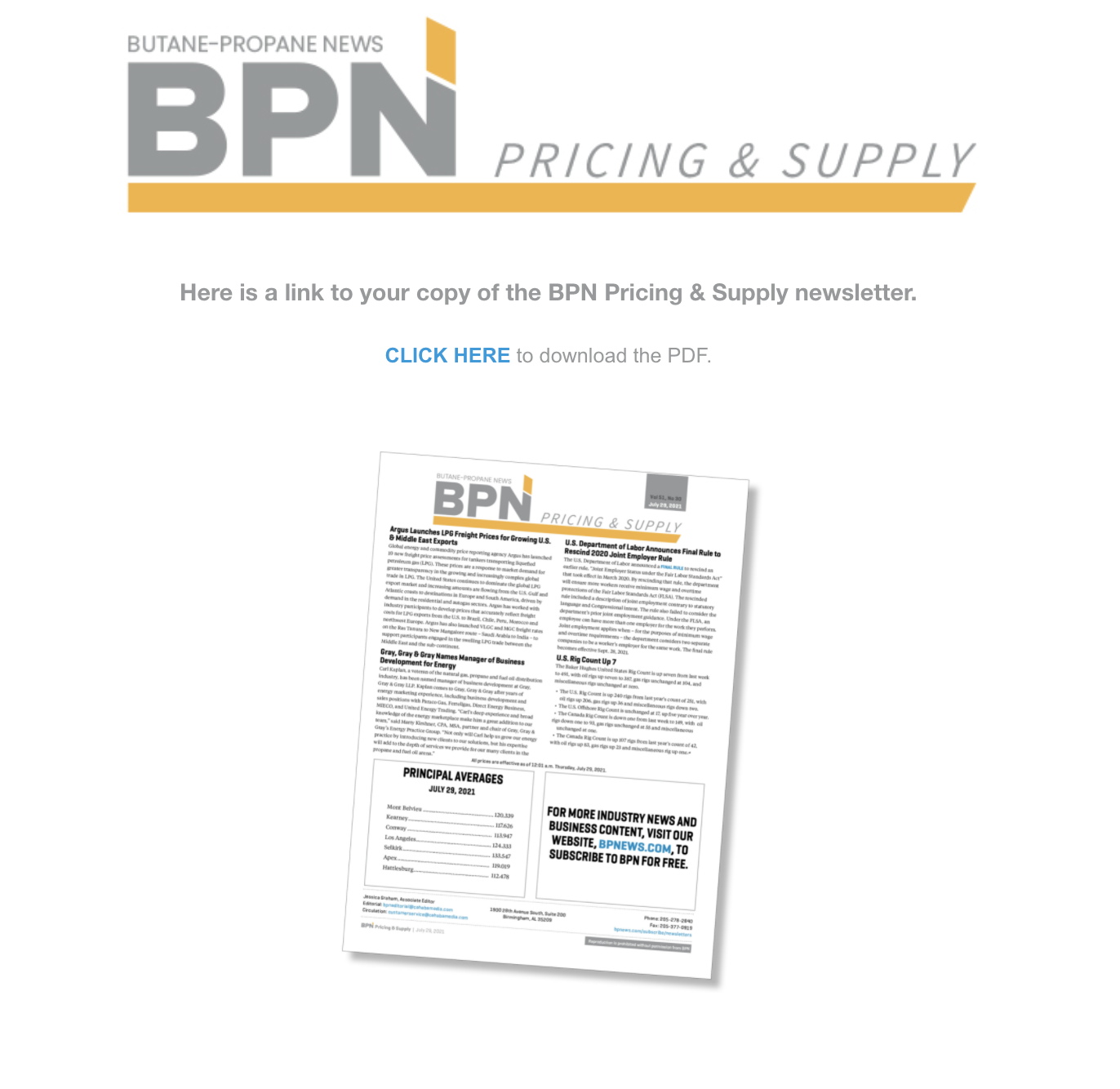 Payments
Payments for your subscription can be made via check or credit card. Subscribers will be given 30-day notice of the subscription's end date before it is canceled. You will miss issues of the newsletter if payment is not received.
We must remind you that under the copyright law, receiving an electronic subscription to BPN Pricing & Supply does not give you any different rights from those available with a print subscription. You cannot make copies from the PDF download/electronic version or redistribute.
Your annual subscription to BPN Pricing & Supply permits you to print one copy of the PDF/electronic version of the publication for your use.
You may not download to or make the electronic subscription available on a network (without obtaining a network site license for all users), because that would give individual copies to all network users. Similarly, you may not forward via e-mail the electronic version of the newsletter to anyone else (including anyone within your company).
You cannot make copies from the PDF download or redistribute to anyone.
There are no refunds. We make every effort to provide the pricing information but cannot guarantee a particular location's continued participation.
To subscribe to BPN Pricing & Supply, please click here. 
Archived Issues
We suggest that you keep back issues of the newsletter if you will need them at a later date. The BPN team does keep archived issues of BPN Pricing & Supply, but we charge $30.00 per single copy of issue needed.
Email bpnews@omeda.com to request archived copies of BPN Pricing & Supply. 
Missing Issues
We understand that on occasion that email doesn't make it to the inbox. Should you not receive your newsletter, please report the missing issue within 30 days or we will charge a back-issue replacement fee of $30.00.
Email bpnews@omeda.com to request missing issues. 
---
If you are still having trouble receiving or accessing the BPN Pricing & Supply newsletter, please email our customer service team at bpnews@omeda.com.
Have company news you would like to submit for consideration by our editorial team? Please email bpneditorial@cahabamedia.com.