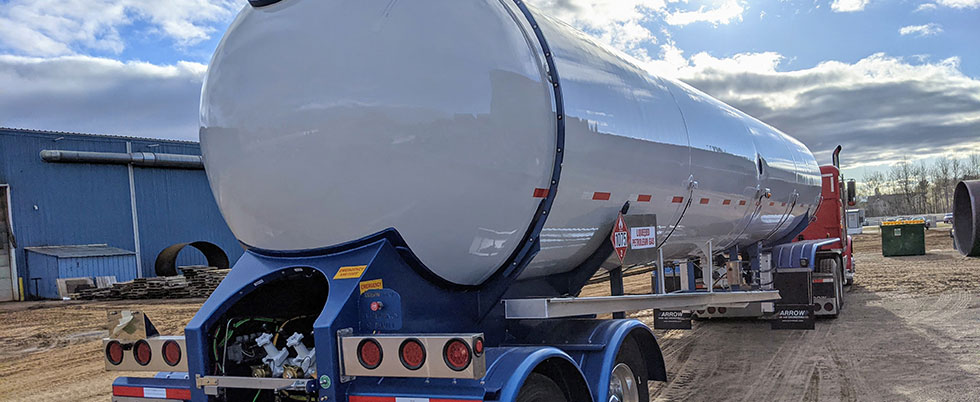 Industry manufacturer details market demand & what OEMs are watching leading into winter
Monday, September 13, 2021
Arrow Tank and Engineering started building propane transports nearly 60 years ago, and so much has changed since the company's first trailer rolled out of the shop then located in Edina, Minnesota. One thing that has remained the same is the customer's desire for a quality product.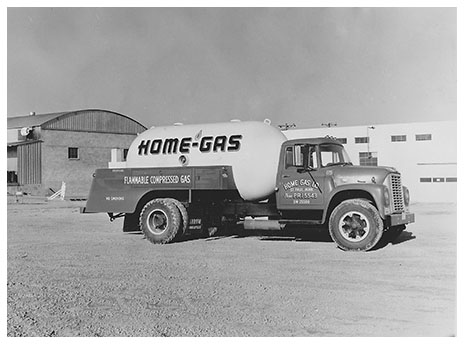 It's important that all manufacturers listen closely and place themselves in the customers' shoes when designing transport trailers. The message is quite simple: Customers demand the highest-quality product that is safe and built to stand the test of time.
An important safety component when designing transport trailers is rollover stability control (RSC). We now live in a fast-paced world, and everyone is in a hurry to get somewhere amongst increasing distractions throughout the day. Unfortunately, roads are becoming more populated with this type of distracted driver, and learning how to share the pavement is a necessity.
RSC aides the operator who might be driving at an unsafe speed while making a quick, unplanned maneuver. The system utilizes the sensors to prevent a rollover by decelerating the vehicle using braking and engine management controls. This added safety measure may also result in reduced insurance costs.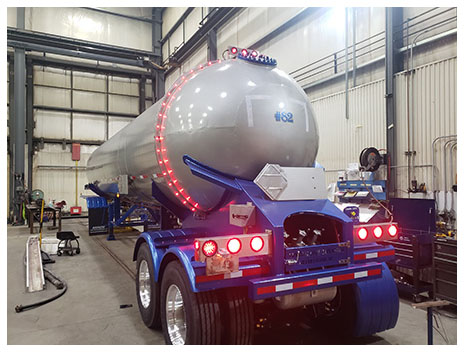 Without a doubt, lighting is important for increased safety on the road, but it also plays a role in driver retention. Whether it's in a bobtail or driving a transport trailer, the team at Arrow has never heard, "The lights on the truck or trailer are too bright!"
And while lights are an important safety function, there is also an increasing trend to increase the "wow factor" when it comes to lighting on the trailer. Most Arrow trailers go out the door with a ring of fire on the rear head-to-shell weld seam, additional mid-ship markers lights, and ultra-bright work lights in the cage and connection area. This lighting package will certainly grab your attention when going down the road at night.
Most fleet managers will tell you that one of the biggest expenses that hits their bottom line is tires. Tire prices have increased exponentially and even more so with the recent supply chain issues we are experiencing. Eliminating the human factor of tire inflation management is a great way to fight this budget killer.
A tire inflation system ensures tires are inflated at the proper levels to maximize tire life by 10% and, according to a Federal Motor Carriers Safety Association (FMCSA) study, aids to increase fuel economy by an average of 1.4%. More importantly, properly inflated tires result in fewer roadside breakdowns, lost time and other miscellaneous costs associated with unexpected repairs.
When it comes to the longevity of the trailer, our customers are choosing to use stainless steel extensively. Stainless steel is heavier than aluminum, so it is a delicate balancing act. Aluminum simply does not compare to stainless steel when building frames and subframes. Stainless steel has a chromium component, giving it a protective film and excellent corrosion resistance when compared to aluminum.
Stainless steel is also nonporous, which gives it an extra level of corrosion resistance. As we all know, road salts and liquid chloride applied to the road during winter months is very hard on vehicles. De-icers are used to help keep our roadways safe; but on the flipside, they are extremely corrosive chemicals that seek to infiltrate areas that lack oxygen.
Stainless steel materials are the best approach to trailer construction whenever and wherever possible when operating in harsh climates. Operators near the ocean air can also realize the benefits of stainless-steel construction.
The use of rock guard is another way to protect the trailer from the harshness of the road conditions. Rock chips that remove paint over mid-steel components become blisters in a matter of time and, if not treated, will spread like a disease, ending the trailer's life prematurely. While rock guard offers some protection, it is not impervious to chipping from road debris.
As mentioned, chloride drivers will naturally mitigate their way into the area, potentially creating additional damage if bare metal is exposed.
Depending upon the materials of construction selected for your trailer, rock guard might be a benefit or may not necessarily be desired. Rock guard is an option manufacturers offer to customers, but it's often up to the customer to weigh the pros and cons and decide if the investment is right for the company's operation.
When it comes to trailer suspension systems, Arrow customers have been satisfied with Hendrickson Intraax AAT fully integrated top mount suspension/axle/brake systems. The standard configuration is made up of air ride springs, zero-maintenance dampening (ZMD), with large diameter axles (LDA) and disc brakes.
Air ride really speaks for itself when it comes to the improved ride and reduced fatigue on the attached components. Replacement of an air spring versus a leaf spring stack is a major benefit when comparing down time and cost. LDAs reduce weight and increase stiffness, thereby reducing deflection, resulting in better durability and roll stability.
The ZMD technology is preferred by fleet managers and drivers. When it comes to driver comfort, their shockless air suspension system makes for a smooth ride. Naturally, fleet owners and maintenance managers are pleased anytime a manufacturer can eliminate a maintenance item.
Air disc brakes are one of those components that, when purchased once, the owner will continue with the trend throughout the fleet. And who can argue? Air disc brake systems feature fewer moving parts and provide greater stopping power while having a longer life that is less costly to maintain.
The overall feedback of these axles/suspension configurations is positive. Driver comfort is certainly a strong consideration when making the upgrade to an air ride system, and it's money well-spent. This is especially important when drivers are spending more time in the trucks during peak demand crunches.
It's important for manufacturers to keep a finger on the pulse of supply and demand trends, too. What does that matter to equipment builders? Supply and demand plays significantly into the day-to-day decisions being made by customers.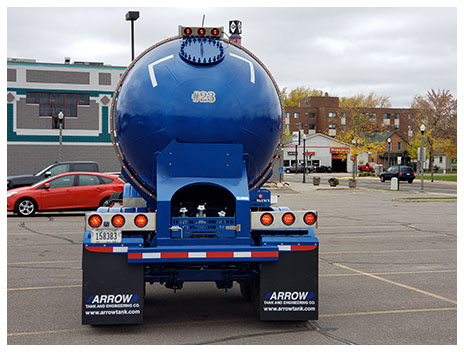 The United States Energy Information Administration (EIA) continues to report export demand increasing, while U.S. stocks continue to fall. As of its Aug. 11, 2021, report, exports are up 35% over this same period of time in 2020 and stocks have fallen 26.9% compared to this time last year.
Strong U.S. prices have only had limited success in slowing exports. High prices coupled with the uncertainty of the COVID-19 delta variant have forced many companies to question when will be the right time to fill their storage. Supplies are tight and driver shortages are significant. This could create issues for the propane industry once demand kicks in.
It's worth mentioning that current federal policy is not energy friendly. The termination of the Keystone XL Pipeline, coupled with no interest from legislators to reverse the Jones Act and the "Electrify Everything" movement, has many in the propane industry feeling a bit uneasy.
In the meantime, shortages that trigger extended hours of service should also consider lifting weight restrictions on truck and trailer combinations.
This will help to move propane supply to areas of the country that desperately need it. Multi-axle trailers with greater capacities would help alleviate the strain. Simple economics tell us that more trailers moving more product is simply a smart offensive.
When a demand event occurs and supplies are tight, this equates to longer runs and more miles to pick up product. This also means traveling to terminals not in our normal supply plan to keep up with our customer needs. A breakdown is the last thing anyone wants to deal with during crunch time.
Now is the best time to evaluate your transport trailers and make needed upgrades. Carriers want to update to trailers that will be safer on the road and provide more driver satisfaction and updated technology.
Some demand seasons provide only a small window of opportunity for profits to be made, so customers want assurance that their trailers will be on the road generating revenue, not in the shop costing them money. The right equipment operating at its highest efficiency will insure a profitable business.