From September to April, the best time to catch Steve Frey, owner of Frey's Propane in Stapleton, Neb., is from 8 a.m. to 9 a.m., Monday through Saturday. If you miss him, he's either filling up his 3000-gal. propane delivery truck at his 18,000-gal. bulk plant or making a delivery. Unless it's the noon hour, which means he and Cindy, his wife, business partner, and only other employee, will be religiously taking an hour break for lunch. Sunday is his day off.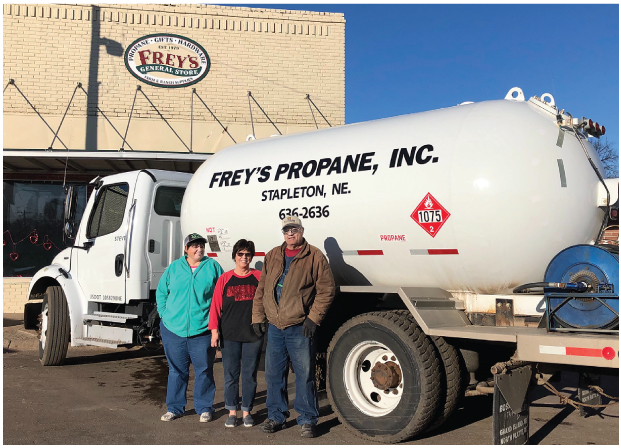 As the number of family-owned propane marketers dwindles, Frey's Propane continues to serve the small village in mid-Nebraska and surrounding areas in the same way it has since 1979.
"I have very loyal customers. I haven't really had to change how I do business; for the most part it's the same," said Steve Frey. "I found out if you treat people decent, give them a good service, be honest, they stick with you."
There are 305 residents in Stapleton, which is coincidentally about the number customers Frey's Propane serves—actually almost 350 customers within a 50-mile radius. They include businesses, the school, residents, and farmers, many of whom, like the Freys, are natives of Stapleton.
"We know every single one of our customers, unless they are new to town," said Cindy Frey. "And they freak out when they learn we don't take credit cards; it's check or cash. I bill once a month. We've had credit cards before, and you get a lot of fees and all these hidden costs. I run on their good word.
"We just give them a good deal and they accept it," she added. "Some people get behind, but they figure it out. They don't get any more propane if they don't."
The Freys, who have been married 41 years, also run Frey's General Store; a bed-and-breakfast "minus the breakfast" that is attached to the store; and a storage unit. They have a few part-time employees for the store and their youngest daughter, Shawna, who has special needs, often rides with Steve in his truck and assists in delivering bills. "She is Stapleton's best hugger," Cindy said.
Lifelong community leaders, Cindy currently sits on the Stapleton Cooperative Market & Deli and Chamber of Commerce boards; Steve was a volunteer firefighter for more than 20 years; and both have been involved in the school and their church. The propane business, however, is what keeps them going.
Last year, the company sold more than 400,000 gallons of propane; it will probably do about the same this year, Steve predicts. In addition to delivering propane, he spends time keeping up with insurance, HAZMAT, and Department of Transportation requirements. However, his biggest challenge, he said, is keeping the truck running.
"I keep with the industry. I do what I need to do," he said. With no other employees, "doing what he needs to do" means dragging a hose 20 times a day. He had knee replacement 10 years ago, so he no longer digs trenches and has allowed some of the "younger boys" with another business to do some of the outside setup work.
Although there is competition in the area from other propane companies, including a co-op, Steve said he doesn't have to do much marketing; it's all word of mouth other than the company listing on the Stapleton Chamber of Commerce web page.
The billing is his wife's job. With the help of QuickBooks, bills are mailed out once a month. Winter contracts became a "bookkeeper's nightmare," he said, so they have been eliminated.
During the summer months, the couple has more free time even though their store remains open from 7 a.m. to 6 p.m. six days a week. For "relaxation," they have a giant
garden with primarily asparagus, corn, and tomatoes. Right now, he also has 250 chickens.
"A lot of people say, 'How can you two work together and go home together?' I just tell them we can't think of anything else. It's always been that way," Steve said. — Karen Massman VanAsDale