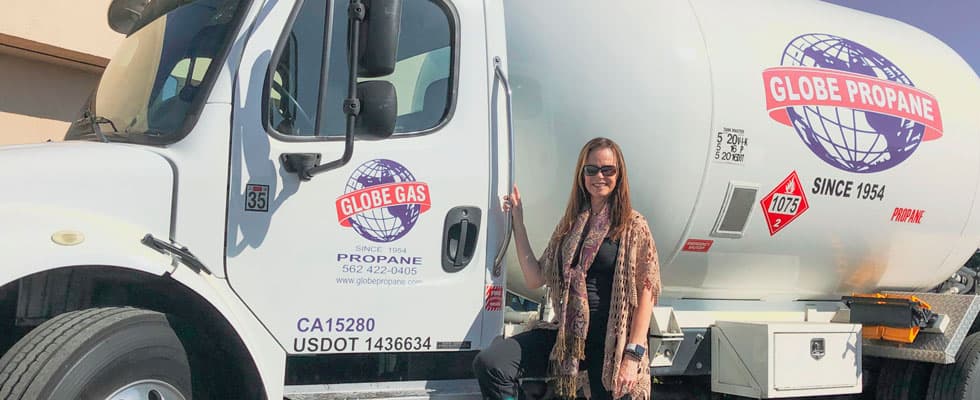 Karen Dixon on taking the reins as the third-generation owner of Globe Propane
Describe your current role.
I am the president and third-generation owner of Globe Gas Corporation. My mom and aunt are current owners as well, but I run the day-to-day business. My grandparents started our company in 1954 out of their home in Long Beach. My grandfather had a background working in oil and gas in Tulsa, Oklahoma. Today, I manage 15 employees in Long Beach and Temecula. We sell more than 3 million gallons of propane a year, primarily to commercial accounts in Southern California, with some retail sales out of our yard in Long Beach. We refill forklift, BBQ and bulk storage tanks. We also install bulk tanks up to 2,000 gallons for resale and large volume customers, and sell tanks, cylinders, parts and fittings.
How did you get your start?
I was very close to my grandparents — my grandma was like my second mom. She would take me to the office as a young child. I would watch her work, and as such, I learned the ins and outs of our business from the ground up. I always knew in my heart that I would run our company someday. Even my grandma would say, "Are you sure this is really what you want to do?" She supported me, but she knew how much work it took to run the business — my grandfather worked long, tiresome hours.
What are some of the biggest professional challenges you've experienced over your career?
COVID-19 was a big challenge. We had to cut back expenses and furlough employees during the pandemic. If I'm not selling gas, I can't pay my employees or stay in business. We had several months where we were down more than 20% in income. We qualified for the Paycheck Protection Program loans, which was a great help. Being a small, privately-owned propane company in a competitive field is challenging. California is a tough state to do business in. The industry is heavily regulated with emission control and air quality.
What do you think would surprise someone about the job you do?
Well, I'm a third-generation, family-owned and operated business. Not many companies skip a generation and have continued to run over 60 years. It has been tough at times, but I've learned how to stay focused, manage wisely and compete fairly.
What's the best piece of advice you have ever received?
My grandma taught me early on that you need to respect people and be fair in business. That goes a long way. Service is No. 1. Staying in touch with your customers and actually answering the phone in person is so important. On holidays, we still send Christmas cards and personally hand out wine from Temecula Valley. I want our customers to know we appreciate them and their business.
Name one of your greatest personal successes.
I'm a breast cancer survivor — I was diagnosed in 2012. It really opened my eyes to how short life really is. I learned how to be an even bigger fighter and find true happiness. I've worked hard to get where I am today. I am truly grateful for the people in my life, and that I have been given a great opportunity to run a business my grandparents started in 1954.
What are some of your hobbies outside of work?
I have been an avid horseback rider all my life. I'm a reining cow horse performance rider and compete at the nonprofessional level. My horse and I won a Championship Title (Top 10) in Fort Worth, Texas, in 2019 in the Sk Non Pro Limited Class. Horses are my passion; they are such beautiful animals with a beautiful spirit. Being with them gives me such serenity and peace. On the competitive level, I love the adrenaline and connection I have with my horse. We are quite the team together!
What advice do you have for someone coming into the industry?
Work hard and follow what you want in life. Have a good support system. Manage wisely. Business isn't easy, but if you stay focused and treat your staff and customers well, you will have developed a successful business.