Wednesday, December 16, 2020
This year, Tidewater Energy, a family-owned propane company serving primarily rural customers in eastern North Carolina, has seen explosive growth in the sales of propane generators thanks to an innovative marketing program with Kohler. The program uses an online platform and its accompanying marketing services, PowerChord, and has helped increase Tidewater's sales leads 80% in all of its seven offices.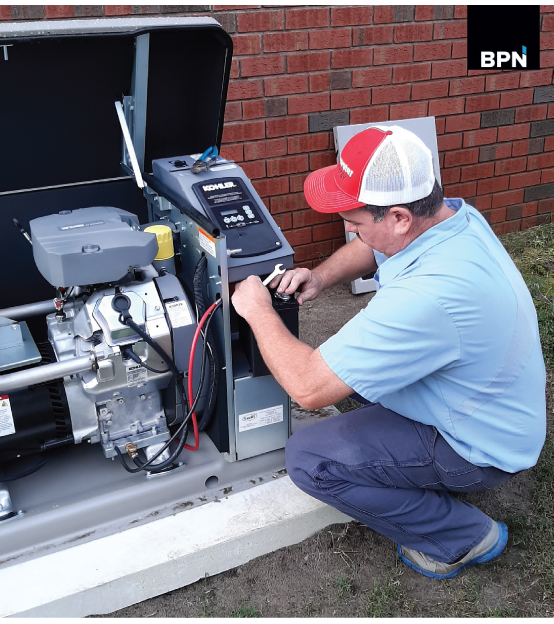 Annually, Tidewater typically sells only a handful of propane generators, although it installs and services generators purchased from other providers and big-box retailers such as Home Depot and Lowe's.
"Our main business is propane," said Wendell Whitman, manager of Tidewater Energy—La Grande. "What was happening, we ended up doing a lot of service work on generators. So it became obvious to us we probably ought to be trying to sell generators.
"We went from the first three or four years selling one or two generators. We've sold 50 or 60 this year, and I contribute it all to PowerChord," he said. With the increased sales, it has also brought new customers who need installation and regular servicing of the generators.
Tidewater began using the PowerChord online platform and advertising options in January. When COVID-19 forced residents to stay home, Tidewater was positioned to be more visible to online shoppers—especially those living in rural areas, which are the majority of Tidewater's customers. An early hurricane season also contributed to the ballooning sales.
Most of Tidewater's sales are residential customers who spend $9000 to $11,000 for a propane generator, depending on the size of the generator and how it is installed, Whitman said. Prior to using PowerChord, most of Tidewater's generator sales were word-of-mouth referrals from other customers or service technicians.
Propane generator sales and services are now a key part of Tidewater's growth. If the pace of sales continues, it may become a business within a business, Whitman added. In addition to the increased servicing, the sales process following up with increased leads takes resources. Because of the various local restrictions and building codes, there's an educational process involved with the sale of generators, which takes more manpower.
"I mean, it's not hard to educate them (customers), but you've got to take the time to do it," Whitman said. "That's one of the things I think that we do a good job with in our service department. We provide customer service and take time to talk to them and make sure they understand what they're getting."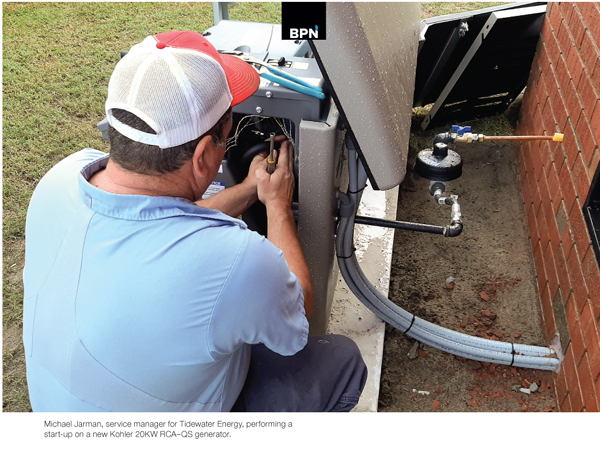 KOHLER AND POWERCHORD
PowerChord is the lead management and distribution platform and marketing company offering solutions for multilocation, dealer-distributed brands. Kohler utilizes the platform and online marketing assets to connect customers who visit Kohler's website to local, independent retailers who participate in a co-op marketing program.
Retailers have access to PowerChord's platform to respond to sales leads and view data about clicks, new leads, conversion numbers, and visits. Kohler has had a 200% increase in website sales and 53% increase in leads from the first of the year through the third quarter because of PowerChord, said Heather Houston, senior account manager at PowerChord.
The current consumer shift to more online shopping is fueling the need for brands to increase their online footprints with more digital marketing. PowerChord not only filters online leads from Kohler's website, but offers marketing and social advertising solutions for online searches and social media platforms (e.g. Facebook, Instagram) to also direct customers to local sources.
Tidewater subscribed to a full year of digital media advertising, which includes hyperlinking from Kohler's site to its local digital micro pages, social media ads, and Google search engine optimization. Tidewater has actually received twice as many leads as in the past with 42% more web visits, Houston said.
BECOMING A KOHLER PLATINUM DEALER
"It was actually our distributor (Nixon Power Services) who started talking to us about ways we could grow the business," Whitman said. "In talking, we ended up becoming a platinum dealer."
After selling enough Kohler products to become a platinum dealer, it opened up more cooperative advertising options for Tidewater, which allowed the company access to PowerChord and its marketing solutions.
Basically, once the PowerChord platform was set up, Tidewater initially picked zip codes to target two of its retail outlets and then eventually added all zip codes in its service areas. "If somebody goes online or they want information about a generator or quote, PowerChord will send us a lead," Whitman said. "We contact the lead, and it just goes from there. Sometimes someone just wants to know something, but the majority of people end up buying."
"It's been a huge success for us. We're excited and already making plans for next year, and are looking at ways we can continue our marketing efforts with PowerChord. They have a lot of online options and other things such as digital video ads. We're also considering some outdoor advertising in 2021."
Right now, online advertising has been the biggest sales success and because of its platinum dealer status, Tidewater has not had to invest many dollars for PowerChord's platform or advertising—Kohler pays a part, Nixon Power pays a part, and Tidewater pays a part.
For other propane companies looking to jump into or grow their propane generator sales, Whitman's advice is to pick partners who want to grow your business. "Find somebody that will support you like Nixon Power and Kohler have supported us. They've made it pleasant to work with them, and have helped us grow. They'll do anything they can when you ask them for advice." — Karen Massman VanAsdale