By Joe Colaneri…
The 116th Congress is now in full swing, and while it has been difficult to read all of the political and policy tea leaves since the 2018 midterm elections, and after the government's longest shutdown in history, some trends are now emerging. We can observe and speculate on the new reality on Capitol Hill even if we cannot, with certainty, predict policy outcomes.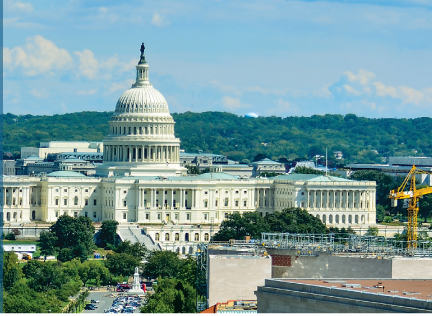 The outlines and character of a potentially new emerging Democratic majority will soon begin to become clear. All of this takes place in a highly charged political atmosphere shadowed by the upcoming 2020 presidential election, the fallout from the government shutdown, the newly divided government, the almost daily Democratic presidential candidate announcements, and the president's own political vulnerabilities.
Retrospective
President Trump has, for now, redefined mainstream conservatism. While no one really knows what his lasting legacy will be politically or policy-wise, it is a safe bet that he has shifted the "movement conservative" playing field despite the protestations of the Never Trumpers—a group that makes up between 10% to 15% of today's GOP. Trump commands north of 80% support within the Republican Party—so he owns movement conservatism for now.
And it could be said that the restive Tea Party movement that organized in 2009, and proved a significant political counterweight to President Obama's agenda, provided the momentum that turned Congress toward the GOP in 2010 and 2014, and gave logical rise to Donald Trump's insurgent presidency in 2016.
Point
The Tea Party stands as one of the most significant political movements of the last 50 years—a movement that has shaped our national policy and politics, and our congressional and national leadership. It helped redefine Republicanism and define so-called "Trumpism"—a seeming hybrid of traditional GOP philosophy leavened by a populist grass-roots anti-establishment insurgency.
From the Tea Party came a platform of opposition to federal deficits, decreased federal regulation, minimal government involvement of any kind in health care, entitlement reform, and across-the-board tax cuts. This renewed orthodoxy—one part traditional GOP, one part populist—drove the GOP and culminated in the 2016 GOP victory and a governing Republican majority in the 115th Congress.
From a policy perspective, Trump will be mostly remembered for the tax cut bill in 2017 and for the ongoing program of administrative regulatory relief. In prior articles for BPN and particularly in the early months of the Trump Presidency, I strongly urged the propane industry to seize the opportunity the Trump Administration had offered to provide relief from burdensome rules and regulations—to categorize and prioritize those regulations and actively lobby the White House and the agencies in a once-in-a-generation transformative program. There was, and there still is, interest in building the economy by shielding businesses large and small from excessive and duplicative burden. I felt this could be accomplished, and still believe it can be accomplished, by a coalition of like-minded industries, or by the propane industry alone.
Trump Country Is Propane Country
The trick was, or will be, to engage the Trump country constituency—propane country—the states to which Trump owes his presidency, rural America, the Midwest, Michigan, Wisconsin, and the South and Southeast, North Carolina and Florida for example, to build powerful policy cases for regulatory relief.
Donald Trump is not a policy wonk, but he possesses exceptional political skills, knows his voters and his base, and his political lifeline is, in part, in propane country. This should be a natural organic alliance that provides the industry with opportunity, but it needs to be organized.
This cannot be a passive aggressive exercise. To be successful, it needs to be a strong, powerful grass-roots movement based on connecting the dots between the needs of the industry and the President's natural political constituency. If any industry could do this, it would be propane. Trump still commands the agencies and his base remains intact. This regulatory initiative can still be accomplished—but the clock is ticking.
A New Reality
Political cycles wax and wane—and we now appear to have an ascendant Democratic House majority pressing an aggressive policy agenda from the left. Make no mistake about it—the outcome of these debates will impact the propane industry for a generation and may in time reshape the entire energy industry.
Trump and the Tea Party have, for now, redefined modern conservatism, but a new generation of House Democrats, empowered and emboldened by the biggest midterm popular vote victory in American history in 2018, is poised to redefine modern liberalism and perhaps seize the nation's policy agenda.
Counterpoint
What is now happening is apparent in the emerging domestic debates of 2019 being pressed by the House Democrats:
Support for a big government "Green New Deal" to fight climate change, which may become a signature issue in 2020
Support for "Medicare for All" going beyond the Obama-era Affordable Care Act and suggesting a much larger role for government in health care
Revisiting the tax reform and tax cuts of 2017 to pay for the "Green New Deal," implying a new philosophy on the use of the tax code for social purposes and a paradigm shift in the assessment of tax code "winners" and "losers"
Infrastructure rebuild—a "go to the moon" style initiative that will not only tackle our nation's aging roads and bridges, but reshape our entire economy through clean energy programs
Resilience and disaster relief that will respond to the challenges of climate change and have at its core new ideas for backup power, hybrid technology, combined heat and power (CHP), microgrids, vehicle-to-grid, and other hardened infrastructure concepts
Aggressive federal funding streams aimed at both short-term and long-term challenges (the FAA authorization bill has become the proxy for these new initiatives).
What Does This Mean For Propane?
The Green New Deal, Medicare for All, and revisiting tax policy are all shaping up as a new Democratic ideological orthodoxy and a progressive litmus test heading into 2020. These ideas and possible champions have suddenly burst onto the scene after years behind the curtain. Much as the Tea Party agenda began to take shape in 2009, there are now real opportunities to begin to realize more progressive goals, and a liberal-leaning counterpoint to the Trump base taking shape
in Congress and out beyond the Washington Beltway.
A recent Gallup poll shows 51% of Democrats identify themselves as liberals
In 1992, when Bill Clinton was elected president, 25% of Democrats identified themselves as liberals, 25% conservative, and the rest as moderate
And across the political spectrum the lean toward conservative has narrowed: 35% of Americans now say they're conservative; 35% moderate; 26% liberal.
And there is intensity in the rising liberal base. It's a "go big or go home" mindset.
The political energy in America right now—online, on cable, and with political donors—is with the progressives. Agree with the following premise or not, the new House Democrats will argue that their victory in 2018 suggests that the nation's politics have taken an abrupt dramatic turn and has earned them capital to cash in.
While this suggests a shift in national policy direction, it is in no sense a finished product—rather it is a rough cut. The new liberals in Congress, much as their counterparts in the Tea Party a decade ago, are in pursuit of a new policy holy grail and they are not afraid to push the boundaries of the traditional norms and folkways of the Washington power elites—this time from the left.
This means robust oversight of the Trump Administration's entire policy agenda and implementation of same, as well as the entertaining of ideas from the left long discussed but little debated seriously—changes in health policy, energy, financial regulation, and the means to pay for them.
Point-Counterpoint
The propane industry, indeed all stakeholders, need to be aware of and prepared for an aggressive policy and political soul-searching that could fundamentally change liberal orthodoxy across the board and challenge longstanding progressive policy.
How can the propane industry leverage the Trump Administration for signature regulatory relief but also tap the political momentum driving the Green New Deal? The answers are not necessarily mutually exclusive and may lie in an old industry business model that well served the industry a generation ago.
Much as the Tea Party gave rise to the norm-shattering Trump Presidency that for now has transformed traditional Republican governance, no one can ignore the potential transformational debates we may soon see from the left—a classic point-counterpoint that reflects the certainty of restive political energy and intensity on both sides of the political spectrum and challenges traditional policy approaches across the board.
A New Propane Advocacy Paradigm
How can the propane industry market its vast superiority as a domestic clean fuel to add value through advocacy? The answers may lie in tried-and-true grass-roots strategy while utilizing a few modern organizational trends.
The National Propane Gas Association (NPGA) has built a formidable grass-roots advocacy network over the years and reinforced its effectiveness with Propane Days, but the complexity of the issues now before Congress coupled with a divided government will challenge the industry as never before.
An Advocacy Template
The Propane Vehicle Council (PVC) of the mid-'90s sent Congress a loud and clear message of strong industry commitment to the motor fuel market. As it evolved, it began to include off-road as well as on-road vehicles in its policy portfolio, but the message sent was clear and its success was obvious. The old PVC successfully navigated national tax policy by securing motor fuel tax equity, and won some of the first-ever federal funding for propane vehicle deployment through the Department of Energy's Clean Cities program.
That same advocacy template, with a few variations, can now guide NPGA into the future. Using the infrastructure and resilience issues as a guide, the industry can take the old PVC model and reshape it to accommodate the new opportunities available to the industry on Capitol Hill and within state and local governments.
One option would be to form an updated infrastructure-style industry caucus within NPGA and organize the industry's priorities into four broad categories: tax policy, funding, public policy, and regulatory relief. The industry could then begin to build internal and external coalitions around targeted issues, challenges, and opportunities.
In certain issue areas, it might be indicated for NPGA to join/form coalitions with like-minded industries to advance specific legislative or regulatory priorities. In fact, targeted issue coalitions are a significant advocacy trend on Capitol Hill. The point being that every new Congress provides every stakeholder an opportunity to reflect on prior policy battles and develop strategies to address those challenges.
The Green New Deal, divided government, and the looming 2020 elections will challenge traditional advocacy models but also provide all stakeholders with an opportunity to organize priorities and devise specific strategies to address them.
Propane's built-in advantage of being a clean American fuel puts it on the side of emerging societal and political energy trends, while its obvious Trump-country constituency provides the industry with a grass-roots advantage in pressing the case for regulatory relief to a receptive and willing White House audience.
Joe Colaneri is a partner at AJW Inc., a Washington, D.C.- and Sacramento, Calif.-based public policy and advocacy firm. He was previously executive director of the Propane Vehicle Council from 1996-2002.