By Joe Colaneri… The coronavirus presents America and the world with the challenge of a generation. It will test our health, our economy, our communities, our national character, our collective will. And propane, one of America's oldest and greatest industries, deeply embedded in the character of America, is poised to help lead the nation on the journey we will be taking together. Propane's leadership will reflect America's strength, indomitable spirit, sense of community—its resilience.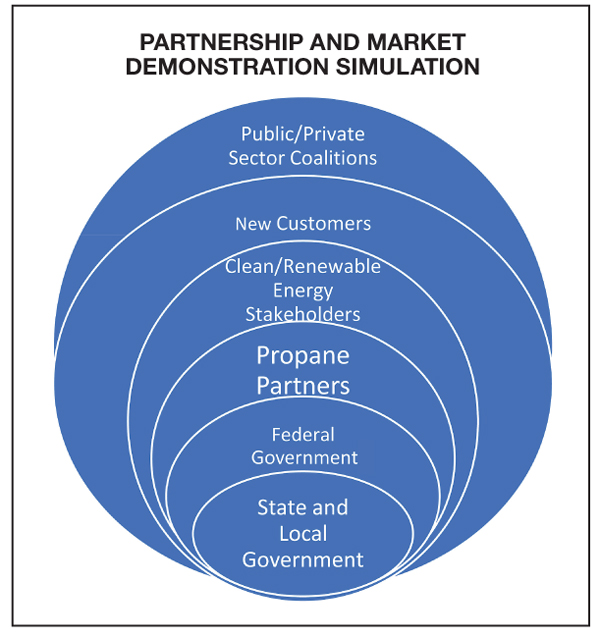 THE CHALLENGE
Long before the coronavirus began to dominate our lives, our very existence, the propane industry had begun facing its own existential threats with California being ground zero. The emergence of policies and regulations favoring electric vehicles and compromising propane's historic markets had begun. Those trends are accelerating exponentially on the west coast and are moving east. When the state of Hawaii considers a carbon tax in the current legislative session that taxes propane at a higher rate than it taxes diesel and gasoline, the wheels have come off, it's a whole new ballgame. The propane industry needs to take notice and mobilize. Inevitably these trends will go national in the absence of a well-coordinated, well-messaged opposing strategy.
MOBILIZATION
The propane industry has formidable and imaginative tools with which to communicate, develop, organize, and execute—reflective of its entrepreneurial spirit. Those skills are needed now. The industry has long built a grassroots network where it can get the biggest bang for the industry's buck. But it needs to engage within its core constituencies in rural America, not only for legislative and regulatory relief, but to build relationships and partnerships.
The economy will recover, but it may not resemble the one we are leaving behind. The industry's foresight in developing a strong grassroots constituency, and the resources of PERC, may give propane the momentum to help shape a new industry powered by traditional and new constituencies.
BUILDING THE PROPANE POLICY INFRASTRUCTURE OF TOMORROW
Sustaining and growing the propane industry in a world turned upside down and facing significant societal change will require the propane industry to think introspectively and act prospectively and aggressively. It will need to learn from the past while it channels the future.
Job one for the industry should include an evaluation of all political and policy relationships that it can work with to build value. New industry leadership at NPGA provides a window to begin to build industry value through policy, but windows don't stay open for long. The competition is doing the same thing. The industry constituency is historically rural, so the political build-out can start there. But its challenges are not only rural, they are at the state, regional, and national levels as well. California, for example, is moving aggressively against all carbon fuels, so the industry's response needs to acknowledge that reality and work toward strategies that will reflect reality and not a fanciful notion of what once was. The trends in California will not be reversed. If anything, they will only become more challenging.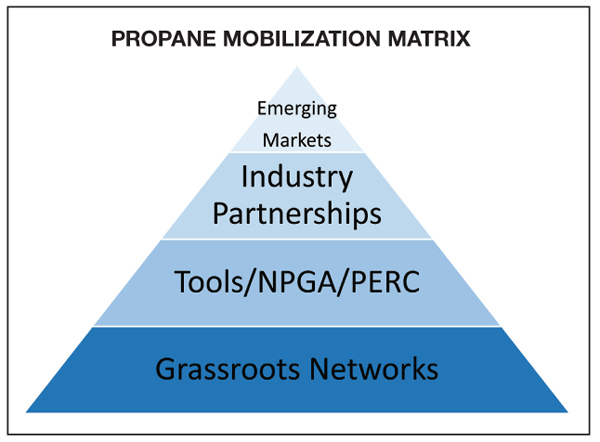 Propane needs strong allies in Congress—it needs leaders who will take up the propane cause—allies who link their political success to propane's business success. The most successful industries on Capitol Hill have built strong working relationships with members of Congress for years. What propane does not need are so-called "photo op allies" who pander for the industry's political contributions, but care little for the industry's issues or its constituency. Logically, propane could build its allies within its core constituency in rural America, but, as noted, the industry's challenges are not only rural, they are increasingly at the state, regional, and national levels. Thus, the challenge is more complex now than it might have been even a few years ago. What is a need now is a grassroots mobilization—think of Propane Days on steroids—a year-round effort in the district, state, and federal level.
MARKETS ARE THE MESSAGE
Propane needs a long-term strategy to counter the increasing challenges at the state level while building momentum for regional and nationally focused initiatives. The message can center around the markets being pursued by the industry, which suggests resilience, renewable propane, and partnerships with other technologies. This is reflective of increasing policy trends, which often begin at the state level and go national.
Employing a classic grassroots strategy could involve working initially in select states to pursue the inclusion of propane in state clean energy legislation. California, ground zero for the anti-carbon movement, is a logical choice, but other states could provide opportunities in which to examine and test the viability of new propane markets involving renewable propane, resilience, and hybrid gensets as a counterpoint against the move toward electric. The idea would also involve a strategy that underpins the grassroots with strategic communications, public education, and advocacy. The markets would become the message. In this example, NPGA and PERC complement each other in juxtaposing advocacy with education and market development with communications.
PARTNERSHIPS ARE THE CATALYST
The world is adjusting to a new economic reality grounded in societal resilience and decentralization. That's the view from 30,000 feet. The coronavirus may have changed forever the way we conduct business and live our lives.
What may hold this transition together is the ability of the industry to find common cause with stakeholders and partners who share a similar vision in building and helping implement new societal economic paradigms.
Perhaps an example will best illustrate the apparent transition and the political and economic urgency to form partnerships.
PROJECT SIMULATION
Consider the growing national trend toward energy resilience and how the propane industry might implement a resilience strategy in a unique regionally specific area.
A national resilience initiative for propane could build replicable local, regional, and national resilience propane power generation applications, tailored specifically to respond to disasters and electric utility grid infrastructure power shutdowns that would provide currently unmet market opportunities for propane hybrid genset and power generation technologies in California and across the country. Such an effort would involve the development of strategic public and private partnerships and would capitalize on propane's low emissions and clean energy potential. Primary goals would be to showcase propane's regional adaptability and versatility in preparedness and response to natural and man-made disasters as clean energy, low-emitting, renewably-fueled hybrid electrical power generating systems capable of backing up and sustaining other renewable and non-renewable energy systems over a wide geographic area and across constituencies and markets.
Propane punches all the tickets—in its ability to be renewable, build hybrid systems with solar and electric technology, and deliver resilience to schools, hospitals, construction, agriculture, state and local government, the federal government, and numerous public and private economic sectors.
In late 2018, Congress passed the FAA Authorization bill, launching a national conversation on methods and technologies to improve local and regional energy and power resilience and sustainability. California is specifically noted for wildland fire response and preparedness funding given the ongoing grid failures that have increasingly resulted from large-scale, devasting fires linked to climate change, earthquakes, and other natural disasters. However, the bill's funding also has national intent. As with PERC projects, projects receiving FAA or other federal funding are intended to provide a template for replicable projects capable of adapting to a broad array of resilience preparedness, response, or infrastructure-hardening requirements.
Our theoretical case study punches the right political and programmatic tickets and sets up long-term partnerships with disparate stakeholders moving in a common cause: state and local government; the federal government; electric vehicles; possible users of propane systems from school districts to hospitals and other health care providers, to construction and materials handling, to agriculture, and can function in a world of rural decentralization where propane is the dominant and preferred non-electrical energy source. Our theoretical project is both public and private, intrastate and interstate, touches all levels of government with industry crossover, and is based on consensus and coalition.
RESILIENCE AND RENEWABLE ARE THE FUTURE
Society has been moving toward a resilient, decentralized, internet-driven world for some time. It took the coronavirus to accelerate the apparent trends. These trends may forever shape the way we live, how we use energy, and how we conduct business. It will force us to examine many life-altering alternatives. The industries that seize these trends will be the sustainable ones. The others will fade into history—not overnight, but inevitably. People will be looking for clean energy, but also for the energy sources that are capable of evolving and adapting to societal needs—capable of meeting the needs of both natural and manmade disaster and health crisis—capable of providing the power we need when we need it—as we move toward greater a more decentralized world in the workplace and at home.
The propane industry has the chance to build on its natural constituencies, but it needs to mobilize to be able to seize these apparent and inevitable societal, energy, and business trends.
Its markets will provide its message; its partnerships will move those markets; its apparent and essential resilience will fuel its future.
Joe Colaneri is a partner at AJW Inc., a Washington, D.C.- and Sacramento, Calif.-based public policy and advocacy firm. He was previously executive director of the Propane Vehicle Council from 1996-2002.