Wednesday, December 11, 2019
(December 11, 2019) — When
Koppy's Propane
(Williamstown, Pa.) invited representatives of two legislators and a regulatory agency to tour the company's rail terminal, the event was interactive and hands-on. Questions about the propane industry were asked and answered throughout. In a highlight of the tour, several of the visitors climbed one of the rail towers to get a close-up look at how propane gets from the railcars to the tanks.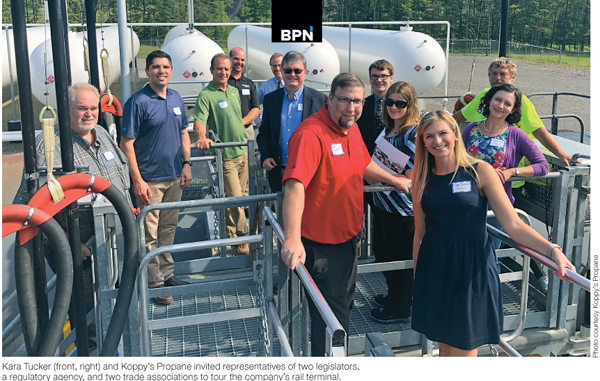 "It was a great event; I wish I had done one sooner," Kara Tucker, vice president at Koppy's Propane, tells BPN. "The relationship building was extremely valuable. Just having someone's email is great, but now we can also put a face to the name. Plus, we can say we met at the tour and climbed that rail tower together."
Facility tours and other face-to-face meetings between propane marketers and their legislators are so valuable, the National Propane Gas Association (NPGA) declared "Congressional site visits" to be one of its four "90-day criticals" for the third quarter of 2019. While NPGA staff meet with the legislators in Washington, D.C., the association also wants legislators to meet propane businesses and employees back in their home states and districts. The association has prepared a 13-page "Facility Tour Guide" that can be downloaded by NPGA members.
Inspired by the NPGA guide, and facing a wave of environmental laws and regulations in the states it represents, the
Propane Gas Association of New England (PGANE)
has just printed its own "Facility Tour Guide." Executive director Leslie Anderson wrote the guide with input from association staff and others. She also produced three handouts to go with it that provide facts and figures about propane in the region, including its economic impact; its contribution to cleaner air; and its provision of renewable energy and energy security.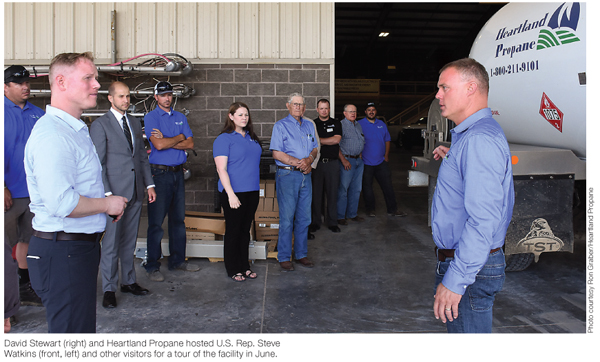 "Here in New England, legislators have really been coming on strong against propane, lumping it in with other fossil fuels," Anderson says. "We need to educate them and explain that using propane is recycling a beneficial by-product."
"There are always crazy bills that pop up," she adds. "The legislators need someone they can call. They rely on the expertise of those in their community and they like to learn how the bill will affect their constituents. That means a lot to them."
Part of the Community
Chuck Holden, president of
Holden Oil
(Peabody, Mass.) and immediate past chairman of PGANE, keeps in touch with legislators by attending many of the same events they attend.
"I see politicians at all the charity events," Holden says. "My family has been ingrained in the community for nearly 100 years. I can't think of a nonprofit that members of our family are not on the board of or have not made a contribution to. I am the chairman of the International Festival in Peabody. I spent the whole day there, talking with every politician who is in office or running for office. I didn't talk business, but they could see that I am contributing to the event."
Politicians who have seen Holden at these charity events have later called him to ask what he thinks of bills that come before them. Recently, an elected official called to ask about carbon tax and how it would affect consumers and people on fuel assistance.
"I am always aware of what's going on," Holden says. "I don't have statewide pull, I just want to influence my small part of northeast Massachusetts."
"Show the legislators you are as much a part of the community as they are," Holden suggests. "You have to give up a weekend for these events, but you meet a lot of nice people. It's great for business, too, without you explicitly being there for business. Without the community, your business is not going to be around long."
David Stewart, propane manager at
Heartland Propane
(Girard, Kan.), hosted his first facility tour in June. The company hosted U.S. Rep. Steve Watkins, his wife, and members of his staff. The visit was arranged with the help of NPGA.
The congressman and other visitors were at the Heartland Propane facility for an hour and a half. They were given a tour of the bulk plant and a walk-around of a bobtail. Throughout the tour, Stewart explained how everything works and the safety components they include.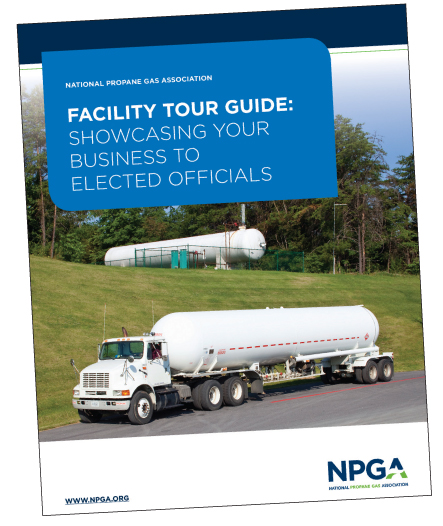 "They were very curious about the propane industry," Stewart says. "We talked about daily operation, safety, and how our employees affect how we do business." He adds, "Don't be intimidated by a congressman. They are there for knowledge. They are there working for us and looking for information."
Koppy's Propane had never hosted a facility tour before the one it held Aug. 6. That event was coordinated with the help of the Pennsylvania Propane Gas Association (PAPGA) state lobbyist.
The guests included members of the staffs of two state legislators—Sen. David G. Argall and Rep. Mike Tobash—and representatives of the Pennsylvania Department of Environmental Protection (DEP). DEP facilitates hours-of-service waivers on the state level. Representatives of NPGA and PAPGA also attended and provided handouts for the other guests.
When preparing for the tour, Tucker read NPGA's "Facility Tour Guide" from front to back. On the day of the tour, Koppy's Propane had refreshments and name tags on hand for everybody.
"I started the visit with background on my family, our family business, and a company history," Tucker says. "I also explained how the rail terminal had helped us."
Throughout the event, Koppy's Propane provided photo opportunities. After the event, Tucker followed up and shared the photos with the visitors. "We gave them photos and I believe they went on the legislators' social media; I know they went on ours and NPGA's," she says.
Show and Tell
In New England, PGANE's request that its member companies host facility tours and arrange other scheduled meetings comes in response to the many environmental laws and regulations being proposed in the region. To help members teach legislators that propane is a source of clean energy, Anderson and PGANE put together those three handouts that include key talking points. They also printed the "Facility Tour Guide" to help them deliver that information in person.
"Hosting a tour is a big ask, so we wanted to give them the tools to do it," Anderson says. "Our members are very busy. They can read just the bullet points or they can read it in-depth."
She suggests that propane marketers add their own materials to those PGANE has produced. These might include information about where the business is located, how many people they employ, and ways they support local groups.
"They should make the legislators aware that they are active in the local community," Anderson explains. "That is a large part of the culture up here."
Right before an election is a good time to invite legislators to a facility tour. "If they are up for election, that's a great time." "Anytime the candidates can talk to a dozen people at a time and do a meet and greet, they will."
Before a facility tour or other meeting, learn about the legislators and what they are interested in. "Do a little internet research on Twitter and Facebook," Anderson suggests. "If they are interested in the military, promote energy security and what you have that supports that. If they are an animal lover, show what you've done with your local shelter. Find things that will resonate with the legislator who is going to visit."
During the tour, show and tell. "Showcase your business, whatever you think stands out," Anderson recommends. "Walk them around a bobtail. Show them your bulk plant and explain how the propane comes in and how it goes out. Show them the equipment you have, like outdoor fireplaces and on-demand water heaters. Show them what propane can do."
After the tour, keep the conversation going. "Follow up by sending a note and inviting them to come by anytime," Anderson advises. "Send them pictures you took that the legislator can post on their social media."
"When you talk to your local legislators, a magic thing happens: they learn you are a wholesome member of the community and not the evil industry characterization that is present in the media," Anderson says. "When you meet them face to face, they get to see that. Then, when an issue comes up, they will think twice before voting on it and they will call you to ask your opinion. That has happened to many of our members."
ISSUES AND IMPACTS
In Massachusetts, Holden's relationships with legislators paid off recently. A bill had been introduced in the state legislature that would have forbidden propane marketers from charging minimum use fees. A legislator called Holden to ask what he thought. Soon after, the bill was referred to committee for study, without being voted upon.
"They don't know the logistics of the propane business," Holden tells BPN. "I told them it would be impossible to comply with."
"I like to think what I said on the call helped," he adds. "If I didn't already have a relationship with that legislator, I wouldn't have been heard."
In Kansas, one purpose of the tour of the Heartland Propane facility was to introduce the freshman congressman to the propane industry. Stewart also focused on two specific issues: the DRIVE-Safe Act, which would create an apprenticeship program for commercial drivers, and an extension of alternative fuel tax credits.
"It's hard to get staff that are ready to go," Stewart explains. "If we could have the apprenticeship program in place, we wouldn't have such a tough time replacing retirees and filling other open positions."
Before leaving the Heartland Propane facility after the tour, the congressman said he would cosponsor the DRIVE-Safe Act. He also invited Stewart to a town hall and later recognized him at the event.
In Pennsylvania, Koppy's Propane's messages to the visitors focused on hours-of-service waivers; natural gas expansion; and propane as a domestic alternative energy.
"We wanted to educate the DEP folks on the infrastructure of our industry and the need for hours-of-service waivers," Tucker says. "Over the last few years, we have gotten federal exemptions, but it's important to form a relationship with the state too. We want to be prepared, so that we are not dependent on a federal waiver."
"Our rail terminal is a nice place to showcase and to help explain the infrastructure—how propane gets from one place to another and ultimately to the end user. The tour was a great opportunity to educate them."
"Having contacts we can reach out to directly now, that's huge," Tucker concludes.
NPGA members can download the "Facility Tour Guide: Showcasing Your Business to Elected Officials" at no charge. It is available at npga.org; go to the Member Dashboard, then Propane Days 365, and click on "2019 Site Visit Guide."
PGANE members can get copies of its "Facility Tour Guide" and handouts by emailing marketing specialist Olivia Conway at
This email address is being protected from spambots. You need JavaScript enabled to view it.

.
—Steve Relyea