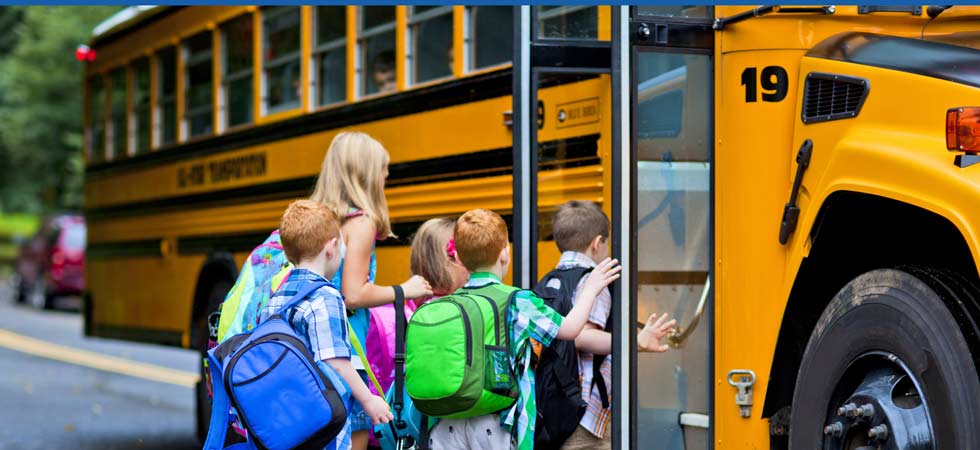 Aging fleet, new funding likely to fuel demand for propane school buses
Wednesday, April 13, 2022
Propane advocates have two new benefits they can promote to those who want to transition to cleaner school buses: a new source of funding and a new certification for an already successful propane engine. The new certification was announced by ROUSH CleanTech in January. The company's Ford 7.3L V8 propane engine that is available in Blue Bird school buses has recently earned the California Air Resources Board 0.02 grams per brake horsepower-hour certification for the 2022 model year and achieves 2027 proposed standards on nitrogen oxides (NOx).
"The 0.02g NOx certification makes this engine 90% cleaner than the current requirement and one of the cleanest engines available, not to mention a healthier choice for young children to ride," said Ryan Zic, vice president of sales — school bus, at ROUSH CleanTech.
The new funding for cleaner transportation, including propane school buses, will come from the Clean School Bus Program created by the bipartisan infrastructure law — the Infrastructure Investment and Jobs Act — that was signed by President Joseph Biden in November 2021.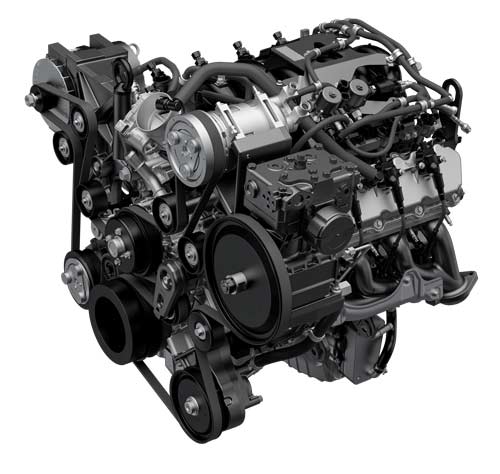 "This funding is unlike any others we've seen, as traditional fuels won't qualify and the funds can easily support thousands of new propane buses," Zic said.
Providing a Viable, Long-Term Solution
When announcing the new certification, ROUSH CleanTech explained that NOx is a group of gases that contribute to acid rain, smog and other air quality issues. The company had earned the ultra-low NOx certification in 2018 with its 6.8L V10 propane engine. Now, with the 7.3L V8 propane engine that was introduced in 2020 and replaced that engine, ROUSH has done it again.
"The NOx output of other fuels and other engines is considerably higher," Zic said. "NOx is not only harmful to the environment but to human health as well."
Both engines have been available in school buses. Blue Bird, a leader in clean emissions school buses that already has more than 20,000 propane school buses on the road, has been building buses with the 7.3L V8 since spring 2021. Before the introduction of this engine, it had built buses with the 6.8L V10.
Zic noted that while the certification is part of a proposed federal emissions regulation that goes into effect in 2027, ROUSH CleanTech has already achieved it for the 7.3L V8 five years ahead of time.
"Being this far ahead of the proposed NOx requirements for 2027 puts the ROUSH CleanTech school bus solution in an amazing position in the marketplace," Zic said. "Our customers experience no increased maintenance or burden to enjoy cleaner emissions." "Other fuels and engines are looking at adding even more cost and complexity to the emissions systems to achieve that future standard," Zic added. "We have proof today that we have a viable, long-term solution."
Enabling Access to Funding
Together with that benefit, when powering Blue Bird school buses, the engine presents an opportunity for school districts and contractors to seek funding from the Clean School Bus Program. The Clean School Bus Program provides $5 billion over five years for the replacement of existing school buses, the United States Environmental Protection Agency (EPA) explains in a presentation, "Bipartisan Infrastructure Law: Clean School Bus Program Overview."
This funding includes $2.5 billion dedicated for zero-emission school buses, which means electric, and $2.5 billion dedicated for clean school buses, which includes alternative fuels, such as propane, biofuels, hydrogen, compressed natural gas and liquefied natural gas, the EPA explains. Zic said that these funds will be allocated over several programs through 2026 but will begin this spring.
"School boards usually have a focus on being good financial stewards in addition to their environmental initiatives, and this ultra-low NOx certified engine could qualify them for funding in some cases," Zic said.
Promoting the Benefits to Parents
The Propane Education & Research Council (PERC) is promoting the benefits of propane school buses to parents and spreading the word about the opportunities for funding. In a March 2, 2022, posting in its Can-Do Journal, PERC encourages parents to send a letter or email about propane buses to their school district's transportation department.
"Today, 22,000 school buses in America run on propane, significantly reducing harmful emissions compared with diesel buses," PERC writes. "This means that children aren't breathing in those noxious fumes, and your neighborhood isn't doused with black puffs of exhaust."
PERC also tells parents that compared to diesel school buses, propane school buses are quieter and warm up faster in cold weather, making for a more comfortable ride to school. And, compared to electric, propane school buses cost one-fourth the price. A growing number of propane school buses have already been joining the fleets.
In its current Fleet & Transportation Media Press Kit, PERC reports that there are more than 20,240 propane autogas school buses on the road nationwide, operated by 1,020 school districts and bus contractors in 48 states and transporting 1.2 million students to and from school.
Updating an Aging Fleet
At the same time that there are these incentives to transition to cleaner sources of power, there's also a significant number of buses in need of replacement. The school bus fleet is aging, Blue Bird reports in its current investor presentation, which was released in June 2021. Among the 611,000 school buses that are in operation in the United States and Canada, there are 150,000 that are aged 15 years or older and need replacing.
Blue Bird sees opportunities for it to help school districts and contractors replace these buses with alternative-powered school buses. Blue Bird defines "alternative-powered" as any one of the options that are not diesel, including propane, compressed natural gas, electric and gasoline.
In a statement released February 9 along with Blue Bird's fiscal 2022 first quarter results, Blue Bird President and CEO Matthew Stevenson said, "The bipartisan infrastructure bill allocates [$5 billion] in funding for electric and low-emission school buses. The U.S. EPA is scheduled to start implementing the program by the end of March. Blue Bird anticipates orders to follow in [the second half of] 2022."
Seeing a Move to Alternative-Powered School Buses
Alternative-powered school buses have already been accounting for more and more of Blue Bird's sales. In a presentation released along with the company's February 9 earnings conference call, the company reported that alternative-powered school buses made up 56% of its sales in the first quarter of fiscal year (FY) 2022. That's up substantially from previous years.
In the investor presentation released in June, Blue Bird reported that alternative-powered buses accounted for 26% of its sales in FY 2016 and 48% in FY 2020. The firm expects that share to continue rising, estimating that alternative-powered buses will make up 60% to 70% of its sales by FY 2024 and 100% by FY 2030. Blue Bird added that it is increasing its alternative-powered mix with "future growth led by electric and propane."
Complementing Electric School Buses
Zic noted that propane school buses and electric school buses each have a place and will play a major role in student transportation. He explained that while there are routes, locales and duty cycles that are a great fit with electric vehicle (EV) technology, there are others that aren't.
"If you look specifically where EV technology is challenged, you'll notice it is where propane thrives — longer routes, cold environments, lack of electrical infrastructure and lack of vehicle subsidies," Zic said. "This makes propane a perfect complement to electric for a balanced fleet that has a goal of near-zero emissions with fleet resilience."
"And when we factor renewable propane in with low NOx engines, we start to see propane as a destination fuel and not just a bridge," he added.
Benefiting From a Proven Solution
Zic said the main barrier that propane advocates encounter when suggesting propane school buses to school districts and contractors is the general public's reluctance to change. He added that the questions he commonly fields from these potential customers include the following:
How do I get fuel?
Can I take it on a field trip?
Where do I get it serviced?
What safety features does the system have?
How does it save us money?
"In short, the answer to all of these questions is that propane can do what your traditional fueled vehicle can do — and with several additional benefits, like lower emissions, reduced maintenance, less noise and reduced operating cost," Zic said. "We now have over 20,000 Blue Bird propane-powered buses on the road, and school districts are telling the story for us by communicating with their neighboring districts."