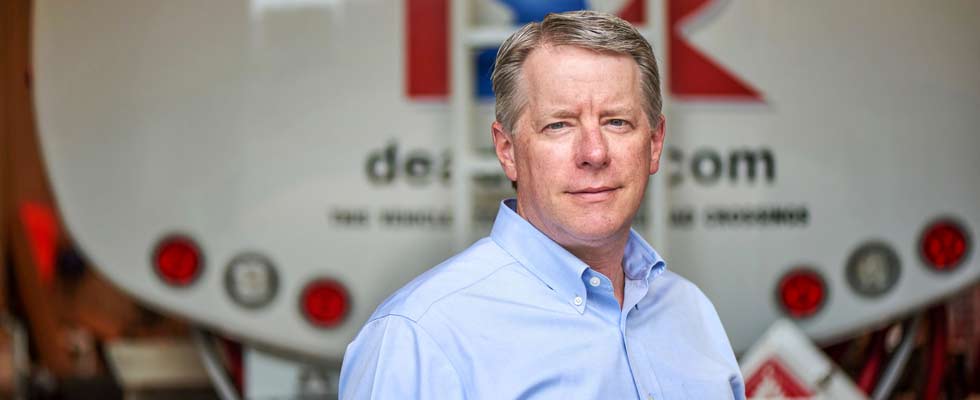 The Dead River Company president & CEO discusses celebrating positive results & his biggest career motivations
Wednesday, August 31, 2022
Describe your current role at your company.
For the past six years, I have served as executive vice president and chief operating officer. In that role, I led the teams responsible for all retail, customer-facing functions within the organization. This includes frontline customer care; liquid product delivery; heating, ventilation and air conditioning services; marketing; and sales.
As of July 1, I have transitioned to the role of president and CEO.
What is your favorite aspect of working in the propane industry?
The people — my coworkers here at Dead River Company are simply wonderful. In addition to them, I have had the opportunity to meet numerous other people in the industry through my past service with the National Propane Gas Association and the Propane Education & Research Council.
It really is remarkable to me the vast number of accommodating and genuinely caring professionals I have met who serve the consumers of propane country.
What is the most valuable lesson you have learned in your career to date?
Don't focus solely on the things that are broken and need to be fixed. Look for things that function well, celebrate the positive results being achieved and find ways to do more of what is working.
How would your colleagues describe you?
My colleagues would likely describe me as someone who wants to attain clarity and focus on an objective and doesn't shy away from asking tough questions. I ask questions, then listen, consider various perspectives and use this information in my decision-making process.
What do you think would surprise someone about the job you do?
To keep everyone focused on the well-being of our coworkers, I host a meeting every two weeks with all of our managers in operations to discuss safety.
We spend the time sharing the learnings from past experiences with an emphasis on preventing injuries and other incidents in the future. Some may find the frequency of these discussions surprising, but we have found it to be very beneficial.
What do you think is the key to professional success?
Making a commitment to your personal professional development, along with being a continuous learner. And then, passing those learnings along to others and supporting their development.
Do you have a secret talent?
There is no secret talent. But I believe having empathy and caring for the people you work with is foundational to personal growth.
What motivates you in your current role?
Wanting to see others around me grow professionally and take on larger, more complex roles within the organization.
Who is your biggest hero?
During times of adversity, I like to reflect on the life of Jim Valvano, the late former coach of the North Carolina State University men's basketball team. He was a big dreamer who firmly believed ordinary people could accomplish extraordinary things. I admire the enthusiasm he exhibited that inspired people around him.
What are your hobbies outside of work?
Outside of work, I enjoy spending time with my wife, Diana, and our two adult daughters, Sarah and Ellie. In addition, I like to fly fish for Atlantic salmon and tie flies. This has been an interest of mine for over 30 years, and I have traveled to some interesting spots between North America and Europe in pursuit of it. I do attempt to play golf periodically, but you will never see my name on a local club championship trophy.