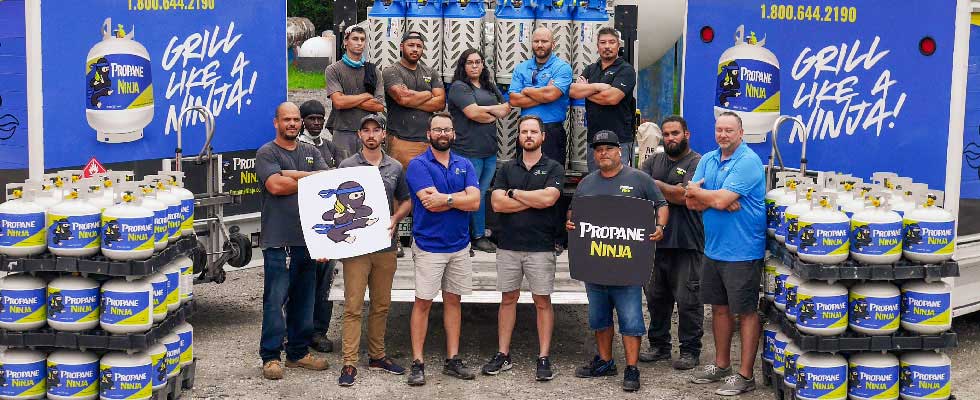 A Florida marketer's commitment to service & innovation helps it respond to COVID-19 conditions
During the year-plus of the COVID-19 pandemic, propane and the equipment it fuels have gained a lot of attention. When people were ordered to stay at home, they made their patios more comfortable with grills, fire tables and other outdoor-living appliances. When restaurants were restricted to serving meals outdoors, they made those spaces more inviting and extended their hours by installing outdoor heaters.
These demands have created both opportunities and challenges for propane marketers that supply cylinders and appliances, said Mike Dodd, CEO of Propane Ninja, a company that specializes in forklift fuel delivery, hospitality heating and retail cylinder exchange. The company serves a 120-mile radius around Tampa, Florida.
"Outdoor living has really grown. There's been a lot of change there," Dodd said. He notes that the moderate climate in the region served by Propane Ninja means restaurants can serve their customers outdoors for a greater part of the year. This has boosted the demand for outdoor heaters and propane to fuel them. As part of its hospitality heating service to companies that cater, use patio heating and do grilling, the company offers patio heater leasing.
"This has been one of our biggest years. Outside patios at restaurants have been busy. We have rented more outside and temporary heat than we ever had. Consumers definitely prefer sitting outside rather than inside," Dodd said.
Residential demand has been strong, too. For Propane Ninja, that's been reflected in the demand for retail cylinder exchange. Consumers have been using barbecues, fire tables and fire features at home and have needed propane tanks to fuel them.
"Retail cylinder exchange is where we've seen the most impact during COVID," Dodd said. "It's up 25% to 30% month to month because people are staying home."
With this growth in demand, COVID-19 has also caused some problems in supply. For one thing, due to supply issues, cylinders have become harder to get and more expensive. "Access to steel has been a real challenge for us," Dodd said.
He reports that he must now order tanks a year in advance, rather than the three months required before COVID. In addition, the wholesale price of barbecue tanks has increased 60%. It has also become more difficult to find labor during COVID. "I believe the main reason is unemployment benefits," Dodd said. "The benefits of unemployment outweigh those of going back to work."
When Propane Ninja was hiring for a production work job in October 2020, they got 600 applicants. When they did the same in March 2021, they got 15. "We have coped by placing more job listings and by getting on the phone. We used to just email applicants; now, we actually call them to ask them to come in."
Innovation & Optimism
Dealing with challenges and seizing opportunities has been a constant practice at Propane Ninja since the company was founded in 2013. Dodd and Peter Samuelson started the company.
Mike's father, David Dodd of Otodata, suggested he look at patio heater propane delivery as a needed service in the market. Dodd and Samuelson decided to go ahead with it. They started out with a single pickup truck and some propane tanks. They secured 50 restaurants as customers during the first year and added more than 100 in the next year.
"We were able to provide a service that didn't exist at the time — bringing propane to restaurants," Dodd said. "Before that, restaurants had to travel to a retailer and get propane using their own car. It was unsafe. We offered them a way to use a certified, insured company to deliver the propane rather than having an employee do it using their personal car. There was very little competition and no innovation in that market. We bring innovation and optimism."
Dodd and Samuelson wanted to expand. Outdoor heating is seasonal and in demand for four-and-a-half months around Tampa. So, they aimed to add services that were in demand year-round. They added forklift fuel delivery in 2015 and retail cylinder exchange in 2017. "We needed to diversify," Dodd explained. "The scary part of doing one thing is, you put yourself at risk for competition. Once you diversify, you have multiple revenue streams, spreading business risk across platforms."
When promoting forklift fuel delivery, Propane Ninja highlights its use of composite cylinders. The company provides Viking Cylinders for forklift exchange and explains to customers that these cylinders are lighter, so they meet Occupational Safety and Health Administration lifting guidelines; they are translucent, so users can see the gas level; and they're ergonomic, so forklift drivers love handling them.
"We've done a good job getting and training new customers," Dodd said. "The fiberglass tank is definitely a conversation starter."
Propane Ninja's retail cylinder exchange has grown to so much that the company now has exchange cages in front of hundreds of stores. These include gas stations, supermarkets and hardware stores. "Retail cylinder exchange is now a strong division and continues to outpace our other products," Dodd said. The company also offers a next-day service guarantee it calls "Tanks On Demand."
"If a customer is out today, they will get gas tomorrow," Dodd said. "We focus on service, and that's why our customers are loyal."
To receive customers' requests for deliveries, the company has a 24/7 answering service. Also, all its communications are now handled over Voice over Internet Protocol using Dialpad.
"We have a good brand with Propane Ninja," Dodd said. "There's room for independents anywhere. Small businesses can beat the competition with price and service combined. Pricing is not always the most important factor, especially when price leaders fail to keep up with demand of COVID. We are smaller and more nimble. We are constantly trying new things to make ourselves better."
Working Together
Though Propane Ninja does not serve the generator market, Dodd knows those who do have been busy. "People don't trust the grid in Florida," he said. Today, Dodd sits on the board of the Florida Propane Gas Association and heads up Young Gassers of Florida. He said he enjoys talking with friends in the industry and sharing his knowledge with people new to the industry.
"We work together to make sure propane customers don't change to other sources of energy," he said. "The way we do that is to provide the best service."
"We are a young team here," Dodd said. "We started from zero. We try to sign customers in the best way possible, meaning not always the best price but always the best service. It's really about your service approach and backing that up. We want propane users to be happy and refer others to us. People don't want to worry about running out of propane. In business, especially, they want a rock-solid vendor."