When temporary facilities began springing up to deliver services to communities in response to the COVID-19 pandemic, propane marketers were there to supply the fuel needed to provide warm air and hot water.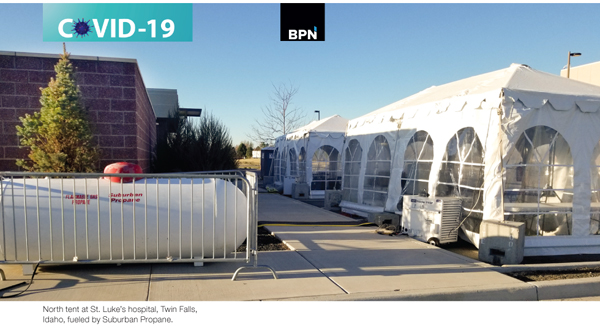 Examples include temporary housing facilities, RVs, and tents:
The AmeriGas New Orleans office delivered propane to temporary facilities set up for quarantined residents. The propane-fueled appliances included shower stations, food trailers, washers, and dryers.


Suburban Propane's location in Newark, N.J., responded to a request to provide heat and hot water for RV units used by Federal Emergency Management Agency (FEMA) staff in New York City. FEMA obtained special permission for Suburban's bobtails to deliver propane to the NYC area.


Ferrellgas locations across the country set up temporary heat at pop-up testing and evaluation tents used by hospitals and healthcare facilities.


Those sorts of pop-up tents have been supplied with propane for temporary heating by AmeriGas, Suburban, and Ferrellgas alike and have become a symbol of propane's contribution to the response to COVID-19.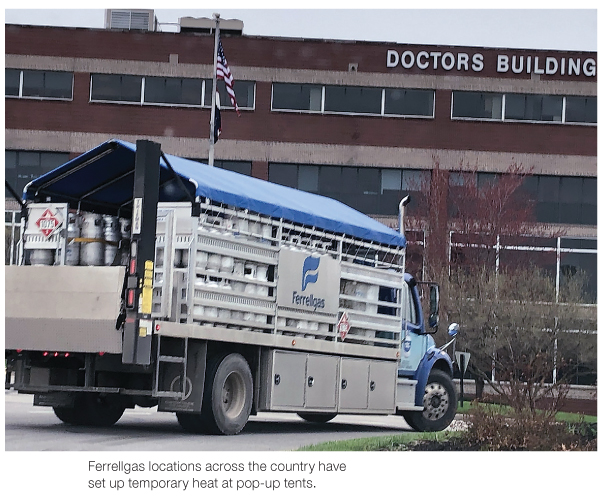 The large, outdoor tents are used by local hospitals and healthcare facilities due to the widespread nature of the outbreak, explained Scott Brockelmeyer, vice president, marketing and communications, at Ferrellgas (Overland Park, Kan.). Individuals showing symptoms of the virus can walk into those tents and be tested.
For temporary heating applications like this, many different sizes of heaters are used. Ferrellgas supplies smaller heaters, under 300,000 Btu, and it has trade allies who supply larger heaters. Ferrellgas also provides safety training as needed to the people who are in charge of the site.
"This shows how versatile and how valuable a product propane is," Brockelmeyer said. "We and others in the industry have provided temporary heating for tents for many years, so this is an exercise we have been through before. We will take good care of these folks; we hope it's not a customer base we will have for long."
"We have new requests coming in each day," he added. "It's a sobering reminder of how serious this pandemic is."
UNDERSTANDING THEIR NEEDS
Suburban Propane, too, has been partnering with medical facilities and hospitals to provide temporary heat for medical and triage tents that are being used to test and treat patients with COVID-19.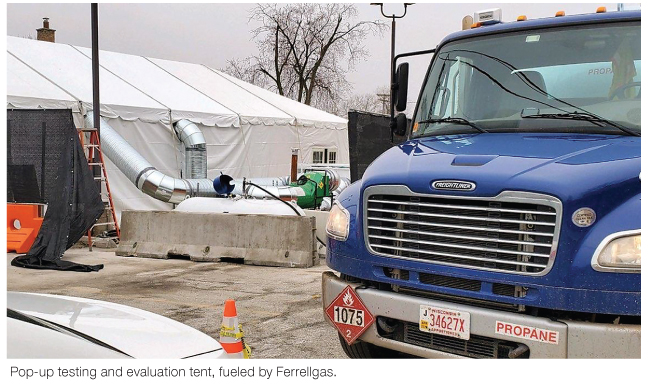 At the tents supplied by Suburban, typical setups include portable heaters that could range from 75,000 Btu to 250,000 Btu. Nandini Sankara, spokesperson for Suburban Propane (Whippany, N.J.), said a location may have one tent or multiple tents, with each tent having one or two heaters.
"We work closely with the medical facilities to understand their needs in these critical and time-sensitive situations to help present a feasible solution that meets their needs in the shortest time possible," Sankara explained. "The size of the heater is determined by the size of the tent. We have sized the tanks to keep a minimum of three days' supply.
"As safety is our No. 1 priority, our tanks are installed by our highly trained technicians," she added. "The heaters must be placed in low-traffic areas to limit contact. The tanks must be placed in a location that is close to the heater and each tank location must have a bulkhead and/or a barrier to keep anyone or anything from coming in contact with the tank."
AmeriGas (King of Prussia, Pa.) has provided pop-up support for COVID-19 testing facilities throughout the country using propane cylinders or bulk temp heat to power outdoor heaters and pop-up facilities.
"Although many of us are experiencing warmer weather as we have entered the spring, there are first responders working long hours in outdoor testing facilities that still have early morning temperatures in the 30s," said Chris Cook, vice president of marketing and cylinder exchange at AmeriGas. "The fact that propane doesn't require a grid to turn on is just one of many reasons why the versatility and availability of propane cannot be matched by any other fuel source."
AmeriGas assisted in providing propane cylinders to power outdoor heaters at a pilot outdoor testing facility in Philadelphia that was set up by Rite Aid Corp. after receiving a directive from the White House COVID-19 Response Working Group.
At the Rite Aid facility, there were five primary tents and some smaller ones for check-in and a break area. These were equipped with 11 standard patio heaters having an hourly Btu requirement in the range of 42,000 Btus to 48,000 Btus.
To power those heaters, AmeriGas was able to arrange supply for the testing site within hours of the call, "and not only had cylinders delivered to the site early the next morning, but then had 54 more cylinders in cages the following day to ensure ongoing supply while minimizing delivery requirements," Douglas McLaughlin, national account manager at AmeriGas, reported.
"On-hand capacity is a function of two primary factors: consumption requirements and distance from our plant to the location," he explained.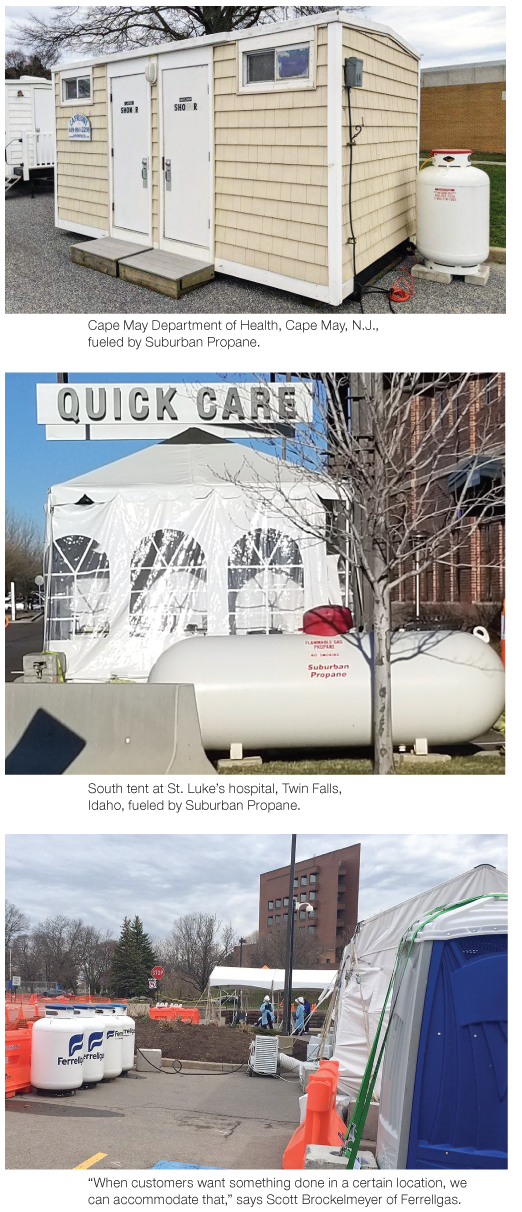 CLEAN, LOW-COST, PORTABLE
Each of these representatives pointed to several characteristics of propane that make it the fuel to be used in applications like these.
"Propane is best because it burns relatively clean versus other fossil fuels, is low cost and portable," McLaughlin said.
A recent FINCH podcast interview of Cook pointed to the value of working with propane retailers who have the resource capabilities and the infrastructure to answer a call for support at any time, any day. (You can hear the podcast, "AmeriGas Has Your Back," at https:blog.finchbrands.com/amerigas-podcast.)
"In times like today where there's a lot of uncertainty in the country and quite frankly in the world, this is where AmeriGas is positioned really well," Cook said. "We have a flexible organization and haven't skipped a beat on business continuity. We've been able to assist our customers who may be experiencing financial hardships due to COVID-19 through payment programs and waiving late fees, and our online experience has enabled our customers to fully engage with us remotely whether it's scheduling a delivery, view their complete account information, or pay their bill. It's really allowed us to serve our customers in a pretty unique way."
Sankara of Suburban pointed to propane's clean-burning properties, energy efficiency, availability, and portability. "The ease of portability of propane makes it ideal to use in situations like this where a location may be remote and installation must be done on short notice," she said. "The heating equipment and propane are all readily available locally, are mobile, and can be installed quickly to meet the medical units' time-sensitive needs."
Brockelmeyer of Ferrellgas pointed to the versatile, easily transportable nature of propane. "This allows propane to be used where and when the customer wants it to be used. That is a tremendous advantage. When customers want something done in a certain location, we can accommodate that. As additional tanks are needed, we can easily add tanks."
He added, "I would also like to say something to the folks in our industry. We have long provided essential services to our residential and commercial consumers. When the pandemic hit, it's an entirely different sphere. It's heroic what the folks in our industry are doing. I am humbled and very proud." — Steve Relyea