Louisville, Ky., like many cities, has for a long time recommended that residents delay mowing with gasoline mowers during air pollution alerts. Three years ago, the local newspaper, the Courier Journal, reported that city mowing crews were ignoring the city's own recommendations by continuing to mow on those days. The next day, Mayor Greg Fischer and city officials discontinued mowing on the pollution alert days acknowledging the confusion continuing to mow on such days causes the public. But people also complain when grass grows too high.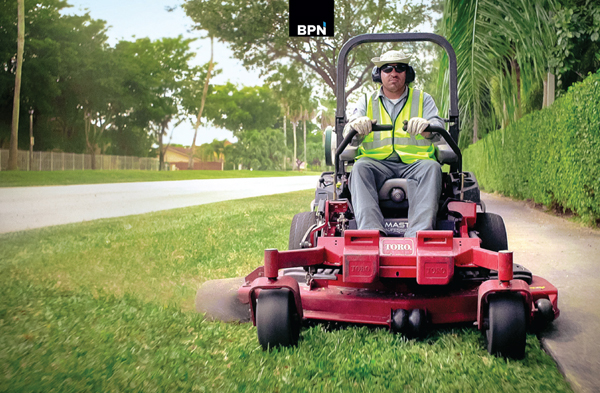 A SOLUTION TO A DILEMMA
By April of 2018, the city had a solution to the mowing dilemma: propane mowers. With the purchase of 11 new mowers that run on propane, the city would retire some aging gasoline lawn mowers while 68 such mowers remained in the fleet. In a press release, city officials said the new mowers would allow some crews to keep cutting on pollution alert days "without unduly adding to the pollution problem." A study by the Louisville Metro Air Pollution Control District had compared emissions from gasoline-powered lawn mowers to similar propane-powered mowers and found a major decrease in emissions, including the chemicals that form smog. The new lawn mowers have a distinctive-looking propane tank. "The new mowers will quickly pay for themselves in terms of reduced fuel cost," Mayor Fischer said.

"And they're not just better for the bottom line. They're also better for our environment." He announced the new propane mowers would run cleaner, cheaper, and quieter than gasoline mowers and help achieve goals set in the mayor's Sustain Louisville plan to cut greenhouse gas emissions and improve air quality. Residents were told that the new propane mowers put out about 45% less carbon monoxide emissions, as well as fewer volatile organic compounds (VOCs), which contribute to summertime ozone. At $9500, the propane mowers cost less than 3% more than gasoline mowers, but cost 25% less to run based on March 2018 per-gallon fuel costs of $2.39 for gasoline and $1.76 for propane. "That will allow us to continue to make improvements in sustainability while also keeping our city looking good," Mayor Fischer said.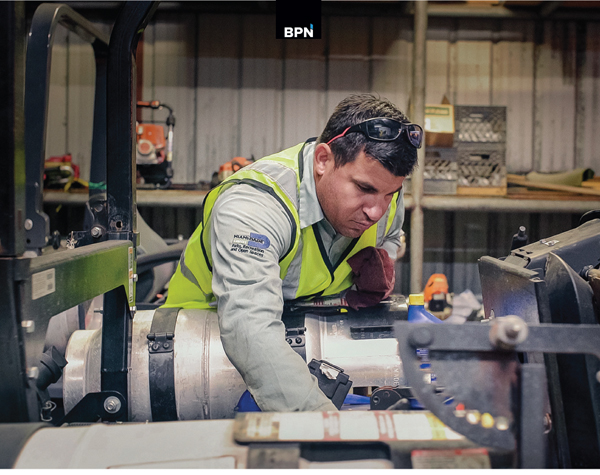 In October of 2018, the Louisville Metro Government was recognized as the 2018 Green Leadership City, a distinction awarded by the Propane Education & Research Council (PERC).

Mayor Fischer accepted a $5000 donation from PERC at a celebration event at a local park with city officials and Parks & Recreation employees who operate the mowers regularly. "The Green Leadership City Award highlights public agencies demonstrating a commitment to environmentally-friendly and sustainable practices, which the city of Louisville has shown by adding propane mowers to its municipal equipment fleet," said Jeremy Wishart, director of off-road business development for PERC. "Louisville has set an incredible example for the rest of the region of what a municipality can accomplish when it decides that its environmental impact matters and takes necessary steps to reduce its carbon footprint."

In December, PERC called attention to a fuel price forecast published by the U.S. Energy Administration in November that expects gasoline prices to average more than $2.75 per gallon in 2019. "This estimate came before OPEC and Canada announced more production cuts for crude oil so that may further bump the price up in 2019," Wishart said. "No contractor likes to think about all the money their business has to expend just to purchase fuel, and we certainly hear more complaints from contractors when gasoline prices start to approach that $3.00 per gallon mark when it turns from a nuisance to a cost that sometimes they financially can't bear. But contractors don't have to feel helpless against the fuel price posted at their local gasoline filling station if they switch to mowers powered by propane, which consistently costs between 30% and 50% less per gallon than gasoline. That price margin only widens when gasoline prices rise like they're going to do again next season."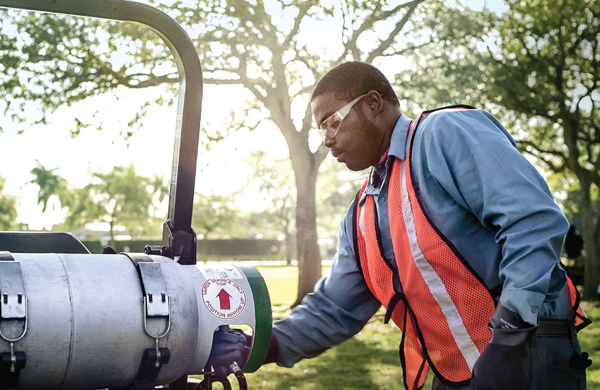 COST SAVINGS
Wishart noted that contractors and municipalities can lock in a set fuel price with their local propane supplier to guarantee the same rate all year long. PERC has a propane mower cost calculator that details how much money can be saved with propane. The calculator allows contractors to input operational data specific to their fleet, so the results are unique to each equipment fleet. PERC's Propane Mower Incentive Program is available all year long. It allows for $1000 for every qualifying commercial propane mower purchase (up to 20 units) or $500 for each EPA-certified conversion kit. For a limited time in December, PERC offered an additional $500 for each propane mower (a total of $1500) or conversion kit ($1000) purchase through Dec. 31, 2018.

PERC also has an equipment dealer locator which helps contractors connect with a local resource who can also help get them in touch with a propane retailer. Equipment dealers listed on the free online locator tool are pre-screened, so contractors know they are contacting a partner who not only sells propane mowers, but is knowledgeable about propane equipment, too.
In addition to cost savings and environmental benefits, a municipality that started converting to propane lawn mowers in 2008 will also attest to an increase in productivity. The Miami-Dade County Parks, Recreation and Open Spaces Department cares for 42 parks, 122 residential communities, and many sports fields. It also holds contracts to do maintenance for other departments within the county, such as the Port of Miami and the Miami Police Department. According to Gil Delgado, sports turf and landscape division chief for the department, a transition to propane increased productivity from the outset. "We're spending a lot of time now maintaining flowers and landscaping instead of cutting so much grass," Delgado said. "Part of that is because we don't spend as much time refueling these units."

POSITIVE PUBLIC RELATIONS
Delgado said that the transition to propane resulted in a positive public relations opportunity for the county because of propane's clean emissions profile. "The propane mower was painted green with the department logo so that residents would identify the county with green energy," Delgado said. "The mower was brought to as many events as possible to make the public aware of the county's plans to operate propane mowers and to build public trust. It was like the county had brought a new toy–people were curious and excited about the machines." As time went on, Delgado said the propane fleet grew as the fuel continued to show efficiencies in the field and improvements to the department budget. "We're also spending a lot less on maintenance," Delgado said. "The incremental savings just with fewer oil changes needed really add up. We only need one oil change with propane for every two to three required with gasoline. That's a $40 savings per oil change plus employee time."

There is a story to tell about potential savings not only with the expected 2019 spread between propane and gasoline, but also savings from a cut in loss due to spillage, evaporation, or even theft with gasoline. Wishart also emphasized it is important for retail propane marketers wanting to sell more propane to partner with a mower supplier to bring the proposed turnkey solution to the retailer. "The retail propane marketer should not just tell companies, contractors, or municipalities they should consider propane lawn mowers, they should organize a joint presentation with a lawn mower provider to really make a strong case and build relationships." Wishart reminds retail marketers that there is a lot of information on propane lawn mowers at propane.com. — Pat Thornton