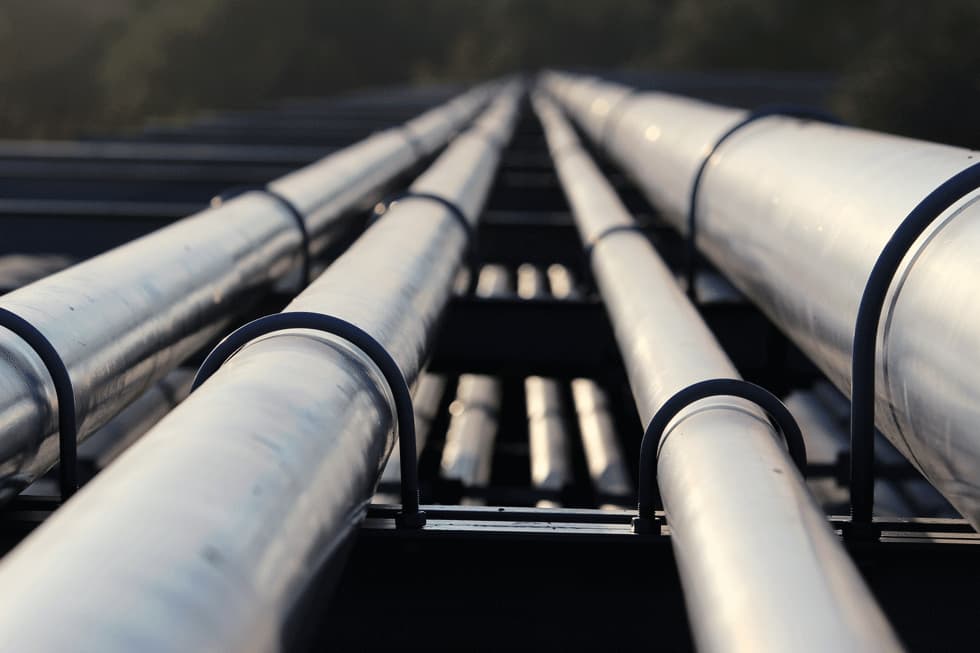 Amid a pull of propane exports to Asia, U.S. marketers consider 2021-2022 decisions
For most retail propane marketers, spring is a chance to catch a breath, evaluate a busy winter and then continue planning, knowing the importance of being prepared for the next winter season lurking around the corner.
Rusty Braziel, chief executive officer of RBN Energy, correctly warned BPN readers in December 2020 that record exports were creating a scenario where prices could quickly shoot up. Mont Belvieu propane, priced at 58 cents per gallon on Dec. 3, traded at over a dollar a gallon at times during the first quarter of 2021 amid soaring exports and a deep freeze in the United States.
Braziel, along with John Powell, senior vice president and head of marketing, supply and logistics for Crestwood Equity Partners, were two of several supply experts who spoke to propane industry members last summer on webinars hosted by the National Propane Gas Association (NPGA). Both shared concerns about the impact of U.S. propane exports for winter 2020-2021 and both have concerns ahead of winter 2021-2022 as well.
"Marketers should really watch winter supply needs as the overall U.S. inventories are close to the five-year lows," Powell said. "So, there will not be as much storage gas in the field this coming year. We could have some increased supply concerns if we have normal to below-normal temperatures this coming winter. The U.S. is still a large part of the international supply picture. However — with lower inventories in the overall U.S. markets, U.S. propane will need to be competitively priced versus other alternatives to help build our U.S. base inventory. With that being said, we will probably see strong export volumes, but not record volumes, until the U.S.-based propane becomes more competitive versus other global production areas. Increased OPEC production will also increase the global supply, so that will need to be considered as well, as we see their production increase during the year."
Steve Kossuth, vice president of Global LPG Supply at UGI Corp. (parent company of AmeriGas), hosted the NPGA webinars last summer in his role as chairman of the NPGA Supply and Logistics Committee.
"Since the polar vortex winter of 2013-2014, the propane industry has made valuable investments in the supply chain. That said, complacency and market volatility are the enemies of surety of supply," Kossuth said. "In recent years, there have been periods of volatility that our industry has overcome, each providing valuable perspective towards improving the propane supply chain. As we recover/emerge out of the pandemic, the current market forces of future curve backwardation and strong export demand would indicate that the midstream side of the business is not incentivized to build inventory; recent reports from the Energy Information Administration (EIA) confirm this to be the case."
Kossuth believes retailers must continually question their supply plans and ensure that they are comfortable with the risks. "Confirming volumes with suppliers, taking storage positions (especially in off-market hub locations), and firming up rail, truck and pipeline commitments are all part of the strategy to combat potential upstream volatility," he said. "I am extremely proud and pleased with the NPGA's and the Propane Education Research Council's efforts towards providing information to membership. Experts like Rusty and John, to name a few, have graciously provided time and insightful perspective to retailers through these organizations allowing people to make informed decisions regarding supply. This year will have a lot of similarities and differences with prior years, but one thing is certain: proper preparation and planning with great information will always prove to be beneficial as they allow the hard-working people in our supply and logistics teams throughout the propane industry to tackle any unknowns that will undoubtedly emerge."
Braziel shared RBN Energy's March 31 propane blog, "Should I Stay or Should I Go?" Read excerpts from it below: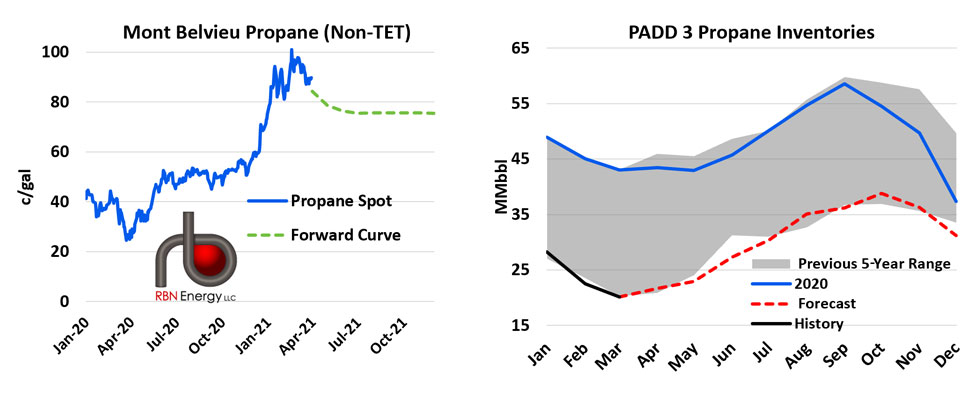 "Wow, what a ride! That's what came to mind yesterday as the 2020-2021 propane season drew to its official end. But the excitement and uncertainty aren't over, folks. Not by a long shot. Propane exports are still running sky-high; end-of-season inventories are at the low end, with a whopping 2-MMbbl withdrawal number in EIA's stats yesterday; and a backwardated forward curve is not doing anything to encourage U.S. marketers and midstreamers to rebuild stocks. We get it — no one wants to think about next winter yet, just as spring is really springing. But still, you've got to wonder, could the dynamics that have been roiling the propane market be setting us up for skinny inventories and price spikes in the 2021-22 propane season? Today, we examine the challenges facing the market over the next few months.
With the crazy winter of COVID-19 and Deep Freeze finally in the rearview mirror, propaners have been eagerly anticipating a return to the more tranquil, stable market conditions promised by the smooth, flat forward curve shown in the left graph in Figure 1 (dashed green line).
It's probably not going to happen. Instead, the U.S. propane market is poised for another period of intense volatility, due to competition between international and domestic markets as exports compete with supplies that would otherwise be replacing inventories drawn down during the 2020-2021 propane demand season.
If that's the way it plays out, U.S. inventories will be fully rebuilt only if Mont Belvieu propane prices itself out of some export markets. In other words, for inventories to grow back to comfortable levels, some volumes that would otherwise be exported would instead be used to replenish stocks, which implies high U.S. prices relative to international markets — that is, a closed "arb" constraining the number of export cargoes. The catch is that the use of propane supplies to fully rebuild stocks must make economic sense, and that assumption is open to question.
Looking again at the left graph in Figure 1, the front end of the 2021 Mont Belvieu propane forward curve is in backwardation and the back half is flat. So, prices are lower in the future than they are today. This suggests that there is little economic incentive for U.S. marketers and midstreamers to build inventories, other than the usual seasonal/operational considerations.
When we plug that forward curve into our supply and demand model, along with RBN's base case forecasts for domestic demand and exports, we come up with the forecast for PADD 3 (Gulf Coast) inventories shown in the right graph in Figure 1.
The model predicts that PADD 3 inventories will remain at or near their five-year lows during 2021 (dashed red line) — or just enough to keep U.S. stocks from falling to dangerously low levels before the 2021-2022 propane heating season — as summer export volumes reach all-time highs. But that's the base case, not our only case, because there's a real wild card in play during 2021: U.S. propane production.
It is entirely possible that production will continue to increase enough to meet both domestic and international demand, keeping inventories from scraping the bottom of the barrel as we show in Figure 1 (right graph). Recent production trends support the possibility of such an optimistic view. With crude oil production falling dramatically during the COVID meltdown last spring, it was generally assumed that propane production would follow suit. Not so.
Although there was a dip in propane supplies, it did not last long. Over the past nine months, propane production from gas processing has been far more resilient than crude production. And that could portend a similar trend this year."
Crude Production Down, Propane Up
"Following the dip in propane production last spring, gas plant propane volumes recovered back to almost 1.8 MMbld by March 2021, equal to the pre-meltdown peak production level in March 2020," Braziel said. "In contrast, crude volumes have continued to languish at about 11 MMbld (11.1 MMbld in yesterday's EIA stats for the week ending in March 16), about 15% below pre-meltdown levels of 13 MMbld."
"As we discussed a couple of weeks ago in Propane: It's A Gas, there are two primary factors that have allowed propane to recover at a much higher rate than crude oil," he said. "The first is natural gas production, which has rebounded faster than crude. Crude oil wells that produce associated gas tend to get 'gassier' over time. With crude drilling down, the fleet of crude wells has been aging, and thus producing more gas per barrel of crude (e.g., the gas-to-oil ratio is increasing). Also contributing to increasing gas volumes is a decline in flared gas, both in the Permian and Bakken."
Braziel said a second factor that has supported higher propane production is that proportionally more propane is being recovered from that increasing volume of gas.
"Particularly in the Permian, the propane yield has been increasing. For one thing, lots of new, highly efficient gas processing capacity makes recovery of more light ends (both propane and ethane) possible. And at the same time, the gas being produced has a higher proportion of those light ends. Thus, we get a higher percentage of ethane and propane and a slightly lower percentage of butanes and natural gasoline. The implication is that every Mcf of natural gas produced has a slightly higher yield of propane in the y-grade mix."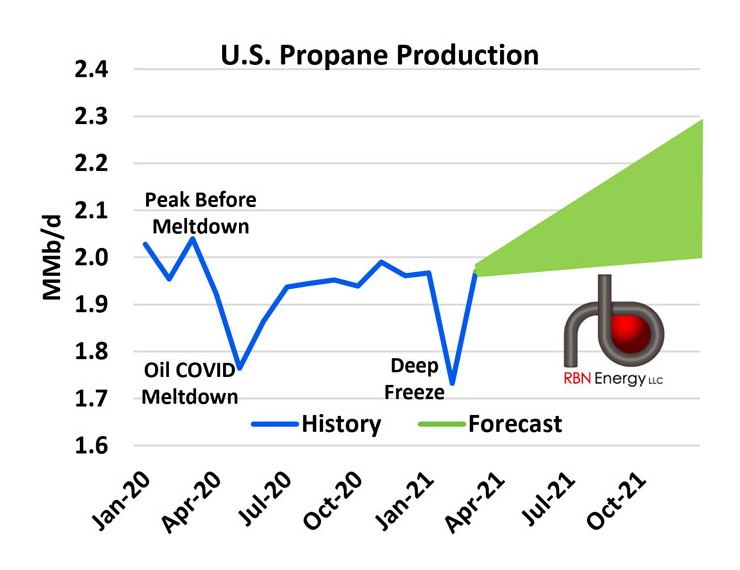 Figure 2 depicts U.S. propane production from January 2020 through March 2021, with the most recent couple of months estimated based on EIA weekly data, along with RBN's range of forecasts for the remainder of 2021.
"Note that 2020 average volumes of 1.95 MMbld were pulled down by the COVID meltdown during the spring of that year, while 2021 volumes were lower in February due to the Deep Freeze," Braziel said. "We expect that U.S. propane production will increase in 2021, most likely growing to about 2.05 MMbld, or 100 Mbld higher on average than in 2020. We expect that 2021 production will be particularly strong (about 175 Mbld higher than last year) during the summer months (April to September). And, as indicated by the green forecast wedge, production could grow well above that trajectory."
2021 Propane Exports – Constrained by Supply
According to Braziel, regardless of whether production comes in at the high end of the range, the low end, or somewhere in between, it is that production volume that will be a primary determinant of 2021 propane exports. "Gulf Coast dock capacity limitations that have constrained capacity in the past have been relieved, and the demand for U.S. propane exports, particularly from Asia, is growing."
"Regarding LPG docks, a total of more than 400 Mbld of new Gulf Coast export capacity was added last year by Targa Resources (at Galena Park) and Energy Transfer (at Nederland), bringing total LPG export capacity in the region to more than 2 MMbld," he said. "Although some of that LPG capacity is reserved for butane, we believe there is at least 1.7 MMbld of capacity to move propane from Gulf Coast terminals. That is more than enough to handle the record 1.4 MMbld of propane that moved off the Gulf Coast in December, plus another 20% more."
Nor is the demand for U.S. volumes likely to be a constraint on exports. Over the past year, the global market for U.S. propane demonstrated an ability to absorb about 1.3 MMbld of U.S. exports on average, and considerably higher volumes on a few occasions.
"Most of the increase has moved to Asia, which receives about 60% of U.S. propane export volumes," Braziel said. "Asia's propane demand increased in 2020, primarily due to new petrochemical facilities in China. In just the last half of 2020, steam cracker and propane dehydrogenation (PDH) projects added more than 135 Mbld of LPG demand, mostly met by propane."
And he noted a lot more Chinese LPG demand is coming online in 2021, with the possibility of several more facilities (most of them PDH plants) in the 2022-24 timeframe. "Thus, as long as the post-COVID-19 global economy continues to reopen, there should be no constraints on global markets to take incremental U.S. propane exports."
Consequently, he notes that given adequate dock capacity and strong global demand, U.S. exports will be constrained only by supply. "The supply available for export will be limited by U.S. production, and by the need for the U.S. market to replenish stocks drawn down during the winter 2020-2021 propane season," Braziel said.
As shown in the right graph in Figure 1, those stocks are rebuilding from a relatively low level. "So if too big a share of production is loaded onto those big VLGCs and shipped to Asia and other overseas markets, U.S. inventories going into to the 2021-2022 propane season may end up too low. If that were to happen, the propane market would be particularly vulnerable to a scary level of volatility, with the potential for supply shortages and spiking prices," he continued.
"Of course, such a scenario would not play out if export volumes are cut so adequate inventories can rebuild," Braziel said.
He believes all it would take for that to happen is a propane price high enough to shrink or close the arb — i.e., the difference between prices in the U.S. and export destination markets, less the costs of loading propane at LPG docks and shipping it overseas.
"Complicating that scenario, though, is what we mentioned earlier about the front end of the 2021 Mont Belvieu forward curve being in backwardation. With prices for propane on the forward curve lower in a few weeks than they are today, there's not much incentive to build inventories, other than the usual seasonal/operational considerations that retailers and midstreamers deal with each year. How this plays out will be our weekly — even daily — obsession this spring and summer, and if you're in the propane business we are sure that it will be of major interest to you as well."
May Conference To Cover Latest Propane Analysis
This month, RBN Energy will be bringing together the views of senior industry executives, including Powell and Kossuth from the propane industry, to share their views along with their latest analysis of production, infrastructure, pipeline capacity and exports.
"We are calling our conference 'It's a Gas: Propane.'" Braziel said. "It will be the first in a series of three planned virtual conferences to be presented in our Studio Session conference format, where we'll discuss RBN's outlook for various aspects of the propane market, and then hear from industry leaders. Our goal is to bridge the gap between fundamentals analysis and boots-on-the-ground market intelligence."
The "It's a Gas: Propane" virtual event is scheduled for May 12, 2021, from 9 a.m. to 4 p.m. CT, with an hour for lunch at noon. The conference will be recorded and will be available for members for a few weeks post-event.