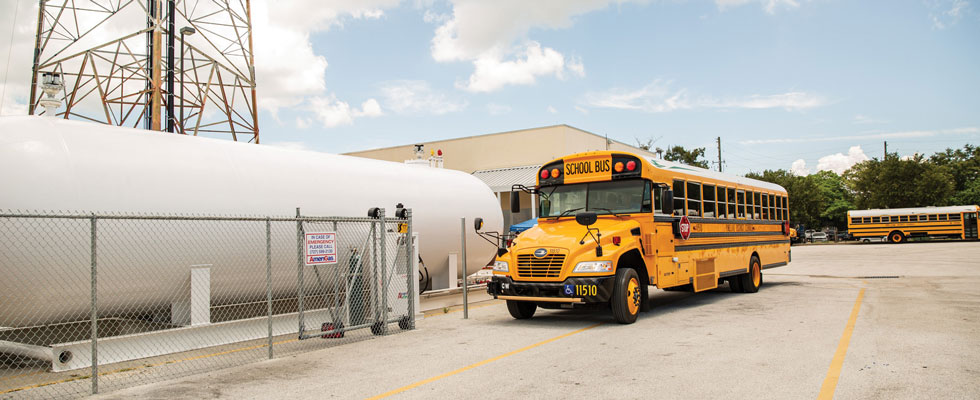 The tech, policies and people pushing propane equipment into the mainstream
"It's been a challenging year with COVID-19," said Steve Whaley, director of autogas business development at the Propane Education & Research Council (PERC). "Nonetheless, it really hasn't slowed our progress with propane autogas. There is much to be excited about, considering both the new gallons being used for autogas as well as the great potential in the years ahead."
Whaley and propane autogas advocates have been sidelined from many conventions and meetings due to COVID-19-related cancellations over the past year. The latest cancellation was the annual Work Truck Show, typically held in March by NTEA, the association for the work truck industry, in Indianapolis, Indiana. 
"We are working on one of the largest and greatest projects with the most potential to dramatically increase use of propane gallons in the United States," Whaley said. "We are currently negotiating with Cummins, the second largest manufacturer of engines in the world, on the $12 million funding request approved by the council at the December meeting." 
The Cummins Engine Project
Cummins will work in partnership with PERC to commercialize a propane engine that has already been developed and optimized for high efficiency and near-zero emissions operating on propane. 
The summary states that the propane-powered engine will bring unparalleled performance to the medium-duty vehicle market while also providing a pathway to a high-performing engine for off-road applications. The new engine would launch in 2024 based on the proposed timeline. 
"This engine will provide a more cost-effective and environmentally friendly solution, which could displace 60 billion gallons of diesel gas currently used to fuel medium-duty vehicles," Whaley said. "This engine has better horsepower and better torque without diesel. There will be more environmental restrictions in 2024 and even more in 2027. Companies like Roush CleanTech and PSI are already able to meet the 2027 restrictions." 
Whaley would be excited to just displace 20 billion gallons a year. "That would be 20 billion gallons we don't have to export to foreign destinations each year. We're super excited and want to launch this right now," he said. 
Outpacing Electric In Lowering Carbon Footprint in Trucks 
In late January, PERC released a comparative analysis showing propane-fueled medium- and heavy-duty engine vehicles provide a lower carbon footprint than electric vehicles in 38 U.S. states and Washington D.C. Fifteen states and Washington D.C. have proposed full electrification of medium- and heavy-duty trucks by 2050 with a target of 30% "zero emission" vehicle sales by 2030. 
The rationale behind the proposals is based on exhaust carbon dioxide (CO2eq) emissions alone as opposed to life-cycle analysis results that miss the full picture. Policy proposals today conflate the promise of electrification with actual decarbonization. 
The comparative analysis also reveals that the medium- and heavy-duty vehicles powered by renewable propane provide a lower carbon footprint solution in every U.S. state except Vermont, where electricity is generated by and imported from Canadian hydroelectric power plants. Renewable propane is derived from sources such as beef fats, vegetable oils, grease residue and other biomass feedstocks. 
The analysis makes the case that decarbonization can be accelerated by adopting propane as the fuel of choice for medium- and heavy-duty vehicles. "It is often assumed that full electrification of all sectors will lead to their full decarbonization, but little thought on how electricity is currently generated, stored, transmitted and consumed has been considered," said the author, Dr. Gokul Vishwanathan, director of research and sustainability at PERC. "While a full renewable-based electric grid is not feasible anytime soon, propane is an effective solution today for accelerating decarbonization of transportation and other energy sectors." 
The comparable analysis presented the following decarbonization recommendations:
All 50 states should aggressively invest resources in incentivizing renewable fuels. 
Federal government agencies, particularly the Department of Energy, should aggressively invest in various parallel pathways for renewable and synthetic fuel production to ensure supply.
The U.S. should pursue available decarbonization efforts using alternative fuels, such as propane and dimethyl ether (DME), rather than wait on grid infrastructure improvements that are decades away from realization. 
The Potential for Class 3 to 7 Trucks
"Propane owns the Class 3 to 7 truck market," Whaley said. "We've seen huge growth in propane school buses, which consume an average of 260 gallons per month. Looking ahead, we see potential with parashuttles, which use an average of 600 gallons per month. There is plenty of potential with food and beverage trucks which use an average of 450 gallons per month. Parcel package trucks, such as FedEx, UPS and the U.S. Postal Service (USPS) trucks, which use an average of 1,000 gallons per month due to their schedule of 6 ½ days of use a week and 52 weeks a year, also represent a large amount of potential."
Todd Mouw, president of Roush CleanTech (Livonia, Michigan) agrees with Whaley on the growth potential in the areas that he mentioned. "There is significant opportunity in the parcel delivery segment," said Mouw. "There are more than 10,000 Class 6-7 trucks that perform this function across the various USPS contractors. The growing 'push' from the new [Biden] administration to move cleaner transportation models puts Roush and the propane industry in an ideal position to support."
Roush experienced success building eight propane-powered trucks for McAbee Trucking, a third-party delivery company for the USPS, a little over a year ago. "The feedback has been positive," Mouw said. "We like it when an operator says the transition has been seamless. That means our team is doing a great job in supporting our customer from start to finish." 
"The school bus market continues to be the shining star of our collective efforts," Mouw said. "Obviously COVID-19 slowed some of the growth in the short term, but there is still a ton of pent-up demand driven by a large volume of older school buses that are in dire need of replacement. Couple that with a large pot of funding that still remains from the Volkswagon emissions scandal and the new administration's push for clean transportation, and the future for propane in the student transportation segment is bright."
Mouw noted that Roush recently unveiled the new Ford 7.3L engine in the Blue Bird Type C school bus. "Production began on the Generation 5 propane autogas fuel system at Roush CleanTech last week," he said. "The outgoing 6.8L engine has been a fantastic and durable solution, and the 7.3L continues to raise the bar on performance, cost savings, emissions reduction and serviceability. Ford spent a lot of research and development funds to develop this new engine. We are starting with a high-quality, high-volume engine that powers most of Ford's commercial lineup."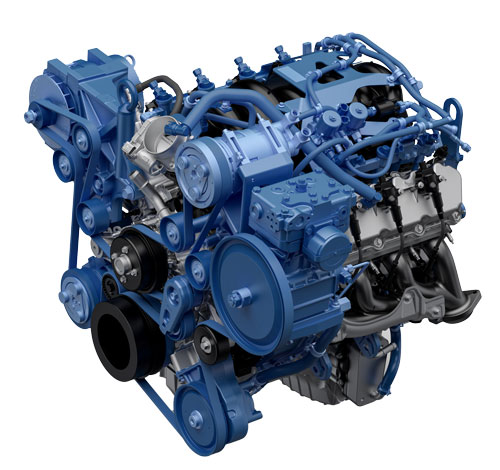 "Couple that with our decade plus of experience in designing, manufacturing, selling and servicing propane fuel systems and we have created a seamless solution that delivers a lot of power and torque without compromising fuel economy," Mouw said. "Ford is committed to this market by offering the gasoline prep package for propane and CNG. "Combining that with the $15 million investment that Roush and Blue Bird made to this product should be a strong signal to the industry."
Mouw also said that Ford will be offering air brakes on the F-650/750 platform late this year.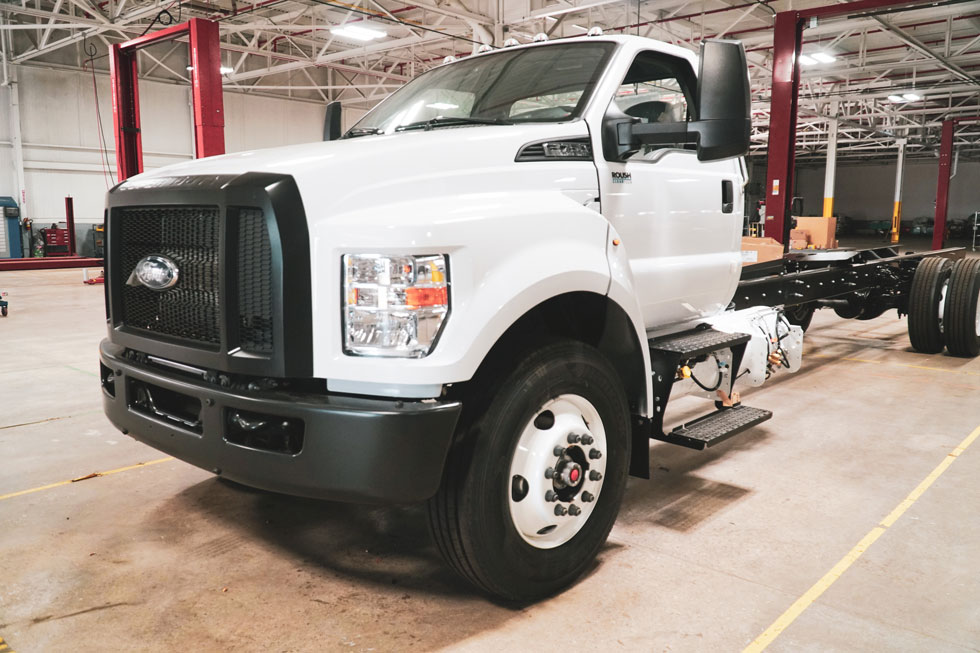 "This should help marketers make the transition from diesel to propane for their bobtails, tank setters and cylinder exchange trucks," he said. "We are also excited about PERC's focus to help the industry adopt new technology in their own fleets. As a thank you to the industry for the investment and support over the years, we are offering a $1,000 rebate per truck for any offerings that a marketer wants to purchase. Running a fleet on propane autogas provides lower fuel costs and total cost of ownership while proving to customers how much propane retailers trust their own fuel."
At Blossman Services (Swannanoa, North Carolina; the distribution partner for Alliance AutoGas Systems), President Ed Hoffman said propane-powered pick-up trucks and other service trucks have been popular in 2020. 
"Our best seller has been the Ford F-150 in 2020," Hoffman said. "The Ford 6.2L engine and the GM 6.6L engine have been adopted widely in the industry. Later this year, we plan to introduce a certified propane-powered RAM truck. Retailer propane buyers have been co-ops and larger regional players among others. Adoption of propane autogas has continued to be consistent. Regionally, the Northeast has stepped up quite a bit and we have done a lot of business in the Great Lake region."
Improvements to Dispensing Systems 
"Fleets that have implemented the K-15 nozzle have seen an increase in safety, performance and ease of use and a decrease in fugitive emissions," said Crystelle Markley, marketing director for Superior Energy Systems. "The National Fire Protection Association (NFPA) now mandates that all autogas vehicles include the K-15 adapter for fueling, which has increased availability of the nozzles. Superior Energy Systems has witnessed fleets that previously had vehicles with both standard (threaded/Acme) and K-15 (Euro) refueling capabilities convert all vehicles to K-15 due to the functionality. The nozzle is also easy to maintain, requiring only monthly spray lubrication."
"In 2020, Superior Energy Systems received retail certification for our propane autogas dispensers by the National Type Evaluation Program (NTEP)," Markley said. He added that "the certification allows our company to sell autogas dispensers to customers who wish to install them in a public setting for full retail use. The retail certification comes as Superior Energy Systems continues to advance our autogas refueling technology." 
Markley said the new onboard diagnostics offer enhanced service capability and increased reliability with Superior Energy Systems' own, in-house software, which does not rely on third-party support. "These features allow for affordable, reliable and advanced refueling for autogas wholesale fleet and retail customers throughout North America. The certification also allows fleet customers the ability to offer retail refueling at their locations, increasing profit as well as autogas usage." 
Markley said that autogas installations have slowed some during the pandemic due to students learning remotely across much of the country, but they are once again starting to see an increase in those installations across the country.
Changes to Autogas Training 
"No doubt — 2020 was a challenging year for everyone, both personally and professionally," Mouw said. "That being said, I think it gave us a chance to pause and reassess our strategy and technology road map to ensure we were bringing high value to our partners and customers. It also allowed us to revisit how we educate, consult and market to our partners and gave us time to create some great virtual tools that don't always require an airplane trip to address."
"We have invested a lot of Jack Roush's money over the past few years on technology to help scale training for technicians, drivers and first responders," Mouw continued. "We offer a significant suite of solutions that range from web-based to in-person training to ensure fleets are comfortable in making the transition to a new energy source, such as propane autogas. We offer complimentary web-based training modules, live virtual training sessions with our team members and in-person training."