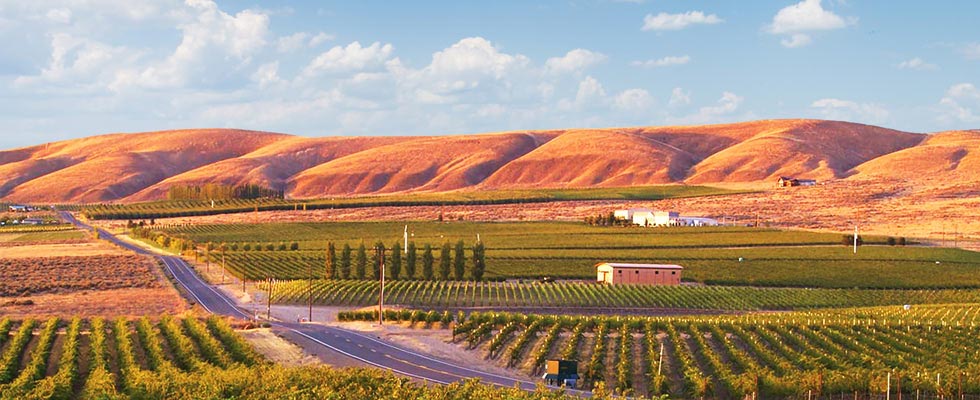 How propane tanks are helping bring fruit to your table
For decades, it has been standard practice in the propane industry to lease tanks to customers. This arrangement has been beneficial for both parties, as customers do not have to invest in their own tanks and suppliers are guaranteed gallons. However, following an unusual spring season in 2022, some customers in the Pacific Northwest tree fruit industry are challenging this practice.
Washington State is the leading producer of apples, pears and cherries in the country, with over 265,000 acres of tree fruit orchards. This footprint represents 63% of all United States acreage and about 70% of consumption. These crops thrive in central Washington due to the proximity to river water for irrigation, as well as the sunny and dry summers and cold winters. However, even in an ideal climate, frost can damage or kill the cells in the buds of fruit trees, leading to reduced yields or even complete crop failure.
To protect their crops from frost and cold temperatures, many fruit farmers use propane-powered wind machines to increase the temperature in their orchards and circulate air. One wind machine and a 500-gallon propane tank are usually sufficient for a 10-acre block of trees. While these machines may only raise the temperature by a few degrees, it is often enough to protect most of the fruit.
During a typical frost season in central Washington's orchard belt, it is estimated that between 2.5 and 3 million gallons of propane are used for crop protection. Suppliers keep more than 20,000 orchard tanks full and ready for the start of frost season, which may span from late February to early May, but typically a four- to six-week period from March to April. Many suppliers, and even some customers, have 30,000-gallon satellite tanks topped off throughout remote areas of the region.
The demand for propane during orchard heating season can be difficult to estimate, as it is entirely dependent on the weather. In warmer years, excess propane may go unused, while in colder years, there can be a scramble to obtain enough propane to save the crops. The latter was the case in April 2022, when an unusual and devastating cold snap occurred, resulting in up to a 70% loss of fruit in the hardest-hit regions.
According to those who support the tree fruit industry, a frost season as damaging as 2022 had not occurred in almost four decades. "We have been in the agriculture industry in the Yakima Valley for over 100 years, and the weather in the spring of 2022 was one of the most difficult times we've encountered," said Berno Gonzalez, purchasing manager — orchard and warehouse operations for Borton Fruit Inc.
It is estimated that around 10 million gallons of propane were delivered in central Washington during this event, almost four times greater than an average year. The majority of the deliveries took place within a nine-day sprint in the middle of April.
This unexpected demand created significant challenges. Mark LaPierre, owner of LaPierre Farms, noted, "The length of cold nights, combined with all our major tree fruit varieties approaching full bloom, made April very challenging."
There simply were not enough drivers and trucks to support the number of hours and gallons necessary to fill depleted tank inventory around the clock. These emergency orders quickly depleted the propane supply across the Pacific Northwest.
Well-prepared suppliers were able to meet customer demand through both their infrastructure and supplier relationships. In addition to starting the season with full orchard and satellite tanks, Christensen utilized 180,000 gallons of bulk storage across three facilities and three rail spurs to keep product moving. Strong relationships with suppliers, customers and even competitors also played a key role in successfully navigating the challenges of this season.
In an unprecedented move, many suppliers agreed to allow other companies to fill their orchard tanks. Jeff Bonnington, Christensen's regional operations manager, received numerous calls from people who were upset and worried about their orchards.
He said, "One particularly heart-wrenching moment occurred when a customer from a competing company came into the office with tears in his eyes, begging us to save his livelihood." Bonnington and his team were able to assist him; unfortunately, not all orchardists were as lucky.
The unusual nature of this event has led some customers to wonder what could have been done differently. As a result, many orchardists are now looking to purchase their own tanks, bringing the tree fruit industry in the Pacific Northwest in line with a trend that previously occurred in the Midwest.
Customers who purchase their own tanks have control over who they buy product from, and therefore feel they can better protect their crops. While this may be beneficial in times of high demand or price fluctuations, customers must be ready for the significant investment in both capital and maintenance, as well as the logistics of supply and delivery typically handled by experienced suppliers.
While there are both pros and cons for tank ownership versus tank leasing, the impact this industry change could have on the supply chain has yet to be seen. What is clear is that the propane industry plays a crucial role in bringing tree fruit crops to market.
It is important for both customers and suppliers to consider strategies such as maintaining strong relationships, diversifying sources of supply and investing in infrastructure to ensure a reliable and secure supply of propane in the future.