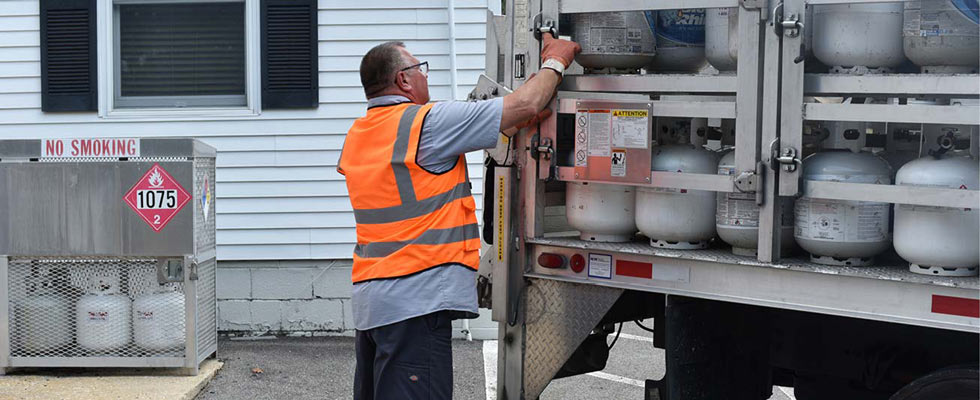 Take a deep dive into every process a cylinder goes through before it reaches the customer's backyard
When a United States Department of Transportation (DOT) cylinder is manufactured, the company making the cylinders must go through an extensive application process. According to the Pipeline and Hazardous Materials Safety Administration (PHMSA), "Applicants seeking approval to requalify, repair, rebuild, reheat or manufacture DOT or UN ISO cylinders in accordance with 49 CFR [Code of Federal Regulations] must have an Independent Inspection Agency [IIA] inspect their facility prior to requesting an approval from the Approvals Branch within the U.S. Department of Transportation."
The application process starts with an IIA and moves to PHMSA — 49 CFR 107.705 & 107.807 — with a cover letter explaining the request, complete design and marking drawings, as well as a summary sheet for all documents and test results. There will be a chemical analysis report — 49 CFR 178.35(2)(i)(ii) — and IIA stamped copies of drawings — 49 CFR 107.803(5)(6).
An entity that seeks to manufacture DOT specification or special permit cylinders outside the U.S. must seek an approval from the associate administrator to perform the chemical analyses and tests of those cylinders in accordance with 49 CFR 107.807.
These cylinders are made through a series of sheet metal forming, surface treatment and testing processes. The process starts with blanking, deep drawing, piercings, trimming and joggling. Next, welding operations are performed for the valve boss, valve guard ring, foot ring and the halves of the cylinder. The finished cylinder is then heat treated and tested. These cylinders go through an extensive process before they ever enter the public use. In the U.S., we see several manufactured cylinders from all over the world, meaning several tare weights are involved. Also, there are different valve manufactures used on barbecue cylinders.
A brand-new propane cylinder is good to use for 12 years before it must be recertified. Does that mean it doesn't need to be looked after for 12 years? Of course not. The life of a cylinder is no different than any other piece of equipment; it needs inspections and maintenance care, as liquefied petroleum gas (LPG) can cause issues quickly.
Propane barbecue cylinders have a shelf life of 12 years and need to be recertified after that. After recertification, the cylinder can last five or more years, depending on the type of recertification done. The easiest way to check if a propane cylinder is expired is to look at the handle area or the collar on the cylinder, which usually lists the manufacture date or most recent recertification date. Cylinders cannot be refilled if they are not in date or if they are damaged.
It is important to maintain propane barbecue cylinders by replacing them if they appear damaged or rusty. It is also important to check them for leaks by spraying or brushing soapy water solution onto them. Bubbles will form if gas is escaping. The barbecue cylinder should be checked for leaks whether it is empty or not. A cylinder should not be left in the car. When disposing of a propane barbecue cylinder, the easiest option is to take the old cylinder to a swapping outlet, where it will be inspected and handled properly.
When these cylinders are taken to a refurbishment facility, they are handled by workers who are trained to inspect the cylinder and the valve. When a cylinder comes into a refurbishing and filling plant, there are stages that cylinder will go through before it is filled, stacked, loaded and transported to the public.
When a cylinder is brought in for inspection, labels are removed and a visual inspection of the vessel and valve focuses on the face seal. Once the inspection is completed and the cylinder meets expectations, it is washed and inspected again by workers trained through Propane Education & Research Council resources, Compressed Gas Association (CGA) C6 and National Fire Protection Agency (NFPA) 58. Then, the cylinder is prepped, and it is determined if it needs a coating to protect the surface or if it can be sent on to the next stage.
This is the point where it is determined if the cylinder is in date; if not, the cylinder is staged and sent to recertification. Most of the cylinder exchange refurbishment plants use the External Visual Inspection, CGA C6, process. The cylinder is recorded through this process. If the cylinder meets the requirements, it will have that facility's Requalification Identification Number (RIN) placed on the cylinder.
The barbecue cylinders used for cylinder exchange are U.S. DOT 4-series cylinders. According to CFR, if a cylinder during inspection "at any time shows evidence of a leak, internal or external corrosion, denting, bulging or rough usage to the extent that it is likely to be weakened appreciably, or that has lost 5% or more of the official tare weight must be requalified before being refilled and offered for transportation.
"After testing, the actual tare weight must be recorded as the new tare weight on the test report and marked on the cylinder. The previous tare weight must be strike-lined through, but not obliterated."
Once this has been completed, the cylinder will continue to the next stage. Often what occurs in a cylinder refurbishment plant is the cylinders are rejected, documented and often become scrap. This is due to the replacement cost of the cylinders, which is $30 to $40. (Spending the money to have cylinders tested and reworked with extra labor costs is not cost-effective.) The cylinder is then processed accordingly, with the cylinder evacuated and the valve pulled out, sold as scrap metal and recycled.
If it is determined the cylinder needs paint, it is placed on a conveyer and sent to the paint booth. This is where many refurbishing plants use a water-based paint. A 20-pound cylinder has 6.25 square feet of surface. Normally .08 to 1.0 millimeters-thick of coverage is applied. If a cylinder doesn't need paint, it is sent on to be filled.
Scale accuracy is a quality assurance/quality control process because it is a critical factor in ensuring the accuracy of the net weight. Scales are used throughout the industry to verify the tare weight and net weight of a cylinder. Normally a third-party scale inspection company comes into a filling plant to inspect, document and place a certificate sticker on the scale. This is documented and recorded, following all regulations.
Once the cylinder is filled, double-checked by tare weight and total weight, and meets requirements, it is sent to be leak checked. If there are no leaks, the valve is closed, a cap is placed to protect the face seal and the cylinder is labeled with proper information, palletized and staged for pickup. With these staged cylinders, all the bills of lading (BOL) and shipping documents are readied for transportation on U.S. highways.
Cylinders are delivered to exchange yards for disbursement by semitrucks or placed on local delivery trucks to be taken to the cages for public use. Customers bring their exchange cylinder to the place of business and exchange their cylinder for a ready-to-go barbecue cylinder. This is the exchange business; it is a great system to keep these cylinders from making their way to landfills.
When the cylinder arrives at its new home, directions should be followed to safely connect the appliance. Users should always remember to take their time and follow each step. They should get a spray bottle with a little soap and spray the areas where the connections are — even where the hose connects to the burner. If they are using an appliance that is several years old, the connecting hose from the cylinder valve to the burner can get dry rot and leak. Users should be careful and call their local propane company to look at the cylinder if they have any concerns. They should always listen for a leak and be on the alert for that rotten egg smell created by the additive ethyl mercaptan.
Grilling can be a fun and delicious way to cook food, but it is important to follow safety tips to prevent accidents and injuries. One of the most important safety tips to share with customers is to only use propane grills outdoors on a stable surface while grilling.
Remind users to follow all the safety tips and enjoy a safe and fun grilling season.