Outdoor power equipment dealers find propane-powered commercial mowers more favorably than comparable electric mowers, according to a recent survey conducted by the Propane Education & Research Council (PERC). Among the more than 125 individuals who participated in the poll, electric mowers had 30% less favorability than propane models. The survey found that 96% of those responding also agreed that propane is a proven technology for mowers.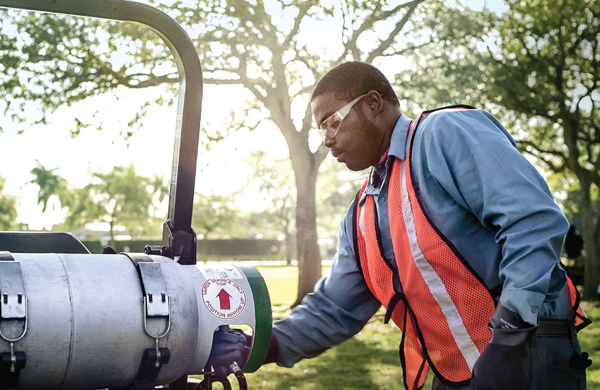 "We know how important the relationship is between a landscape contractor and dealer, and how much influence dealers can have," said Jeremy Wishart, director of off-road business development at PERC. "Knowing that dealers see propane as a proven alternative fuel for commercial mowers is encouraging as more contractors look for ways to distance themselves from the high emissions and price volatility of gasoline and diesel."
The survey showed that 62% of respondents agree that using propane reduces fuel costs for landscape contractors compared to gasoline and diesel, and 84% agree that using propane reduces fuel losses. Additional data showed 94% of equipment dealers who responded agree that propane mowers are safe for landscape professionals to use, and that 96% agree that propane has low emissions that appeal to green-minded customers.
The independent research firm Wiese Research Associates conducted the poll on behalf of
PERC to help identify industry perceptions of propane and propane equipment. Dealers can learn more mowers can help their customers reduce costs and emissions at Propane.com/For-Equipment-Dealers.