Cylinder storage cabinets can provide not only safety and security, but also long-lasting good looks that help propane marketers create and reinforce a good image and merchandise their products.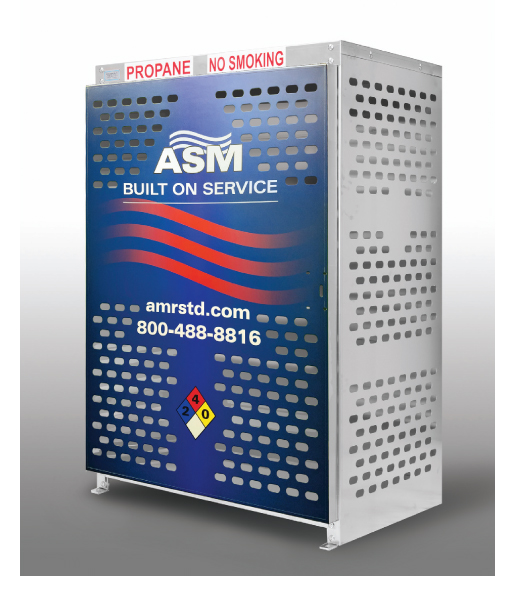 American Standard Mfg. (ASM; Central Bridge, N.Y.) has been manufacturing gas cylinder storage and merchandising cabinets since 1990. Today, in the propane category, the company offers in-stock availability and can custom configure cabinets to the customer's needs. Available from stock are 17 models of 20-lb cylinder exchange cabinets and 20 models of forklift cylinder cabinets. All forklift cylinder storage cabinets are designed to make compliance with NFPA simple and affordable.
David Day, CEO of ASM, suggests that propane marketers and equipment distributors consider the following questions when choosing the cabinet that is right for them.
What kind of space is available for the cabinet? ASM offers different configurations for like capacities; the customer can specify a unit that is shorter and wider or taller and thinner. "It depends on the space they or their customers have available, or the ergonomics they require," Day said.
How much space will be available in front of it? Different door configurations are available. The standard configuration has swing-out doors; available options include double doors and zero clearance sliding doors. "For example, at a convenience store, the cabinet is generally placed on a sidewalk," Day explained. "Swing-out doors could contact the bumper of a car. Double doors have only half the swing, and zero clearance have no swing."
What level of security will be required? The company doesn't generally provide locks, but its cabinets are lockable and can be configured to accommodate different sorts of locks. If extra security is required, another option offered is a choice of lock shrouds. For even greater security, it offers a high-security unit that is constructed with additional solid steel strapping to prevent cutting of the flattened expanded metal.
Would you like aluminum or steel? ASM offers units in both materials, at the same price. "Aluminum is lighter, easier to handle, and doesn't rust," Day said.
Would you like the unit to arrive assembled? Its cylinder storage cabinets are offered in a choice of assembled or knockdown condition. "There was a time when there was a tremendous freight savings in shipping unassembled; now it is still less expensive, but not less expensive enough," Day explained. "Most ship assembled; in that case it is rapid deployment, with the cabinet ready to go to the site."
How will the cabinet look? A cabinet can help promote cylinder exchange to consumers and can help build a company's image with its commercial customers. To do that, the unit needs to look good when new and maintain that look over time. The units feature exterior grade powder coating and stainless steel hinges that resist corrosion, hold up over time, and maintain the appearance and durability of the unit. "All ASM units are designed, built, and handled with the idea of presentation quality," Day said. "They are produced for P.O.P. use in front of a convenience store and for representation of your company when the cabinet is in a commercial setting."
Do you want to enhance your efficiency? ASM now offers cabinet-monitoring software that relays real-time, system-wide information about what is happening at cages in the field. Called IONPropane, this Internet of Things (IoT) device creates a "Smart Cage" that will enhance a marketer's planning and delivery systems and prevent unnecessary roll-outs and empty cages. IONPropane can be installed at the factory or retrofitted to existing ASM cages with simple in-the-field installation.
— Steve Relyea