There has been a surge of interest in propane-fueled standby generators as the price has decreased, consumer awareness has increased, and more homeowners have experienced electrical power outages. To ensure these new customers are satisfied with their purchase in the long run, they should be made aware that the generator is part of a complete package of products and services.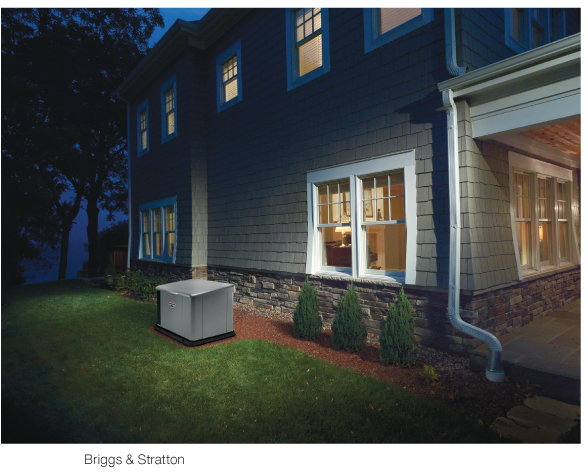 "Some of the people who have been jumping into the standby generator business focus on the sale of the generator and say, 'You'll never notice a loss of electricity. It will be easy. Sign here,'" says Josh Simpson, vice president of marketing with
Kamps Propane
(Manteca, Calif.). "But the conversation should include, 'Let's find you a fuel supplier and make sure you understand what they can and can't do; if your location allows a large enough tank to supply fuel to the generator for a long enough time; and if you will receive deliveries in the amount and time you need to keep fueled.'"
"This is critical," says Armistead Mauck, vice president with
Cherry Energy
(Kinston, N.C.). "Propane is the fuel cell and the generator simply converts it to electricity. Propane is the genesis of the entire solution."
Putting together the complete package requires input from the retailer selling the generator, a licensed electrician, and a propane marketer—before the product is sold. Each component of the package should be understood by the consumer before the sale is made. Only then can the consumer make an informed decision that will result in a standby generator and associated equipment that are reliable, deliver the results the consumer expects, and ensure long-term satisfaction.
"We want to participate from the beginning so we can set expectations and have a conversation with the consumer about all the equipment that is required," Simpson says. "A propane generator is an ideal option, but the sellers have an obligation to guide the customer through the proper sales process so that they are satisfied with their purchase."
The Complete Package
Simpson, Mauck, and representatives of three manufacturers of standby generators shared with BPN their tips for selling and maintaining standby generators in a way that will ensure the product meets, and even exceeds, the customer's expectations.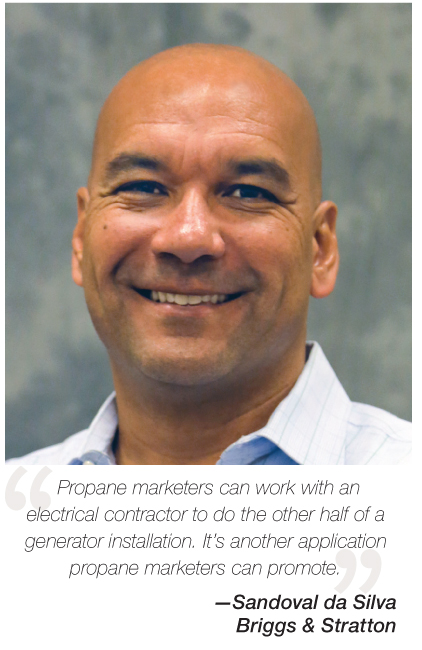 Get involved in the process.
Propane marketers can position themselves to be part of the process, right from the beginning. They can reach out to local dealers and electrical contractors and ask that they be included, before the sale. Then, as a team, they can promote generators, and one can install the unit and another will coordinate the tank and piping. "Propane marketers can work with an electrical contractor to do the other half of a generator installation," says
Sandoval da Silva
,
senior director of marketing and international sales, Briggs & Stratton
Global Standby and Job Site Products Group
. "It's another application propane marketers can promote. We can provide sell sheets and other collateral assets."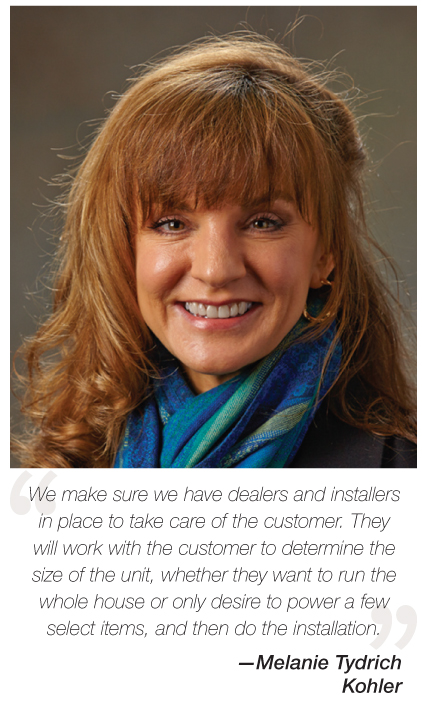 Bring others into the process.
If a consumer comes to the propane marketer first, asking about standby generators, the marketer can bring the other professionals into that conversation. "Touch base with a manufacturer," suggests
Melanie Tydrich, senior channel manager,
Kohler
. "We make sure we have dealers and installers in place to take care of the customer. They will work with the customer to determine the size of the unit, whether they want to run the whole house or only desire to power a few select items, and then do the installation."
Recommend retailers and installers that are local.
A surge of interest in standby generators from residents of California has "created a gold rush for fly-by-night operators who are attempting to cash in on the demand," Simpson reports. He explains that outsiders come into the state's rural communities and try to close the sale on the first meeting, without the propane marketer being involved. This creates scenarios in which the fuel situation may not meet the customer's expectations. "We encourage residents to do business with local suppliers," Simpson says. "We work with local electricians and do this as a coordinated process, because they know us and we know them."
Develop a one-stop shop.
Propane marketers need to be the comprehensive solution provider. When customers buy a generator from a propane marketer, they will later call the company when the unit requires service. Cherry Energy sells generators and provides the fuel, and has preferred electricians it works with to provide installation. "Propane marketers need to give the process 'one-button' simplicity," Mauck says. "The entire installation process needs to be orchestrated before the consumer walks in the door. They want a solution and not part of a solution."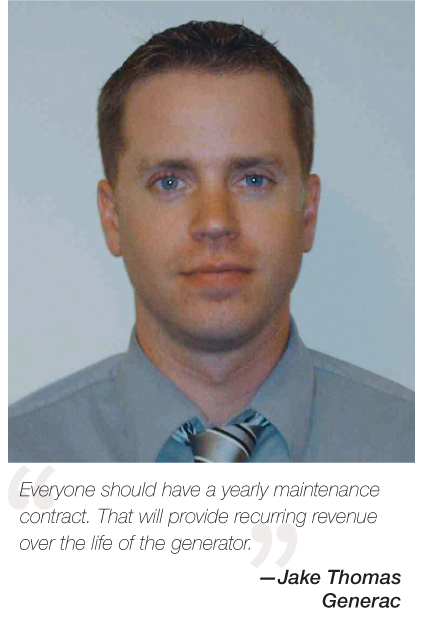 Offer a service contract.
Both the electrical contractor and the propane marketer can provide a maintenance contract to ensure the standby generator works when needed. "There are additional revenue opportunities once the generator is installed," says
Jake Thomas, director of global service operations
,
Generac Power Systems
. "Everyone should have a yearly maintenance contract. That will provide recurring revenue over the life of the generator."
Maintain the generator.
"This is probably the No. 1 area needing improvement," Mauck says. "Marketers need to train techs to properly maintain this equipment." Cherry Energy is working with a community college to develop training for technicians. The college has installed three Generac units in its Energy Distribution Lab for hands-on training. Mauck added that today's monitoring solutions mean customers don't have to make the call for service, because their generator or hot water heater will. Just as with forecasted deliveries of propane, the customer can entrust the propane marketer with servicing the generator. "Marketers need to exploit available technology like Generac's Mobile Link web-based monitoring," Mauck says. "This type of solution makes the marketer look like a true professional, reporting service intervals and unit status. Nothing is worse than the generator that is ignored until it is needed and then does not work."
Specify the right size tank.
"As a propane supplier, we want them to have a tank large enough for a seven-day [fuel supply for] the generator," says Simpson. "If they call and say they need propane in the next few days, we want to deliver enough for a week."
Use tank monitors.
The availability of tank monitors has increased the ability of standby generator owners and service providers to keep an eye on the fuel supply. "We partner with
T
ank Utility,
" says Jake Thomas of Generac. "We promote that to the consumer so that the consumer can know if they have fuel."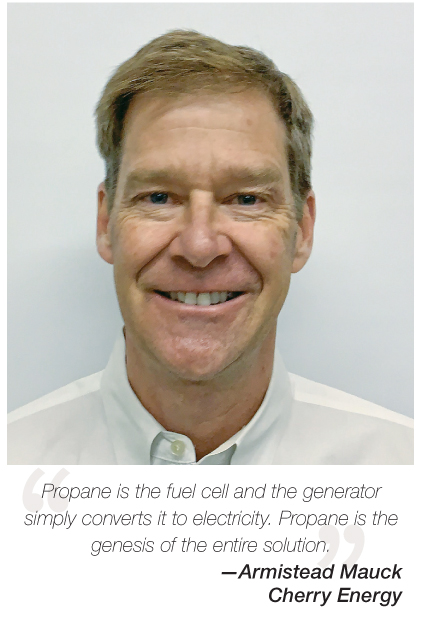 Sell other propane appliances.
When customers have more propane appliances, they enjoy many benefits. For one, they can eliminate the tank rent they would pay on a generator tank. Cherry Energy offers generator tanks, but suggests adding appliances that will consume more propane and eliminate that charge. "You can pay tank rent for when you do need it, or we can provide a better solution that will save you money and provide a better experience," Mauck says. Customers will also enjoy the efficiencies and comfort provided by a gas dryer, cooktop, water heater, and space heater. With a gas grill fueled by a tank, they won't have to run to a convenience store to trade a 20-lb. cylinder. A third benefit is, they can reduce the electrical load of their home. This allows them to buy a smaller, less expensive generator. "We tell the customer, 'Let's get your generator as small as it can be,'" Mauck says. "We can do that by getting as many propane appliances as we can."
Communicate proactively.
"Watch the news and the weather and be proactive," Thomas suggests. "If a power shutdown or a hurricane is on the way, reach out to consumers and ask if they want you to fill up their tank. It's better to have an incremental sale now than an emergency call later." Conversely, train consumers to be proactive, too; ask them to let you know when they add equipment, like a generator, that will increase their consumption of propane.
Manage expectations.
"Before they buy, consumers should initiate a conversation with a fuel supplier to see if its fueling capabilities meet their expectations for the generator," says Simpson. "People see standby generators as an insurance policy against the loss of electricity, so they need a continuous supply of fuel. The challenge is to make sure the customer understands how much fuel they need, where they will get it, and under what terms. The propane marketer's service is key to customer satisfaction."

Have your own standby power.
Cherry Energy's bulk plant and its main office are equipped with standby generators. When the power is out, that means they can keep servicing customers. When the power is not out, they are setting an example for customers to follow, by being prepared. "Marketers need to position their own operations with standby power so they can load trucks during times of natural disasters," Mauck says. "This needs to be the example that convinces the customer that we prescribe ourselves the same medicine. Otherwise, the customer will say, 'If you don't have a generator, why would I buy one?'"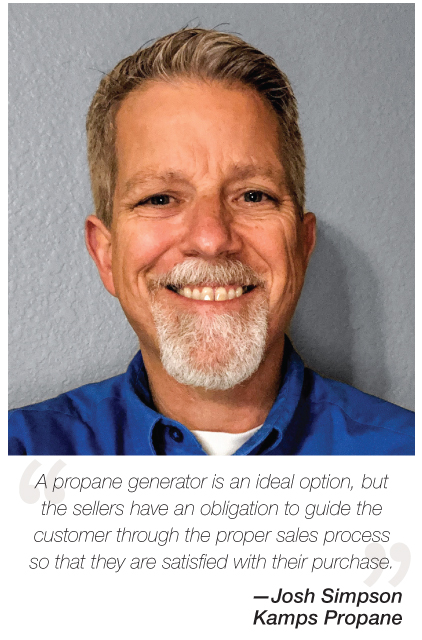 Be prepared to say no.
If a potential customer doesn't fit the propane marketer's business model, or cannot be supplied in a way that will meet the expectations they have for their generator, the marketer should have an answer prepared. Simpson explains that Kamps Propane's service fee for putting in a tank is associated with a certain throughput. If all the other appliances in a home are powered by electricity, and there is no loss of electricity during the year, they will not use enough propane. "We can't afford to deploy our tanks for customers who will not consume fuel," he notes. "We train our people how to talk about this, especially when the answer is no, so they can communicate why."
Growing Demand
The demand for standby generators has been increasing nationwide, the three aforementioned manufacturers reported. Demand has surged in California, a state where there was little demand previously. Growth is seen in states that already had been good markets.
One reason is the increasing number of power outages. "Sales have been driven by storms and generalized power outages in the Southeast, and fires and planned shutoffs in California," da Silva says. "That is new; California hasn't traditionally been a market."
Another is rising product awareness. "Not so long ago, people didn't know standby generators existed," Thomas says. "Now, through word of mouth, they know."
A third reason is falling prices. "Across the board, costs have decreased compared to 10 years ago," Tydrich says. She attributes that to the economy of scale, due to the increasing sales, as well as new manufacturing techniques.
"We are in a new era," Mauck says. "We have the threat of loss of power due to the fickle power grid, natural disasters, or terrorist acts. Here in North Carolina, we are in the hurricane belt, and we have had times when we've gone two or three weeks without power. The generator is a large part of the energy independence equation."
Also boosting the appeal of standby generators is the availability of monitoring and power management.
Briggs & Stratton
's InfoHub wireless generator monitoring can send the customer alerts about generator status and maintenance reminders. It can also send maintenance alerts to the service dealer. "Once a week, the generator turns itself on to perform a diagnostic and then shuts itself off, so you know it will perform when needed," da Silva explains. "That can be monitored. It provides peace of mind for the customer and the installer."
Kohler
's OnCue Generator Management System lets the customer know that the generator is working and that it's ready when needed. "You can check from your phone or computer to see if there have been any events and you can receive alerts if the generator turns on or if anything goes wrong," Tydrich says. "Your service provider will be notified, too."
Generac
's Mobile Link provides current operating status, maintenance schedule, and other information. "We send a message regarding maintenance or faults," Thomas says. "We provide proactive notification of problems."
Another available feature is power management. This enables customers to specify which appliances they want the generator to power during an outage, and which are less important. That way, a smaller, less expensive generator can be used, while still powering the appliances they want.
Generac's Smart Management Modules manage power loads and help lower installation costs. "Smart Management Modules manage what power goes to what appliance," Thomas explains. "It can turn off one to power another. This allows the customer to reduce the size of the generator and cut the acquisition cost in half. It's invisible to the consumer; it will seem like whole-house coverage."
Kohler offers a Load Shed Kit that allows the use of a smaller generator set. "Load shedding prioritizes circuits, and turns off less critical items automatically when more essential appliances are running," Tydrich explains. "The customer can also work with a professional and decide if they want to run the whole house or if they only care about a few select items."
Briggs & Stratton offers its Symphony II Power Management System and says it lets the customer purchase a smaller, more affordable home generator system while maintaining the comfort of whole-house backup power. "The customer can specify, 'I want these things to work, but not the air conditioning.' It automatically decides what to power based on the priorities you set," da Silva says.
The propane retailer or electrical contractor should present these options to the consumer before the purchase. That way, the consumer will know what to expect. This is another part of the complete package required for a standby generator.
"We need coordination. This has ramped up so quickly, the participants need to work together," Simpson concludes. "We want to provide a solution that will meet the consumer's goals. We want to help them and make them feel that their local propane supplier is a source of great comfort and security." — Steve Relyea