Monday, November 12, 2018
Eighty-eight exhibitors and around 1400 participants from 76 countries discussed products and services at the 31st World LPG Forum, October 2-4, 2018 in Houston. Expert speakers, too, came from around the globe to present market forecasts, technical papers, and other information. The organizer of the event, the World LPG Association (WLPGA), reports that the top five countries represented at the Forum were the United States, India, Mexico, Nigeria, and Japan.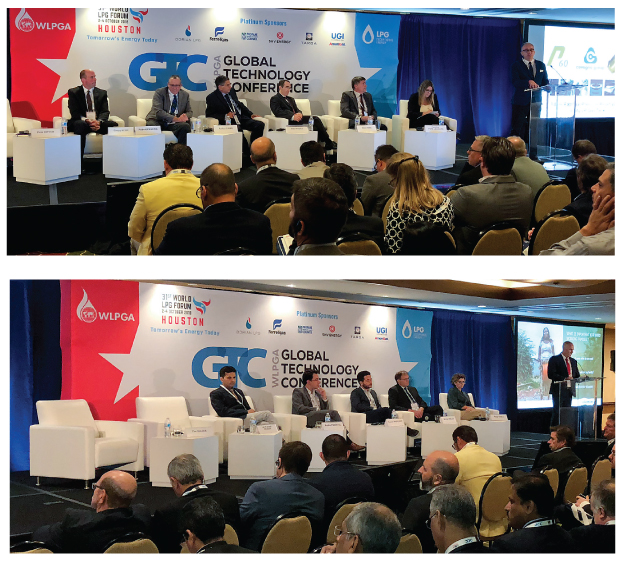 With this year's event in Houston, the World LPG Forum made its fifth appearance in the United States and its first since 2014. Like previous editions of this annual get-together, it featured a conference, exhibition, and several smaller summits and side events.
Conference
The Global Technology Conference (GTC), which is organized by WLPGA and takes place during the World LPG Forum, was held Tuesday, Oct. 2. It featured two sessions in which a total of 12 technical papers highlighting innovations in the LPG industry were presented. Each session drew an audience of more than 200.
Delegates voted for their favorite presentations, and the winner of the
WLPGA Innovation Award
and two runners-up were announced the following day. The winner of this year's award was "Digital Transformation of LPG Distribution: A Case Study on the Use of IoT to Accelerate Market Adoption and Combat Illegal Practices," authored by Fausto Marcigot, chief technology officer and cofounder of PayGo Energy (Nairobi, Kenya).
The two papers honored as runners-up were "Development of a Heavy-Duty, High-Output, Low-Emissions LPG Engine," by Steve King of Zenith Power Products, and "LPG Cogeneration Boiler Providing Low-Cost Electricity and Backup Power for Residential and Light-Commercial Applications," by John Hoffert of Enviro Power LLC. James Rockall, CEO and managing director of WLPGA, presented the awards (below).


Exhibition
As the exhibition portion of the World LPG Forum opened Wednesday, Oct. 3, four speakers representing LPG trade associations and a keynote speaker shared facts about the propane industry.
Rockall noted that since the first World LPG Forum was held in the United States in 1988, U.S. production of propane has doubled, but the country's consumption of propane has been flat. He added that there is hope for improvement, because global energy is in a time of transition and propane is a dramatically underused energy.
Chris Earhart, president of Dixie Gas & Oil Corp. and chairman of the National Propane Gas Association (NPGA), pointed out propane adds value to people's lives every day, no less today than it did 100 years ago, and the opportunities in the future are endless.
Ricardo Tonietto of Supergasbras, president of the Ibero-American LP Gas Association (AIGLP), said the World LPG Forum provides a unique opportunity to visit suppliers and to network.
Pedro Jorge Filho, CEO of Ultragaz and president of WLPGA, noted that in the 30 years since the first Forum was held, world consumption has doubled and the U.S. has become the largest exporter of LPG. He added that WLPGA is working to make sure the LPG industry is fairly represented and supported at a time when many are looking at renewable energy.
The keynote address was then delivered by Glenn Hegar, comptroller for the state of Texas. He reported that LPG adds $7 billion to the state's economy.
Roundtables, Educational Events
During both days of the exhibition, roundtables and other educational events were presented along with the trade show. During a roundtable held Wednesday, Oct. 3, "Tomorrow's Energy Today," three of the speakers suggested ways to build demand for LPG.
Henry Cubbon, managing director of DCC LPG, said some companies in Europe have made technicians profit centers; technicians go out and ask customers if they have considered adding new appliances. He said that domestic consumption in Europe has been declining by 2% to 3% per year, but that companies can do well in a declining market by being more efficient than their competitors and growing as the market consolidates.
Stuart Weidie, president and CEO of Blossman Gas and president of Alliance AutoGas, said the industry needs to counter the war on fossil fuels by speaking out about LPG being the cleanest fossil fuel and having a role in energy and in emissions reduction. He added that the industry needs to create a culture of acting like a young industry and trying new things rather than fearing failure. As an example of recent advances in technology, he pointed to an autogas electric hybrid 2017 Ford Fusion designed by Alliance AutoGas.
Randy Thompson, president and CEO of ThompsonGas, said the industry needs to end the price volatility of propane, so it can offer consumers the same price stability they see in electricity and natural gas. He said the industry needs to flatten out the demand curve, too, because it drives suppliers crazy. One way to build year-round demand is by having power generated onsite with LPG, Thompson said; another is to sell propane-fueled water heaters to customers who currently have a propane tank and an electric water heater.


Summits, Side Events
Among the summits and side events held during the World LPG Forum was a Women in LP
G (WINLPG) Knowledge Exchange (shown above) held Thursday, Oct. 4. Some 40 women and men from 13 countries attended.
Alison Abbott, manager of WINLPG, told the group that the latest national chapter to join WINLPG is Columbia. That country joins the United States, India, Nigeria, and South Africa. She pointed out that four of the five national chapter heads were present at the Knowledge Exchange. Abbott also reported that nearly 40 nominations were received for the inaugural WINLPG Woman of the Year award; Lesieli Taviri, CEO of Origin LPG (Papua New Guinea), was honored with the 2018 award.
Geetika Verma, deputy general manager (LPG-sales), Delhi Area Office, Indian Oil Corp., and manager of the WINLPG India chapter, then spoke and presented a video about a project in India that offers safety clinics that introduce new consumers to propane and its safe use. She noted that many people living in rural areas in India don't have access to clean household fuel, and 5 million women die each year due to household pollution.
Paige O'Dell, VP operations of AmeriGas and chair of WINLPG, spoke about the National Propane Gas Association's (NPGA) Women in Propane Council joining WINLPG this year as an official national chapter. She said this U.S. chapter will focus on doing more DiSC profiling, which helps participants discover their strengths and better navigate conflict situations, and on participating in workforce development.
Nikki Brown, WINLPG global coordinator, then led the event's attendees in a discussion of challenges and opportunities for women in the LPG industry.
Marketers' Observations
After the 31st World LPG Forum had come to a close, three propane marketers told BPN what they enjoyed most about the event. Among the things they mentioned were the global scale of the event, the exchange of information, and the chance to gain an international perspective.

Judy Taranovich, president and owner of Proctor Gas (Proctor, Vt.), which provides propane services in four counties in Vermont, was in Houston for an NPGA event and then attended the World LPG Forum.
"It was amazing to look at our industry on a global level and have a new appreciation for propane on a much larger scale," she told BPN.
"One of the things that I really enjoyed was watching the presentation on WCK (World Central Kitchen); it is a nonprofit founded by renowned chef José Andrés that uses food to help communities and strengthen economies. They are chefs creating solutions to hunger and poverty around the world. They provide food during times of disaster relief and they place a high importance in keeping that food culturally accurate. LPG helps fuel the relief meals and GenteGas is a partner in those relief efforts.
"I have always felt and know the generosity of our industry in the U.S.," Taranovich said. "It was wonderful to see that humanitarian effort as a worldwide movement."
Julie Johnson, president of Ted Johnson Propane and Johnson Family Propane (Baldwin Park, Calif.), attended this year's World LPG Forum because it was close to home and NPGA had negotiated a discounted rate for marketers. This was her first time attending the Forum. Her companies deliver propane in four counties in Southern California; Ted Johnson Propane focuses on industrial customers while Johnson Family Propane caters to residential clients.
"What I liked best about the Forum was the exchange of information either by panels speaking on a subject or the Power Plays," Johnson told BPN. "I attended the Global Technology Conference (both sessions) and learned about new products in various stages of development.
"All presenters had great concepts; I sure hope they are able to bring them to market. There were two concepts that are worth mentioning: decentralizing energy (getting us off the grid system which is outdated and inefficient) and, as an industry, taking the price volatility out of propane (to compete with natural gas and electricity).
"If I could make a suggestion for format improvement," Johnson added, "I would have all of the panels and breakouts run back to back so I would not have to pick and choose between them."
Jeff Stewart, president of Blue Star Gas (Santa Rosa, Calif.), would like to attend the World LPG Forum every year, but generally makes it there every other year. He has presented at three Forums; this year, he led the Power Play workshop focusing on BioLPG. Blue Star Gas is a propane sales and service provider serving 14 unique markets throughout Washington, Oregon, California, Utah, and Arizona.
"There were six of us there from Blue Star Gas," Stewart told BPN. "The reason I go is, it's a great opportunity to get an international perspective and see what people are doing in other parts of the world. We are especially interested to see what's happening in Europe, where they are dealing with a regulatory environment like we are. We want to hear their strategy for telling the clean LPG story.
"At the exhibition, you see lots of products that are different from the ones we see in the U.S.," he added. "For example, the first place I saw Cavagna's PV Series relief valve was at a World LPG Forum, about 10 years ago. In parts of Europe, you must change out the relief valve every seven years–in one country it's even every five years–so Cavagna developed this relief valve with a replaceable cartridge. We deployed that this year at one of our rail terminals. Again, I saw it 10 years ago at a World LPG Forum, and now we are among the first to adopt it in the U.S."
Next Year: Amsterdam
The next Forum is to be combined with the main annual event for the LPG industry in Europe. The 32nd World LPG Forum & 2019 European Congress is to be held in Amsterdam, Netherlands, September 24-26, 2019. For more information, visit worldlpgforum-aegpl2019.com. —Steve Relyea