Monday, December 30, 2019
More than six years ago, at the suggestion of her mother-in-law, Chelsea Harrison applied to be the first in-house marketing/graphic designer for
Foster Fuels
in Brookneal, Va. She was a graphic designer with no prior knowledge of the propane fuel industry and no management experience.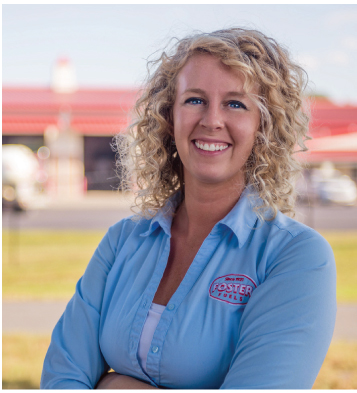 Today, as the vice president of marketing, Harrison manages a creative team of six for the company, which has grown from 65 employees when she began to 185 employees currently. Her role encompasses developing strategic marketing initiatives and overseeing the creation of all communications, including social media, multimedia, printed collateral, public relations, and advertising.
"If you'd asked me six years ago, I just would not have seen the growth," she said. "Looking back on it and how things came to fruition and how I was given the opportunity to do more and more—it's better than I would have ever expected. I love being able to work with a creative team and a company that supports you."
Established in 1921, Foster Fuels Inc. is a privately held corporation with seven locations in Virginia, providing distribution of diesel, gasoline, Jet A, and propane to residential, commercial, and governmental customers. It also has an award-winning emergency fuel division, Mission Critical, specializing in business continuity and disaster recovery solutions. This year, the company was awarded a five-year contract from the Defense Logistics Agency to deliver emergency fuel support to the Federal Emergency Management Agency (FEMA) during emergencies. The company has held a similar contract since 2006. The current contract covers all 50 states, Guam, American Samoa, and the Commonwealth of the Northern Mariana Islands.
Harrison's ability and determination to learn, a company culture of trust and empowerment, and Foster Fuels' intentional growth is bringing continued success to both her and the company.
She maintains the same "sure we can make it happen attitude" she's had since tackling her first project at Foster Fuels, turning a 40-page technical brochure into a one-page handout. It was a challenge, she said, but she was able to break it up into simple, understandable pieces both she and customers could understand.
"I had a lot to learn about fuel, and I feel like I am still learning. There are so many new things happening," she said. "We try to stay up with what our customers are using and how we can reach them. We have seen things change."
Although printed materials are still part of the marketing mix, Harrison has helped launch a mobile app and multiple social media platforms to better serve customers. She also recently implemented marketing automation software.
Rapid growth of the company and her department have brought some growing pains, she admitted. "Your weak areas become prevalent without your even knowing. Simple things like space in the office and processes. When it was just you, you could do it one way, but add more people and, to me, it's an opportunity to ask 'how can we improve?'"
One way Harrison keeps up with industry trends is by utilizing resources provided by the Propane Education & Research Council (PERC). Last year, she attended the organization's first Can-Do Conference specifically focused on marketing training. "I found that to be very valuable. I was able to make some connections," she said. "You can be hard on yourself. It was helpful to meet others having the same challenges."
A support system at work along with friends and nearby family has enabled Harrison to have a healthy work-life balance. Originally from North Carolina, she and her husband, Tyler, have a 2-year-old daughter, two toy poodles, and demanding jobs. Tyler is a first responder paramedic and until recently played in a band. The couple met when they were both on the cheerleading team at Liberty University in Lynchburg, Va. — Karen Massman VanAsdale
(Published in the November 2019 issue of Butane-Propane News magazine.)