Friday, September 18, 2020
As a design engineer at
Westmor Industries
(Morris, Minn.), Meranda Hormann is passionate about making the delivery of propane easier for drivers. At age 28, Hormann has already spent more than 10 years in the propane industry and was selected this year as a charter member of the Young Gassers' 30 Under 30 program.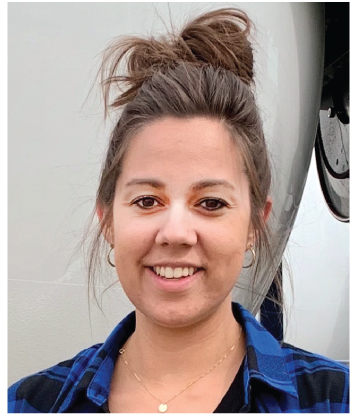 Created by the International Association of Young Gassers in conjunction with the National Propane Gas Association (NPGA) and the Canadian Propane Association (CPA), the 30 Under 30 program invests in, engages, and encourages young professionals working in the propane gas industry.
It was her younger sister, Steph Hennen, manager of marketing and customer service for Lakes Gas in Wyoming, Minn., who encouraged Hormann to join the Young Gassers. The propane industry has been a topic of family discussions for most of the sisters' lives. Hormann's father, Mike Hennen, is the general manager of Westmor's truck and trailer division, and has been with the company for more than 30 years.
"I was good in math and always wanted to go to school for engineering," Hormann said. "I grew up around Westmor; it's like family here."
In high school, she began mowing and doing lawn work for the company and then interned in the summers while earning a bachelor's degree in mechanical engineering from North Dakota State University. After graduation in 2016, she returned to her hometown of Morris, Minn., to work full time at Westmor.
Morris, where Westmor is headquartered, is a college town with a population of about 5000. There were 60 students in Hormann's high school graduating class. Westmor, a division of Superior Industries, is one of the town's largest employers.
The privately-owned company manufactures products to store, transport, and dispense petroleum, propane, and other liquids and gasses from pipeline to pump. It also provides aftermarket support including parts sales, product repair, infrastructure installation, and in-field services.
"I love what I do. We're always trying to improve our products to help customers. We do a lot of custom work and custom options," Hormann said. Westmor is the developer of Ergoload Deck Design, which provides drivers with a more ergonomic and comfortable way to load bobtails and improves efficiency and productivity.
"My current challenge is continuing to enhance all our designs and create innovative designs for our bobtails to benefit our customers," she said. "My favorite part of the job is putting in all the hard work and then seeing the final product you designed and working with production to see it through."
As one of the few females and younger members in the engineering department, Hormann said finding her voice was a bit intimidating at first, but she now encourages others, including new interns, to speak up when they have ideas.
"I didn't know how I would be received since I was so young, but building relationships with people in the industry makes it easier to navigate. As I gain more experience and confidence in what I know, it gets easier," she said.
"I am continually learning more things all the time. Building relationships has been huge. If you can't go talk to others, it makes it difficult. Don't be afraid to speak your mind and have ideas."
Spending long hours collaborating with co-workers and often arriving early just to do so is the fun part of Hormann's job. "I usually work 7 a.m. to 5 p.m. It's easy when you like what you're doing and who you're working with," she said. "I think it's going to be a new challenge in October when my husband and I have our first child."
Although she admitted she needs to find more of a work-life balance, especially as she starts a family of her own, Hormann is committed to her career in the propane industry. "My goal is to continue learning and get more involved in the industry." — Karen Massman VanAsdale