Growing the liquefied petroleum (LP) transportation sector of a national insurance company was not Michelle Ceschan's career goal when she graduated from Robert Morris University 15 years ago with a degree in communications and a passion for horses. She knew nothing about insurance or propane distribution.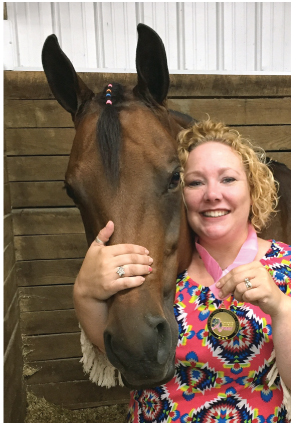 Growing up with horses, cattle, sheep, and cats in a rural community in Ohio, Ceschan, now a business development specialist for propane operations at National Interstate Insurance Co., did know hard work and responsibility. Taking care of the animals before and after school was part of her daily routine. She began riding horses at age 2 and was involved in 4H along with her brother. In high school, she began working at a local tack shop and continued there even after graduation. It was a coworker at the tack shop who nudged her to apply for a job at Progressive Corp.
While at Progressive, she became immersed and worked her way up to becoming a commercial auto inside sales representative. Nine years later, she moved to National Interstate, a specialty property and casualty insurance company based in Richfield, Ohio.
The new position brought tremendous opportunity, which changed the course of her career and opened the door to the propane industry. Within six months, Ceschan was brought in to focus on growth of the company's Transportation: LP division, working with propane distributors.
"I've made a career out of insurance," she said. "If you'd asked me in high school if I would be building a career based on insurance and propane, I would have said never."
National Interstate offers both a traditional insurance program designed specifically for LP distributors and an alternative risk transfer program specific to this class of business. Alternative risk transfer insurance, or ART, allows propane distributors to basically become their own insurance companies. Premiums are paid into the customized program. If the company doesn't suffer significant losses, a portion of the premium, along with investment income, may be returned.
"It's definitely a niche. Not everyone is the same size. We do different solutions for customers," she said, explaining her customers may have anywhere from three transportation units to 400 units. "We like to lay it all out for our customers to have options. Buyers are more interested in seeing what they can get for their money."
Although her official title is business development specialist, Ceschan also plays a customer service role working with both agents and customers when they have a claim or issue. "The nice thing about propane, they [her clients] are very safety focused. There's not a lot of crisis-focus activity."
Her clients and agents are located primarily in the Midwest, but a few are sprinkled throughout the country. She travels quarterly to visit customers and agents and attend industry conferences.
One of the fun parts of her job is when her propane career intersects with her passion and hobby of showing horses. An avid rider of both English- and Western-style, Ceschan has won several regional and national horse shows. Once the show season rolls around—spring through fall—she's on the circuit where she occasionally runs into her customers.
"There are some of our current clients who show the same breed, but in different states. Similar to propane, it's a close-knit community," she said. "It's kind of neat to have that different connection with someone."
Several years ago, Ceschan also started a side business out of her home related to her love of horse shows: Hold It! Magnetic Numbers, custom-made Swarovski number holders for equestrians. And, she and her husband, Justin, still find time to travel and attend their niece's and nephew's activities.
Her secret to managing a demanding career, horse shows, and family? "It's just a matter of being organized. I have a planner I pull out every morning to review daily, weekly, and monthly tasks and events. I use a lot of Post-it notes, and also have a running list of notes on my phone for various activities in the event I'm not by my planner. I also find reminders work wonders, too!" — Karen Massman VanAsdale
(SOURCE: Butane Propane News, April 2019. If you know of an amazing Woman In Propane contact
This email address is being protected from spambots. You need JavaScript enabled to view it.
)