Wednesday, September 4, 2019
Rosie Buschur of
McMahan's Bottle Gas
in Dayton, Ohio, talks proudly about her husband, Joe; their five children and nine grandchildren; the propane company they have grown; and their dedication to giving back to the propane industry.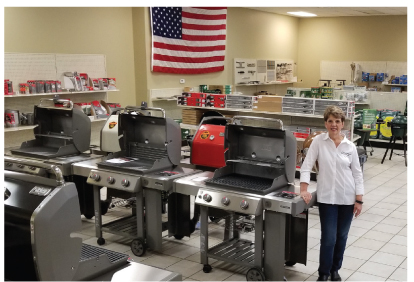 "We stay really, really busy, but giving back is important," Buschur said.
A typical week for her includes doing "whatever is needed" at McMahan's—from accounting, to answering phones, to selling grills. She is also kept busy as the current chair of the National Propane Gas Foundation Scholarship Committee for the National Propane Gas Association (NPGA).
Outside the office, Rosie strives to attend at least one grandchild's soccer game a week. A favorite pastime is taking family cruises with their extended family. (Joe has 11 siblings and many nieces and nephews.) One of her weekly joys is singing in her church choir. "I've been in singing in the church choir since fifth grade. That's something that means a lot to me," she said.
Rosie has a long history of doing "whatever is needed." After her twins were born, Rosie left her job working for a stockbroker. Two years later, Joe took over the lease for McMahan's Bottle Gas from his brother. The company was started by Don McMahan in 1955. Rosie has been at McMahan's since her children were all in grade school. Two of her sons, a nephew, and a brother-in-law are also part of McMahan's Bottle Gas.
The propane and gas grill business steadily grew from servicing a couple thousand customers out of one tiny office with a handful of employees to two locations with about 12 employees. The main office is a 9000 square-foot building sitting on six acres with six 30,000-gal. tanks for storage. The company's two plants in Dayton serve approximately 4000 customers in seven counties. Although servicing residential customers is the bulk of their business, the company has carved a niche in the propane forklift market.
"We fill quite a few cylinders for walk-in customers. While we sell gas grills, grill parts, and accessories in our showroom, home delivery is the main portion of our business," Buschur said. "We just try to give really great customer service."
Another important part of running their business is the couple's dedication to the propane industry. Joe has been a state director for NPGA since 2007 and a member of the Ohio Propane Gas Association (OPGA) since 1979. He and their two sons, Brian and Chris, are all past presidents of OPGA.
"We're heavily involved. Pretty much where he goes, I go," Rosie said. She is, however, more than just a tag-along spouse.
For both the NPGA and OPGA, she has been involved in various committees and is a member of Women in Propane. She organizes the silent auction at the OPGA summer convention with proceeds going for scholarships to children of OPGA members. Nationally, she works with her fellow NPGF Scholarship Committee members to award annual scholarships to children of NPGA members.
In addition, she coordinates meetings with Ohio legislators for OPGA members who attend NPGA's annual Propane Days in Washington. She and her husband lead the Ohio delegation to both lobby and educate members of Congress about important issues facing the propane industry.
"Propane Days is pretty time consuming," she says. "It involves recruiting enough members to hopefully represent all or most of the state's 16 districts." This year, she said, the main issues included the Jones Act, alternative fuel tax credits, the DRIVE-Safe Act, and carbon labeling.
Her efforts have earned her several awards, which "are very meaningful to me," Rosie said humbly. In 2017, she won NPGA's Chairman's Citation, which is given to individuals who have demonstrated extraordinary commitment to the industry. She also won the President's Award from OPGA in 1999 and 2005.
Many of her and Joe's colleagues have become good friends. They travel together and have even entertained out-of-town friends at Cincinnati Bengals football games. Of course, tailgating prior to the game is an extra highlight, she added.
"Between work, travel, and kids, it keeps us hopping. Family and friends have always been important to us." — Karen Massman VanAsdale
If you have a suggestion for a "Women In Propane" profile, please forward to
This email address is being protected from spambots. You need JavaScript enabled to view it.
.
(Butane-Propane News, July 2019)