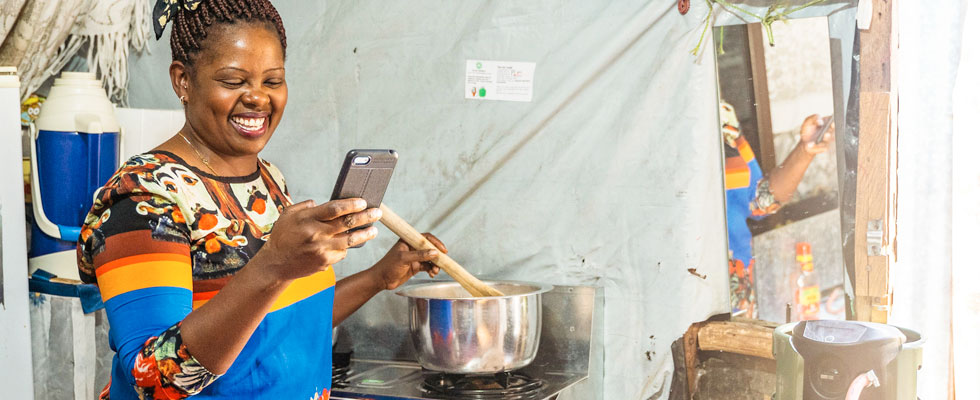 Virtual event covers distribution optimization models, digital-transformation technologies and more
Wednesday, March 10, 2021
The World LPG Association's (WLPGA) Global Technology Conference (GTC), first held in Chicago in 2006, is now an annual event to recognize innovators and promising technologies. The event is held annually in conjunction with the World LPG Forum. 
Last year, however, both events were held as part of a virtual event known as e-LPG Week. James Rockall, chief executive officer (CEO) and managing director of WLPGA, outlined how innovators are selected for honors at the GTC.
"Abstracts demonstrating some of the industry's most promising innovations are invited each year," he said. "The GTC steering committee selects papers based on a list of agreed criteria, including the degree of technical innovation, safety improvement potential, operational efficiency, commercial, marketing potential, etc. The winners are selected from a group of finalists based on committee scoring and online audience polling."
Topics included distribution optimization models allowing real-time integration of consumer needs and digital-transformation technologies using Internet of Things (IoT) and artificial intelligence (AI) that can resolve low demand-forecast accuracy and daily route inefficiency issues. 
Emission reductions and engine aftertreatment systems were also part of the submissions in addition to innovative autogas liquified petroleum gas (LPG) systems with the latest direct injection (DI) car engine technologies. 
GTC 2020 Innovation Award
The GTC 2020 Innovation Award went to Gasco GLP Chile (Santiago, Chile) for its presentation "GasConnect." The paper written by Fernando Ledesma, Gasco GLP, Chile, states: "Gasconnect is a new Gasco distribution model that aims to reduce the delivery times of cylinders through the implementation of technology that allows real-time integration of consumer needs with the capabilities of our distribution network. Specifically, when a customer places an order through the Gasconnect mobile application, it optimizes logistics through an algorithm, locating the truck that can deliver the order fastest, assigning it to them and allowing the user to see where it comes from, what time it arrives and evaluate the service delivered. Gasconnect is a real online logistical system that creates a huge positive impact in customer satisfaction. Also, it provides a big quantity of data that allows us to get more knowledge of our customers bringing them new products or services making their life easier. Through Gasconnect, we can add overnight distribution, dynamic prices and the possibility to prepaid the product direct on the mobile phone."
Runner-Up 
Tecogen Inc. (Waltham, Massachusetts) was the runner-up for its presentation, "An LPG Near-Zero Emission System for Forklifts." The paper, written by Robert A. Panora, states: "The development status of an engine aftertreatment system designed to reduce engine emissions from LPG forklift trucks to very low levels is presented. The system was developed and patented by Tecogen Inc. for use in stationary natural gas and propane products used in combined heat and power applications and has been deployed successfully in the most stringent air districts in the United States — notably Los Angeles, California. For the forklift application and with funding and support from the Propane Energy Resource Council (PERC) and Mitsubishi Caterpillar Forklift America (MCFA), this technology was upfitted and tested on a MCFA forklift. It was added to the exhaust system and fit compactly under the counterweight. Test results were consistent with those required for "Near Zero" certification under California certification regulation. Certification initiatives in an approved laboratory have been delayed by the COVID-19 crisis but are planned to resume when international travel restrictions are lifted." 
Distribution 
In the category of Distribution, Tokyo Gas Liquid Holdings, Tokyo Gas (Tokyo, Japan), and Azbil Kimmon were recognized for their "Next Era of Cylinder Distribution Using Digital Transformation Technologies." Naoshi Shiono, Tokyo Gas Liquid Holdings, Soma Toki, Tokyo Gas and Eiji Murakami, Azbil Kimmon, Japan authored a paper on the subject. 
The paper states: "In the Japanese liquefied petroleum gas (LPG) industry, utilities must forecast the customer demand and deliver cylinders before customers run out of gas. Every utility currently faces two issues: low demand-forecast accuracy and daily-route inefficiency of drivers. Drivers travel the route daily, replace almost empty LPG cylinders only and retain cylinders with unconsumed LPG. However, digital-transformation technologies using Internet of Things (IoT) and artificial intelligence (AI) can resolve these issues. Because some IoT devices connected to meters have been developed in Japan, utilities can now obtain the daily customer consumption using low-cost remote sensing. We also develop routing and scheduling software that depends on AI with a logistics software company to calculate the best daily route. According to our estimates, delivery efficiency can be improved by 30% or more compared with past practices. Through trial, we found that our software is beneficial for customer satisfaction and driver management." 
LPG Applications — Autogas 
Prins Autogassystemen BV (Eindhoven, Netherlands) was recognized in the category of LPG Applications – Autogas for its paper "Beyond the Latest Engineering," written by Angelique Berden, Prins Autogassystemen B.V., the Netherlands.
The paper states: "Unique and future proof LPG system for latest DI car engines up to Euro 6D emission standards. The system is equipped with its own design Prins AFC-3.0 DI computer and Prins eVP-500 LPG reducer. With this new technology in the Prins VSI-3 DI LPG system, 2020 model petrol cars with DI/MPI engines can now be converted to LPG and run more smoothly, efficiently and cleanly. It is unique, as Prins engineers went one step further than the car engineers in lowering emissions and petrol use for the latest car models. It is a unique and top-notch performance that is of great benefit and value to the total LPG market worldwide." 
LPG Applications — Domestic
Rinnai (Peachtree, Georgia) was recognized for the paper "Central Heating and Domestic Hot Water (DHW) Generating Using Hydronic Airhandler and Tankless Water Heaters" in the category of LPG Applications – Domestic. The paper states: "The session discusses the application of using gas-fired, tankless water heaters as a combination solution when coupled with a hydronic air handler unit to simultaneously provide central heat and domestic hot water. The solution leverages one gas appliance to provide two solutions while adding comfort to the home with high quality heat. When coupled with a condensing tankless water heater, the combination also provides a high efficiency solution for domestic hot water generation and space heating."
The Evolution of Tech
During a section of the program called "GTC – Where Are They Now?", some of the authors of papers presented over the years gave updates on how their technologies have evolved since the original presentations at GTC. The section included RFID for cylinders, synthetic natural gas systems, composite cylinders, telemetry for storage tanks and smart meters.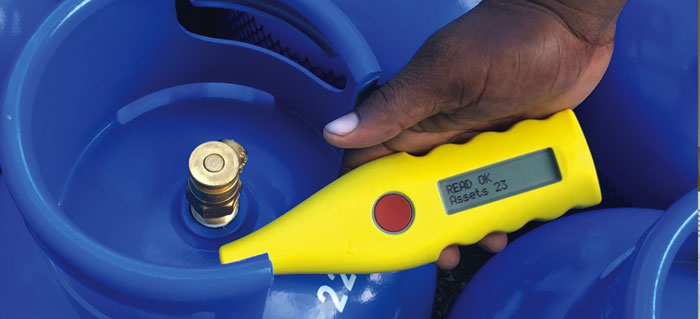 Cylinder Theft
Speakers included Barbara Mason of Trovan Ltd. (North Ferriby, United Kingdom), one of the original presenters in 2006 who spoke about the challenges of cylinder theft. 
"The LPG industry is fighting a number of serious problems. Customers do not return cylinders. Supply chains are very inefficient. For every cylinder in customers' hands, the operation must maintain two to seven additional cylinders. Cylinders are stolen. Mandatory inspections are missed. There is pilferage and diversion of LP gas," Mason said. "Bringing IoT to your operation will let you attack these and other problems. How do you do it? Put radio frequency identification (RFID) tags on the individual cylinders. These tags communicate with readers, which, in turn, send information to the cloud. Asset tracking is done today in all other industries: beverage, retail, candy bars, soda and water. Everybody is doing it. Only the LPG industry is not." 
"RFID is the only practical solution available today and for years to come because RFID works where bar codes do not. And low-frequency, passive RFID is the solution for steel cylinders, moving and filling plants. With the asset tracking you can achieve total transparency for your operation. There is no other way to efficiently monitor activity in your filling plants, repair shops and the supply chain," Mason continued. "Trovan has a complete system that addresses all parts of your value chain. You will be able to upgrade your level of service and customer retention to a level that has never been achieved before. Achieve better efficiency in your filling operations and take your business to a new level."
Synthetic Natural Gas
Gary Eaton was with Ely Energy (Tulsa, Oklahoma) as managing director in 2006 when he spoke on synthetic natural gas. "I last gave a talk on synthetic natural gas in Chicago, [Illinois], on the technology session of the World LP Gas Forum. I've been asked to talk a little bit about the changes that have come about since 2006. I think the biggest change has been in the technology that has been utilized to make the mixing systems operate. There's a great deal of accuracy and precision that are provided by the types of turbine flow meters and programmable logic controls that are now adapted to the mixing process at least certainly for the higher-pressure mixing units," Eaton said. "When I first started in this business 35 or 36 years ago, the mixing units were much more primitive and generally based on regulation systems with very simple valves. I believe most of these mixing valves have been replaced with systems that are actually measuring each flow stream." 
Eaton said equipment available today is far superior to what was available in the past. "I continue to believe that certainly in developing countries and remote areas this sort of fueling system has a great benefit," he said.
Composite Cylinders
James Berglund, regulatory affairs manager at Hexagon Ragasco (Raugoff, Norway) had presented on composite cylinders several years ago. "Composite LPG cylinders have been around since the 1990s, but it was only around 2006 they became more prevalent," Berglund said. "Composite LPG cylinders have already become a commodity in many countries, but there are still some areas where use of the cylinder is not as widespread. We estimate there are more than 20 million composite cylinders in circulation on the global market." 
Berglund said that since 2006, substantial investment has been made to further hone the technology and improve the products to better fit the needs of the LPG marketer. 
"Although it's fairly easy to replace metallic LPG cylinders with composite ones, there are still some noticeable differences that should be considered," he said. "Most composite LPG cylinders have some inherent properties that set them apart from their metallic counterparts. They are, for example, lighter to enable easier handling and also translucent to consistently allow for visual level indication. But they are also bleve-free and corrosion-free, resulting in lower impact on the LPG market distribution chain in terms of transportation and maintenance. In the end, I also want to stress that while composite LPG cylinders are built strong and sturdy, still, a very good visual inspection of every step of the distribution chain is very important." 
Berglund said that his company witnessed the start of the composite cylinder era and will remain here in the future as this is a very long-term commitment in a crucial global market. 
Telemetry-Based LPG Distribution
Anova's (Sydney, Australia) Robert Battye, senior vice president, customer engagement and product strategy, said, "I want to discuss with you what has changed with telemetry-based LPG distribution since my 2013 London presentation titled, 'The Road to 60% Average Fills and Why Telemetry Often Disappoints.' Many of the barriers to achieving average fill rate at 60% discussed in 2013 have been addressed." 
Battye focused on three areas: technology, total cost of ownership and business transformation. 
"Technology first; Cloud platforms and application programming interface standards have enabled the transparent and timely integration of tank level and diagnostic data with forecasting, ticketing and customer relationship management systems. The reliability and connectivity of telemetry devices has increased with 15-plus year factory life being today's new norm," Battye said. "Telemetry total cost of ownership, which includes depreciation, monthly data fees and installation cost, has dramatically fallen from $60 per year in 2013 to below $30 for cellular devices and below $20 for some new IoT appliances in 2020." 
He noted that distributors who basically deploy tank monitors are asking companies like Anova to not only provide the equipment, cloud software service and field support, but also change management and business transformation to help companies achieve the telemetry investment program objective. 
"These objectives remain unchanged," Battye said. "More volume, better productivity, fewer runouts and a platform for organic growth and reduced customer churn. Working with many of our customers on such programs, it is evident from achieved results that the road to 60% average fill has never been so easy to navigate."
Smart Meters 
Nick Quintong, CEO and co-founder of Paygo Energy (Niarobi, Kenya), a provider of smart meters designed for lower-income customers to be able to "pay as you go," won the Global Technology Conference award in 2018.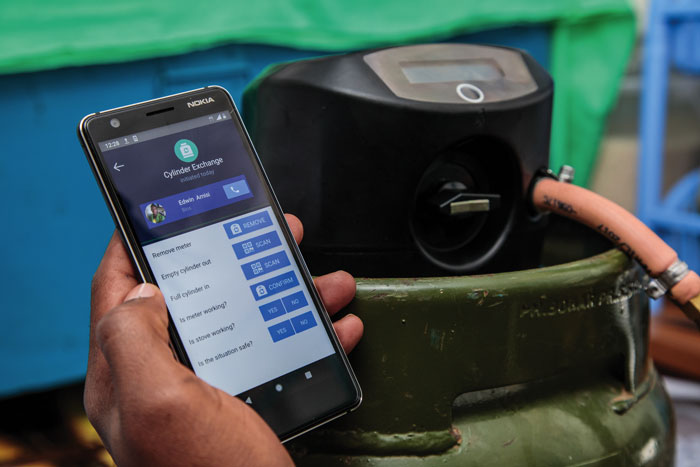 "Since then, we've made great strides achieving our mission unlocking clean cooking fuel for the next billion people," Qunitong said. "As a hardware company, it is incredibly difficult to move from concept and prototype through to commercialization. Back in 2018, we were applying our technology with hundreds of homes in Kenya. Today we've raised over $8 million in venture capital; we've tripled the size of our team; and we have already manufactured thousands of meters for deployment with our partners in Asia and Africa."