Wednesday, October 14, 2020
With much uncertainty about wholesale propane supply in late spring as the result of COVID-19, the export situation, and other factors that all seemed to point toward a tight winter, the
National Propane Gas Association
(NPGA) organized a series of four webinars to educate marketers. Held in July through September, the theme of the webinars was "Preparing for Peak Demand."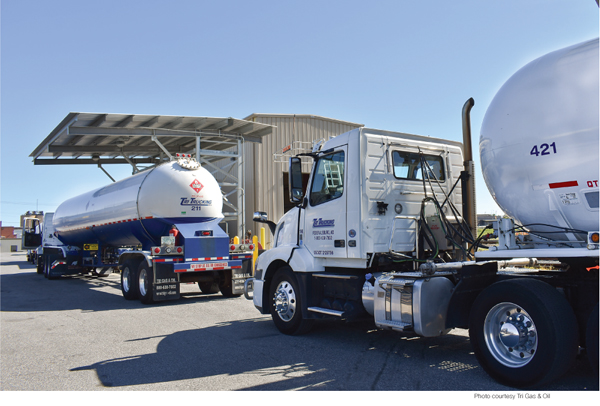 "These webinars highlighted the strong need for communication between retail propane marketers and all partners in their supply acquisition process, especially wholesale suppliers and transportation providers," said Steve Kossuth, chairman of the NPGA Supply and Logistics Committee and vice president of global LPG supply at UGI Corp. (AmeriGas' parent company). "'Communicate early and often' was frequently repeated advice when talking with experts from the supply, logistics, and transportation fields. NPGA wanted industry members to hear firsthand from people who provide key services they need to be able to successfully meet the needs of their retail customers."
"We had over 160 people registered for each webinar," said Jeff Petrash, NPGA vice president and general counsel. "I was pleased to see such strong participation throughout all four of the webinars." Speaking in mid-September, Petrash noted that the NPGA Supply and Logistics Committee had recently met virtually and he was relieved there were no new issues brewing. "Production declines that looked so concerning back in April bottomed out and the data shows we are steadily climbing again. With fewer alarms going off with production levels and crop drying not expected to require excessive volumes of propane this year, I am glad to see we maintained great participation through all four webinars."
The first presentation, headlined by Rusty Braziel, founder and CEO of
RBN Energy
(Houston), was detailed in the September issue of BPN. Braziel will be featured in a video interview with BPN later this fall updating his thoughts based on current market information.
Transportation Issues
The next webinar focused on transportation, with a panel of experts from
Enterprise Products
(Houston),
LP Transportation
(Chester, N.Y.),
Grammer Logistics
(Houston), and
Hilco Transport
(Greensboro, N.C.). James Winton, chief operating officer with Grammer Logistics, said the company has always had a philosophy of planning for the worst, but hoping for the best. "The important thing is to be prepared for all that can happen in a high-demand period," he said. Grammer Logistics' Angela Branchi, who serves as senior vice president, NGL division, pointed out, "Trucking lanes have gotten stretched in the past five years. The sooner the call to the carrier for a load, the better off you will be." She and Kossuth, facilitator of all four webinars, discussed the challenges often presented by the calls for loads that come between 3 p.m. and 5 p.m. "These always throw things out of whack," Kossuth said.
"Loyalty matters," explained Casey Teague, Enterprise Products' vice president, trucking. "Those customers who represent year-round business will win the tie when several customers are in a bind. What is done in the slower off-months matters." Art Ogden, CEO of LP Transportation, said he feels his company is more in the communication business than the transportation business. "Some of our customers share their tank monitor data directly with us," Ogden said. He also discussed the importance of being prepared for lifting loads at sites not typically used. "It's good to have drivers certified at non-traditional sites before winter gets here," he added. Ogden noted this is especially important while the threat of COVID-19 is strong. Several experts discussed the need to keep drivers from congregating too much. "It certainly creates a problem if too many drivers are out due to illness at the same time," Branchi said. All agreed that COVID-19 certainly adds a new dimension to challenges that typically include hours of service, crop drying demand, and illness due to typical winter flus.
Wait times at terminals were another topic for discussion. It was noted that many drivers waited more than 12 hours for loads during the polar vortex of 2013-14. Participants agreed more 24-hour origin locations would be ideal, but that being prepared for tight supply situations is also very important. "Being prepared is critical," Branchi said. "Working off the top side of the tank, not the bottom side, is important. Keeping tertiary storage topped off as best as possible is also very important."
Kossuth mentioned NPGA's new Propane Logistics Analysis Network (PLAN) app, which is a crowdsourced online tool for updating the status at terminals relying on user input, especially from drivers, dispatchers, terminal managers, and wholesalers. The app can be found at
https://plan.npga.org
and through an update to the NPGAction app. To get the NPGAction app, visit the Apple App Store or the Google Play Store.
Midstream Logistics
The following webinar, an update on midstream logistics, included experts from Enterprise Products Partners LP (Houston),
Blackline Marketing LLC
(The Woodlands, Texas),
Targa Resources
(Houston), and
Crestwood Midstream
(Kansas City, Mo.). "It sounds cliché, but as we've said on every webinar so far, we're all in this together," Kossuth explained as he opened the discussion on midstream logistics. He discussed the importance of taking advantage of all storage available in the industry and described results of a 10-year-old study Purvin & Gertz did for the Propane Education & Research Council (PERC). "It showed there were 136 million barrels of primary storage, 103 million barrels of tertiary storage, 15.6 million barrels of retail storage, and 15.7 million barrels of rolling storage," Kossuth said, noting that the data probably hasn't changed all that much.
David Herr, vice president of Blackline Marketing, commented that while there is a good amount of inventory on paper, the challenge is always getting the product to where it needs to be. Panelists agreed that it often takes 15 to 45 days to get product to a destination where there is demand and that it is good for retailers to build a history on a pipeline. "It is our goal at Blackline to know the retailer's plan. We want to work collaboratively with customers," Herr said.
"Honoring commitments and generating history are important to building supply relations between midstream suppliers and retail marketers," said Tug Hanley, senior vice president, pipelines and terminals of Enterprise Products Partners LP. "It is important to use the pipe in the summer to earn volume in the winter." Once again, as in the transportation webinar discussion, panelists agreed that communication between retailers and midstream suppliers is extremely important. It was discussed that midstream suppliers often suffer due to downstream overcommitment, but the consensus was that with consistent communication and efforts to set and meet commitments, midstream suppliers like to work with customers who like to work with them.
Crop Drying Demand Not Expected to be Strong
In the final presentation, agriculture demand was discussed. Kossuth reminded participants that the polar vortex winter of 2013-14, which had major distribution challenges, began with a huge crop drying season. "We learned a lot from the 2013-14 season," added Michael Caldarera, NPGA's senior vice-president, advocacy & technical services. "The harvest was wet, large, and late. It led to record propane demand. In 2019, cold temperatures and wet conditions delayed planting. A spike in propane demand led to a series of infrastructure challenges. Numerous relief measures were sought and/or put into place."
Caldarera shared some history of the development of additional agriculture information. "After the winter of 2013-14, more information was provided to help marketers prepare for peak demand periods. Monthly inventory trends reports were provided to supplement EIA data," he explained. "After the 2019-20 season, NPGA and PERC saw a need for more crop-specific data to facilitate planning. The USDA Crop Progress Report is issued weekly during April through November and it is referenced weekly in NPGA Reports."
Another presenter, Mike Newland, director of agriculture business development at PERC, shared data showing this season, due in large part to earlier planting, would likely not be a high-demand year for propane. He discussed the Aug. 10 derecho that caused extensive damage in Iowa, Nebraska, Illinois, and southern Wisconsin. "After field teams assessed the damage, we found that 200 million bushels of corn were damaged," Newland said. "There is also an untold story that some corn was lost to dry conditions as well." He then shared a new PERC tool for estimating dryer demand, a calculator at propane.com.
More Thoughts From Experts on Propane Supply
"In the Southeast, supply or transportation issues typically only come up every few years," Phil Farris, director of wholesale marketing at
3eight Energy
(Denver, N.C.) told BPN. "Most of my customers are in the Southeast and with enough storage, they can get through a cold winter in this region." Farris noted that problems that affect the Southeast region are often the result of a domino effect from problems that originate elsewhere.
Farris said that contracted volume in the Southeast is lighter than a typical year, despite all the talk of lower production from earlier in the year when COVID-19 hit. "Retailers understand the importance of keeping storage full and giving as much notice to their carrier as possible," he said. "Many know they can allocate deliveries to their customers and go several days, if not weeks, between wholesale deliveries. So, most retailers believe it's unlikely they will ever go out of business because they just can't get product. Naturally, all this leads to complacency, and supply planning based on 'reaction' rather than 'preparation.' Especially when the cost of propane remains at current low levels for extended periods." Farris notes that unlike regions in the Northeast and North Central U.S., the Southeast marketers can get by for a couple of weeks of below-normal winter temperatures before they feel significant stress.
Jeff Thompson, supply analyst at
Propane Resources
(Mission, Kan.), represents retailers in various parts of the U.S. but is also a lot less concerned about this winter having major distribution issues than he was back in April when there was a big fear of lack of production. "With production now higher than at this point in 2019, no expectations for significant crop drying gas demand, and no signs the La Niña will lead to a much colder than normal period this winter, we are less concerned about major supply distribution issues," Thompson told BPN. "There may be some regional challenges, such as in the North Central United States, but I don't foresee significant problems."
A concern Thompson shared is that traders, concerned about a pullback, will sell off propane positions. "That could result in propane retailers possibly paying 20 to 30 cents per gallon more if cold weather and demand pick up and buyers have to come back into the market."
"I don't think this is a year where companies will not have access to supply, but it could cost them more in certain areas," Anne Keller, managing director and founder of
Midstream Energy Group
(Sugar Land, Texas), told BPN. Keller also feels the upper Midwest region is the most vulnerable. "Midwest supply has been impacted by cuts in field production compared to a 2019 baseline primarily because of reduced crude production from the Bakkan, and refinery run cuts," Keller said. "We estimated a supply shortfall versus December of 10-11 million barrels by September for this region. Canadian imports have been reduced by 5 million barrels compared to last year as exports from British Columbia replace shipments to the U.S. Inventory levels have been maintained at typical averages for the season so far via reduced transfers to the Gulf Coast. Watch the Conway/Mont Belvieu differential for indications of market conditions. Spreads currently indicate that barrels will continue to move south at least until winter weather shows its hand."
"The Northeast could also face challenges in the event of a cold winter," she explained. "Along the East Coast we've seen regional production increases from gas processing slightly exceeding the reduction in refinery supply. Export liftings were maintained close to last year's levels. A seasonal inventory build was maintained this year mostly due to supply coming in from the Gulf Coast early in the season." Keller feels that this played a part in keeping Gulf Coast inventories relatively flat. "Refinery supply will continue to be curtailed due to lackluster driving demand continuing into fall," Keller said. "The possibility for higher prices and spot shortages increases if winter is severe since the European market will also be looking for barrels."
LESS CONCERN ABOUT THE GULF COAST
"There is always less concern about the Gulf Coast due to lower demand in the region and usually plenty of supply," Keller said. "Net regional production is down by about 3 million barrels compared to December 2019 levels, as refinery run cuts have outpaced strong gas plant production." Keller notes that export liftings are 26 million barrels higher than the first half of 2019, which has kept inventory levels essentially flat with last year. "Gas plant production increased due to higher levels of ethane recovery, which pulls more propane out at plants with older extraction technology that leaves propane volumes in the gas stream during ethane rejection," Keller said. "Ethane prices have softened with the storm induced downtime at several Gulf Coast ethylene plants."
As for the West Coast, Keller told BPN that the primary source of regional production is from refineries. "The estimated impact of decreased refinery run levels is about 1.5 million barrels through mid-year," Keller said. "The impact of the fires is likely to cut demand by more than enough to offset a continuing shortfall in refinery runs, and stockbuilds should provide backup supply." — Pat Thornton