Tuesday, September 29, 2020
Acknowledging the supply concerns of many of its members, the
National Propane Gas Association
(NPGA) kicked off a series of webinars to educate marketers on the current supply situation as well as steps they can take to prepare for winter 2020-2021. The first webinar, July 21, was titled "Preparing for Peak Demand: Update on Upstream Propane Production and Downstream Logistics." It was headlined by energy industry veteran Rusty Braziel, founder and CEO of RBN Energy (Houston), and was joined by NPGA staff and other industry members.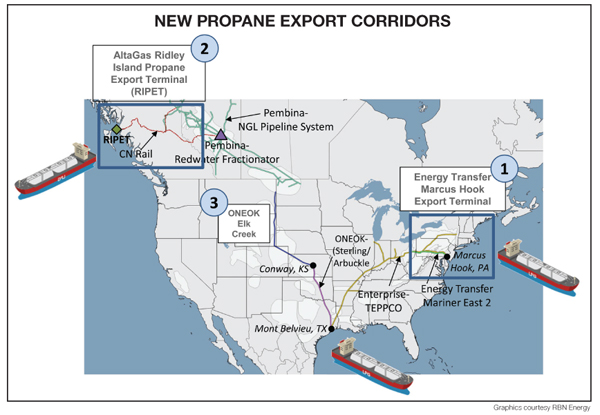 Braziel has been involved in the energy business for more than three decades. He has been a programmer, analyst, planner, and energy trader. He was with Texaco (now Chevron) for 20 years in jobs that included manager of NGL supply and VP of natural gas in marketing and trading. Braziel is often seen on shows such as Mad Money with Jim Cramer on CNBC.
In August, Braziel spoke with BPN for this article and he will do a follow-up with BPN in September to further update the propane industry as new factors are always coming into play.
Braziel told webinar participants that "COVID-19 and declines in natural gas and crude production are factors [in the supply picture] this year as well as more propane exports going out of British Columbia on the west side of the U.S., and Pennsylvania on the east side of the U.S. These are new factors that retail propane marketers need to be aware of this year. These factors could put a squeeze across the supply/demand equation, especially if we have a cold winter."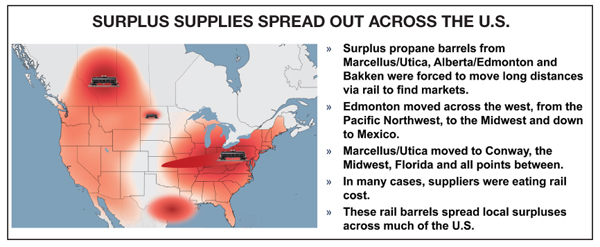 While most marketers are aware of the decline in crude and natural gas production as demand plummeted worldwide due to the virus, Braziel feels fewer may be aware of all the changing propane export dynamics.
NEW CANADIAN PROPANE EXPORT DYNAMICS
In March 2020, an RBN report stated: "Although the U.S. dealt with the rising volumes of NGLs by overseas exports earlier in the 2010s (and continues to do so), Canada has only had to grapple with this problem since the beginning of 2016, when a shift to more liquids-rich natural gas plays, primarily the Montney and Duvenay in Alberta and British Columbia, began to produce significant additional amounts of propane, normal butane, and other liquids (condensate, or natural gas, being a favorite)."
An RBN report in July pointed out: "The May start-up of the AltaGas-Vopak-operated Ridley Island Propane Export Terminal (RIPET) just outside of Prince Rupert, B.C., provided Canada with its first direct export access to Asian markets for its propane supplies. And a second propane-export terminal—Pembina's [25,000 bbld] Prince Rupert facility just a short distance from RIPET—was under construction and targeting in-service online by the third quarter of this year (that's since been delayed to first quarter of 2021). Western Canada propane supply at the time was about [230,000 bbld] (not including y-grade), near decade-long highs after climbing steadily between 2016 and 2019.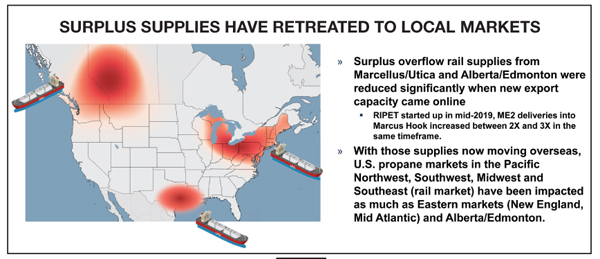 "Growth in propane and other liquids supplies had largely overwhelmed what capacity there was for pipeline exports to U.S. markets, and what volumes were able to get to market by pipelines, rail, or truck, had been facing increased competition from already-saturated markets downstream. That then spurred the development of overseas export capacities, as Western Canada producers look to find alternative and higher-priced markets in far-away lands, particularly in Asia."
The RBN report concluded that propane exports from the terminal exceeded 50,000 bbld in March and May of this year, and RIPET has stated it expects to be in a position to routinely send out 50,000 bbld or more by the end of 2020. RBN expected that in 2021 and beyond, the terminal will continue to ramp up its exporting volumes by 5000 to 10,000 bbld per year, assuming economics and Asian demand for propane warrant those increases. This growth of export levels may continue to grow annually until it reaches its capacity at 80,000 bbld.
An August report concludes that with all the new export capacity in British Columbia, the Canadian propane market is transitioning into an all-new era. The new era started to emerge in mid-2019 with demand and exports having caught up to, and more frequently surpassing, available supplies. The result has been a rapid tightening of a market once thought to be grossly oversupplied outside of higher demand winter heating needs.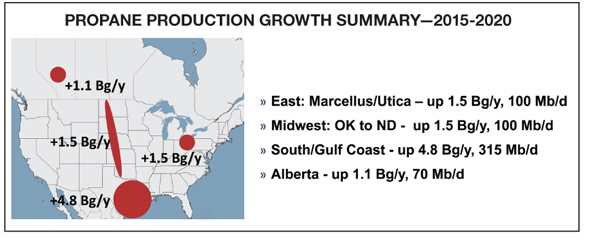 Consequently, surplus Alberta propane supplies that in previous years have moved to the U.S. Midwest and West via rail now are exported to global markets, tightening the supply/demand balance across the western half of the U.S.
MARCUS HOOK FACILITY HAS ALSO RAMPED UP
While the U.S. moved from a net importer of propane to a net exporter in the early 2010s, the vast majority of propane was exported from the Gulf Coast marine terminals near Mont Belvieu, Texas, North America's main fractionation and storage center. Most of the natural gas liquids produced in the U.S. are piped there to be fractionated into propane, butane, and other "purity products."
An RBN report in April 2017 detailed how the Marcus Hook Marine Terminal in Pennsylvania was starting to export a growing share of NGLs. NGL pipeline capacity from the "wet" Marcellus and Utica production in and around Pennsylvania, and Ohio to Marcus Hook, was about to increase significantly. By August 2019, RBN was reporting the Mariner East 2 pipeline from Scio, Ohio, to Houston, Pa., to Marcus Hook had come partially online in December 2018 and was moving 160,000 bbld with potential capacity to move 275,000 bbld by sometime in 2020.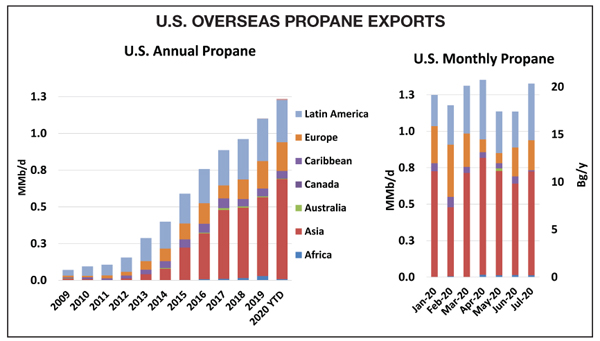 With the COVID-19 slowdown as well as other challenges, the work to finish the full capacity of this pipeline and complete the Mariner East 2X has been curtailed, but owner Energy Transfer touts Marcus Hook as a facility that will one day rival the Gulf Coast export facilities. One can assume more and more Marcellus and Utica propane will make its way toward the Marcus Hook export facilities in the coming years, cutting into surpluses that previously moved to points from Conway, Kan., to Florida, and creating even more supply challenges for U.S. retail propane marketers.
"This may not be a year to play with Mother Nature," Braziel told BPN. "I was attending an energy conference in San Diego in early March, and for most of event it was pretty typical, but then as the conference wrapped up it seemed like COVID hit the fan. It was suddenly clear we were going to have a much tighter market for a while." He notes that while overall production of propane in the U.S. still far exceeds U.S. demand, the addition of more export capacity at RIPET and Mariner East 2 will certainly tighten markets in most regions of the U.S.
"Over the past few years, excess propane from the Marcellus/Utica area in and around Pennsylvania, as well as Alberta, Canada, surpluses have moved by railcar to markets across the U.S.," Braziel explained. "With regional production down and more regional volumes being exported, local markets could face disruption in the event of colder weather. Such a scenario would require transportation of more propane barrels over long distances to meet market demand, resulting in higher costs and potential delivery delays."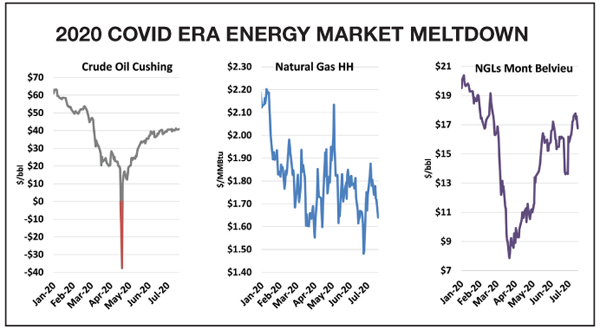 "The world has changed. The propane market is more susceptible to disruption than it has been since the onset of shale surpluses," Braziel said. "Propane marketers should take steps to shore up supply chain deliverability."
Affected regions across the U.S. include the Pacific Northwest, Southwest, Midwest, and Southeast (rail market), as well as Eastern markets (New England, Mid Atlantic) and Alberta/Edmonton. The area of the U.S. least affected is the Gulf Coast. "The supply/demand balance in this region will adjust as necessary through decreases (or increases) in export volumes to overseas markets," Braziel said. "Texas has access to a lot of propane and not a lot of cold weather during most of the year. Most of the rest of the U.S. is a different story."
The expanded export capacity on the East Coast is typically going to Europe while the increased exports on the West Coast are headed to Asia, according to Braziel. As shale production increased over the past six years, Marcellus/Utica propane in the East was up 1.5 billion gallons per year; Midwest propane grew by 1.5 billion gallons per year; South/Gulf Coast propane added 4.8 billion gallons per year; and Alberta propane was 1.1 billion gallons higher per year.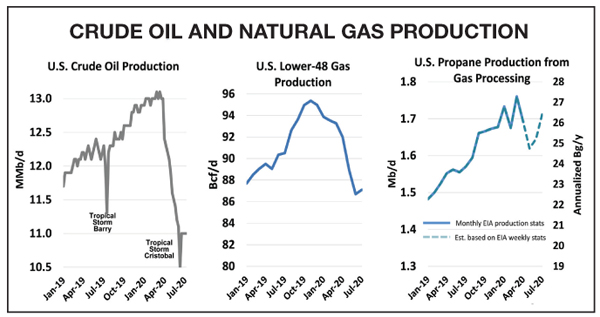 Braziel's data shows that surplus propane barrels from Marcellus/Utica, Alberta/Edmonton, and Bakkan in prior years were forced to move long distances via rail to find markets. Edmonton moved across the west, from the Pacific Northwest, to the Midwest and down to Mexico. Marcellus/Utica moved to Conway, Kan., the Midwest, Florida, and all points between. In many cases, suppliers were eating rail cost as the rail barrels spread across much of the U.S. Those days are long gone.
PLAN AHEAD AND BE PREPARED
With more distribution concerns, Braziel told BPN these are three key suggestions for retail propane marketers:
Make sure you have more than one propane source to rely on.
Storage buys you days, sometimes many days that you really need. It can be a great investment.
If markets get tight, it is important to have access to enough trucks to move supply from faraway supply points. – Pat Thornton