Wednesday, October 28, 2020
Compressor and pump manufacturer
Corken
(Oklahoma City, Okla.) has launched a new propane railcar unloading system that fully evacuates propane from railcars during offloading with up to 25% faster unloading speed compared to conventional compressor systems. The company notes that conventional unloading systems with a single-stage compressor abandon the final 230-400 gallons of propane in each railcar.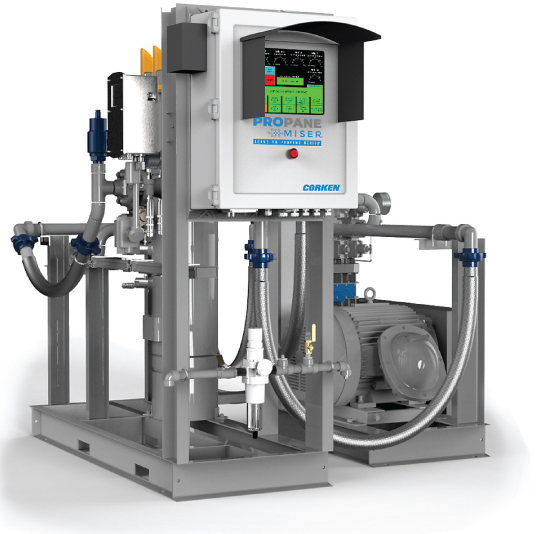 "We are solving a real problem folks have lived with—getting that last bit of propane," Steven Willoughby, global business line director at IDEX Advanced Flow Solutions (Corken, Liquid Controls, SAMPI), tells BPN.
Conventional systems are unable to evacuate a tank below 30-40 psig during the vapor recovery process, he explains. Corken's new Propane Miser, on the other hand, overcomes this barrier and achieves evacuation as low as 0 PSIG. It does so using a two-stage compressor controlled by a Programmable Logic Controller (PLC).
"The control system is patent pending," Willoughby says. The liquid transfer and vapor recovery processes use separate performance algorithims, so they each operate with the maximum possible speed and efficiency. The system also offers three different liquid transfer modes for maximum unloading flexibility. With the unique control system, Corken's Propane Miser offers these primary advantages: faster unloading, flexible unloading rate, faster vapor recovery, and deep evacuation capabilities. "With this unique controller and two-stage compressor, the Propane Miser quickly and safely empties the railcar to zero PSIG."
This turnkey railcar unloading system includes the control system, a touch screen, a Corken D791 compressor, and all necessary safety equipment. The Propane Miser is Corken's first unloading compressor offering with such a sophisticated control system, though the company has done less-elaborate custom systems in the past. It was officially launched Sept. 1 and is now available through a select number of distributors.
On its website, Corken provides a tool that will calculate a terminal operator's potential savings with Propane Miser. The Railcar Offloading Business Opti-MISER asks the visitor to enter their average propane cost per gallon; their normal vapor recovery stop pressure; their optimal vapor recovery stop pressure; the number of railcars their operation unloads per year; and the number of years over which they would like to calculate their potential savings. "It's just five questions and some personal information; it takes less than a minute if you know the answers," Willoughby says. "It will tell you what you will save over the life of the unit."
"Any terminal could use these," Willoughby concludes. "If you recover 1% more propane, that adds up quickly, a couple hundred gallons at a time. The payback is a year or two."
For more information about Corken's Propane Miser, and to use the Railcar Offloading Business Opti-MISER, visit www.corken.com. — Steve Relyea