Tuesday, January 21, 2020
(January 21, 2020) — Heavy rains produced record flooding in the Midwest in early 2019, wreaking havoc in communities and on farms. Sustained precipitation caused marked postponements for crop seeding in the spring, and many acres weren't planted at all. Fallout from the flooding hit again in the fall and produced severe propane distribution constraints throughout America's Breadbasket.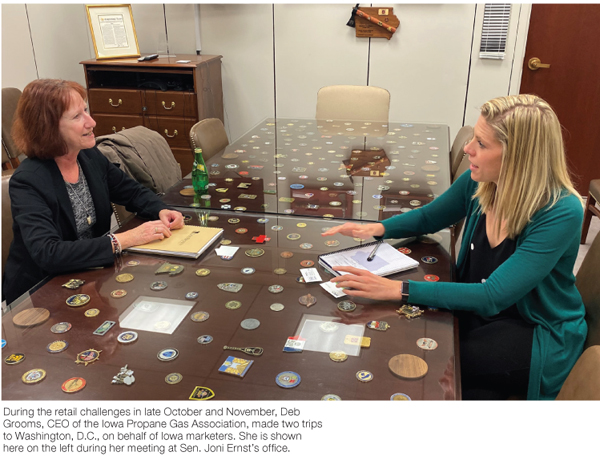 Farmers who earlier struggled for months with swamped fields, fewer planted acres, and commodity price uncertainty now endured the multiple challenges of a delayed, wet harvest and the early onset of cold temperatures and snowfall. Mother Nature determined that record levels of prompt propane were needed to dry sodden grains at harvest time, and just for good measure swept the Heartland with cold and snow so space heating demand for people and farm animals alike would ramp up concurrently.
"A multitude of factors contributed to the supply challenges in the Midwestern states," observed John Powell, senior vice president and head of Kansas City-based Crestwood Services' Marketing, Supply, and Logistics Group. He said these included refinery turnarounds and outages, unexpected and extended colder-than-normal weather, a lack of contingency storage barrels, and strong crop drying demand due to a late planting season. Adding to the harvest woes were the high moisture content of corn coming out of the field, allocation on pipelines, and contingency supply points 50 to 200 miles further away than normal. All these conspired to stretch trucking capacity. And to boot, Canadian National railway workers called a strike and walked off the job, stranding propane railcars along its network.
"The colder-than-normal start to the winter season caused a dramatic increase in demand, both for heating and crop drying, along with several production issues, creating the perfect storm for a short-term supply shortage," Powell adds. "Generally speaking, the supply constraints are now largely resolved."
TO THE RESCUE
All that being said, marketer frustration mounted, with significant irritation directed at the wholesale side. Noted by several in Iowa was a reported change in policy by one leading wholesaler. "Some producer/wholesalers are opting out of doing small contracts and spot loads for retail propane marketers," said Marty Lerum, managing partner at Propane Resources in Mission, Kan. "This puts more risk on the retail propane marketer. While we produce more propane than ever before in the U.S., the propane distribution system is actually less flexible to deliver to the retail propane industry."
"My phone is ringing a lot less. It was a fairly quiet weekend," said Deb Grooms, CEO of the Iowa Propane Gas Association, just after Thanksgiving. "No one called to say people or animals are cold, but there remains a lot of corn to dry." Grooms, who spent most of late October and all of November dealing with retail challenges, made two trips to Washington, D.C., on behalf of Iowa marketers. Although she said she was finally seeing light at the end of the tunnel, for her association membership December still brought with it difficulty in procuring product. There was, however, a sense the perfect storm was steadily coming to an end.
U.S. Department of Agriculture data obtained and distributed by the National Propane Gas Association (NPGA) estimated the U.S. harvest was 86% complete as of Nov. 25. A five-year average for Iowa shows the crop usually at 97% complete by that date. "Iowa bore the brunt of the challenges," said Jeff Petrash, NPGA vice president and general counsel.
NPGA MEETS WITH FERC
Through numerous discussions with Grooms, Iowa Gov. Kim Reynolds and her staff, and the Iowa congressional delegation, Petrash and NPGA staffers were able to arrange a meeting with the Federal Energy Regulatory Commission (FERC) Nov. 25. FERC is the government agency that regulates the interstate transmission of electricity and movements of fuels. For only the second time in history the agency worked with pipeline operators to expedite propane batch deliveries to Iowa. It acted in a similar manner during the winter 2013-2014 logistical difficulties.
A Nov. 27 memo of talking points for state propane associations prepared by NPGA stated that FERC had initiated an alternative dispute resolution process with pipeline companies on Nov. 19. Shippers and their representatives were therefore able to explore actions to alleviate propane pipeline constraints in the Midwest. Accepted was a proposal from Enterprise Products (Houston), owner and operator of many U.S. pipelines, to provide emergency transportation of propane to the Midwest for a 30-day period.
In addition, a Nov. 25 FERC meeting that involved representatives of Enterprise TE Products Pipeline Co. LLC, ONEOK North System LLC, NPGA, the Iowa Propane Gas Association, the Association of Oil Pipe Lines, and shippers was held to examine possible actions. NPGA thereafter reported that Enterprise would file to extend its emergency propane service. It also reported that ONEOK would file a tariff revision temporarily waiving restrictions on its allocation policy to allow qualified shippers to transfer allocated capacity, thereby facilitating prompter shipments. The FERC discussions were confidential. Further details were not released.
Meanwhile, NPGA reported the Federal Motor Carrier Safety Administration would continue to lift hours of service restrictions for Midwest states, including Illinois, Indiana, Iowa, Kansas, Kentucky, Minnesota, Missouri, Nebraska, North Dakota, South Dakota, and Wisconsin through Jan. 10.
By early December, whether through warmer temperatures, the end of crop drying drawing near, FERC actions, or likely a combination of all, Petrash said he noticed his email inbox was no longer flooded. "Since March of 2019, Sarah Reboli, Lesley Garland, and I had been watching the Midwest crop situation along with PERC's Michael Newland, who oversees ag issues," he said. "We have been communicating with FERC, the Midwestern Governors Association, NASEO [National Association of State Energy Officials], our state propane associations, and our membership about concerns throughout the year. We've stayed in regular communication with these organizations since the problems in 2014."
At the same time, NPGA issued talking points directed to consumers, government officials, and media, namely, there is not a propane shortage in the Midwestern United States. There are limits on the safe transportation of propane from supply points, as well as limits on pipeline capacity. The U.S. continues to be a net exporter of propane and there is more than enough to satisfy customer demand. Talking points also observed that some propane marketers had sold up to five times more propane over a month's time compared to the same time a year earlier. The deliveries were primarily for crop drying and other agricultural heating needs, as well as serving the needs of residential and commercial customers.
NPGA emphasized it is important for consumers to communicate with propane suppliers in advance to ensure they have what is needed, when it is needed, especially if they do not have a contract with a supplier or have not scheduled deliveries. "To understand the demand from corn and grain drying, consider that your typical home that uses propane for space heating, water heating, and cooking might use around four to five gallons every day," the association explained. "But some of these grain dryers are using nearly 18,000 gallons every day. That volume of gas requires two tractor-trailer loads of gas every day."
CHALLENGES AND CONCERNS
Jay Christie, energy development specialist at New Century FS (Grinnell, Iowa), is president of the Iowa Propane Gas Association. He said he and the association leadership took seriously the decision to contact Iowa's governor and the state's congressional delegation to seek help. "We don't want to ask for help unless it is really needed, and in this case help was definitely needed."
He pointed out that northeast Iowa was hit the hardest. One company slammed was Three Rivers FS (Dyersville, Iowa). Dani Ling, energy marketing manager, agreed that it was a tough fall. "We've had days where we could have used 25 loads but only got 13 loads," she said. "We averaged about 13 loads per day in November and had trucks going to Monee and Morris near Chicago; Conway and Hutchinson in Kansas; and Oklahoma and Arizona." In 2014, Three Rivers FS even trucked in some loads from Texas.
Ling added the company rationed propane in some areas this fall. "There were days we had to shut down some dryers to make sure home heat and hog house customers were taken care of. We sometimes limited drivers to delivering no more than 600 gallons per day, short-filling customers with enough to get by for a short period." She acknowledged some efficiencies were lost between the cost of extra trips associated with short-filling and spending 20 cents to 50 cents per gallon more for propane to be trucked in from longer distances.
Terry Davis of Country Propane in Milo, Iowa said that he always stresses there is a plentiful supply of clean-burning, easily transported propane. He tells his customers not to read too much into the hype on the news until he communicates a concern to them. "As an industry, we often respond with reliable propane to fuel generators for short-term issues like hurricanes and tornadoes," he said. "Where natural gas and electricity fail, propane picks up the slack. Crop drying is a similar circumstance where propane can resolve a short-term problem, but it often gets a black eye when transportation can't keep up."
Davis said the industry has done a good job of increasing storage at various customer sites. In many cases, 320-gallon tanks have been replaced by 500-gallon containers. In turn, 500-gallon vessels have been replaced by 1000-gallon tanks. However, he expressed concern that, too often, government stands in the way of boosting storage. "In Indianola and Warren County, it is next to impossible to add storage due to zoning conditions," he said. "Meanwhile, crop drying equipment is faster and more efficient, but that means using up the propane faster and faster."
And if extended travel is required to obtain more and more propane, the shortage of drivers is another big challenge for the industry. "We've got to legalize 18- and 19-year-olds receiving licensing to drive hazardous materials," Davis said. "By the time they're 21, the legal age, they are often already settled into another job."
While Davis lauded the efforts of the Iowa Propane Gas Association, he said he is concerned that propane distribution issues arise about every five years. And each time the propane industry must work with new people in leadership positions at various government agencies. "Getting all the right people educated every time these situations arise takes time, and when propane is not moving fast enough a week can seem like an eternity. I'd like to see some policies and procedures in place where government assistance kicks in more automatically for cutting hours of service requirements and prioritizing propane on the pipeline." — PAT THORNTON