For homeowners who are interested in a fireplace primarily for the beauty and ambience it provides, propane gas logs are an attractive option. Gas logs are cleaner and more convenient than a wood fire and more affordable than a fireplace insert.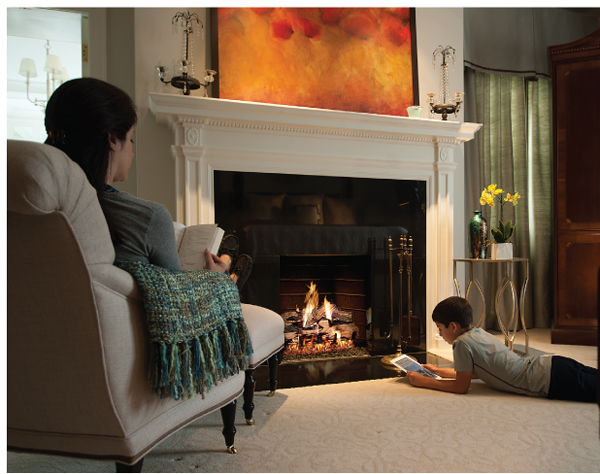 "A better way to enjoy the beauty of a wood fire is with a gas log, vented or vent free," says Jerry Scott, senior vice president of
RH Peterson Co.
(City of Industry, Calif.). RH Peterson has been manufacturing gas logs in southern California since 1949.
Gas logs are intended to be installed in an existing fireplace, replacing wood with ceramic objects in a variety of styles and a flame fueled by natural gas or propane.
Compared to wood, they are cleaner and more convenient. Gas logs eliminate the need to buy, store, and cut wood; are easy to operate, turning on and off with the flip of a switch; and burn with no ash or sparks. "When people switch from wood burning to gas logs, they use their fireplace more often," Scott says. "Starting a wood fire is a project; with gas logs, you just push a button."
They also burn cleaner, making them environmentally friendly. Gas logs eliminate virtually all the particulates and the toxic gases of a wood fire. In the parts of the country that have "no burn days," gas products can be burned on those days. "I remember a time Denver declared a 'no burn day' on Christmas Eve," Scott says. "Soon after that, we got a lot of calls asking about gas logs."
Compared to gas fireplace inserts, gas logs are more affordable. An insert is two times or three times more expensive. Another difference is that vented gas logs do not heat the room as efficiently as an insert. As with a wood fireplace, most of the heat goes up the chimney. "If someone is looking for a heating product, they will want an insert or a vent-free gas log," Scott explains. "If they want the aesthetics and emotional warmth that a fireplace adds to a home, a vented gas log is best."
Some state and local codes do not allow vent-free gas logs; only vented ones. Installation of gas logs requires a fireplace that has gas service. If a fireplace doesn't have that, a certified technician can put gas service in. Scott also says it is a good idea to get the chimney cleaned, to ensure there is no creosote, and inspected.
Gas logs see a spike in sales in the fall and winter, but because of their aesthetic value, they sell in the spring and summer, too. Gas logs are available in a variety of styles to suit different personal tastes. Options include realistic-looking logs and several contemporary alternatives like smooth stones, geometric shapes, and crystal-like pieces in brilliant colors. Different burners are available to create different flame effects. Remote controls allow the user to start and stop the fire and adjust the height of the flame.
In a showroom, the key to selling gas logs is to have a burning display. "People want to see them in action and the beauty is in the fire," Scott notes. "We hand paint our gas logs to replicate the appearance of wood, but there is no substitute for fire."
In addition to Real Fyre gas logs, RH Peterson Co. manufactures Fire Magic grills, American Outdoor Grills, and American Fyre Designs outdoor products. The company has found that all these appliances have become more and more popular during the stay-at-home protocols around COVID-19. Because people are spending more time there, they want to make their homes more comfortable.
"If a customer has shown an interest in gas logs," Scott suggests, "always ask about outdoor fire features and grills too." — Steve Relyea