Wednesday, October 3, 2018
WASHINGTON (October 3, 2018) – Three transit fleets received the eighth-annual Top User of Propane Autogas Award from the Propane Education & Research Council (PERC) during the BusCon Expo in Indianapolis. The award celebrates fleets creating healthier environments for riders and communities by using clean, cost-effective, and domestically-produced propane autogas. The awards were presented during breakfast on Wednesday, October 3, in Room 130/131 of the Indiana Convention Center.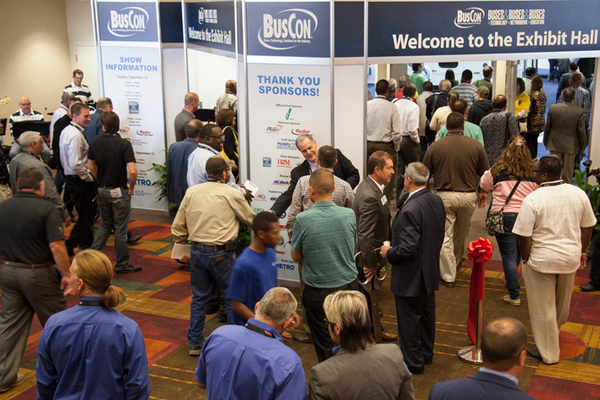 "These fleets truly represent the top users of propane autogas in transportation in their consideration for the environment as well as the students, patients, residents and communities they service by choosing a clean, cost-effective fuel," said Michael Taylor, director of autogas business development for PERC. "Propane autogas can offer many advantages, including the lowest cost of ownership, reduced emissions, and reliable performance, to help both private and public fleets provide better service to taxpayers and clients."
This year, the recipients are Spartanburg Regional Healthcare in Spartanburg, South Carolina, represented by Jimmy Riley and Eddie Leonard; Carteret County Area Transportation System in Morehead City, North Carolina, represented by Randy Cantor, director; and Yale University in New Haven, Connecticut. A representative from ICOM North America will accept the award for Yale University on behalf of Ronald Gitelman, fleet administrator.
Spartanburg Regional Healthcare
Spartanburg Regional Healthcare System provides mass transportation to individuals located in four South Carolina counties — and is the only hospital nationwide to provide such services. Its 48-unit fleet provides door-to-door services, including paratransit and ambulatory services. To further support its roots in health and human services, the healthcare system began converting its vehicles to propane autogas bi-fuel systems starting in 2015. Now, 14 of the fleet's buses use propane autogas bi-fuel systems, including nine Ford E-450 units, three E-350 units, and two F-150 units. The clean fuel helps the healthcare system reduce emissions of greenhouse gases, that can contribute to chronic health issues, and provides environmental benefits and cost savings that benefit overall quality of life in the community. More than 800 riders use the service daily.
Carteret County Area Transportation System
Carteret County Area Transportation System (CCATS) serves the residents of Carteret County, North Carolina with both in- and out-of-county travel. Since July 2018, 13 of CCATS's 16 cutaway shuttle buses have been converted to use propane autogas bi-fuel systems. The county gravitated toward propane autogas because of its location near sensitive environments along the Atlantic Ocean, including national forests, a national seashore, and multiple wildlife refuges. In addition to reducing emissions, the county also saves approximately 43 percent on fuel with propane autogas compared to gasoline.
Yale University Transit
Since 2016, Yale University has added a total of 30 propane autogas bi-fuel vehicles to its fleet, as shuttles used for student transportation as well as several work trucks. The university is dedicated to adopting alternative fuels in as many of its more than 470 vehicles as possible, and quickly found propane as an emissions-reducing and cost-effective solution in campus shuttle transportation and other fleet vehicles. Each propane autogas vehicle saves 50 extra gallons of fuel and requires less maintenance. The school currently has one propane autogas refueling station on campus and is considering adding a second.
BusCon attendees can learn more about the benefits of propane autogas for transit fleets and facilities by visiting with PERC representatives in booth #737. For more information on how propane autogas can fuel fleets, hear testimonials from fleets already using the alternative fuel, or to find resources to help fleets get started with propane autogas, visit propane.com/on-road-fleets.
About PERC
: The Propane Education & Research Council (PERC) is a nonprofit that provides leading propane safety and training programs and invests in research and development of new propane-powered technologies. PERC is operated and funded by the propane industry. For more information, visit propane.com.
(Photo courtesy: BusCon)