Wednesday, November 4, 2020
(November 4, 2020) — For Natalie Peal, one of the most valuable parts of industry events has been the informal get-togethers she's shared with other women who own propane businesses. She has learned a great deal while talking over dinner with her peers.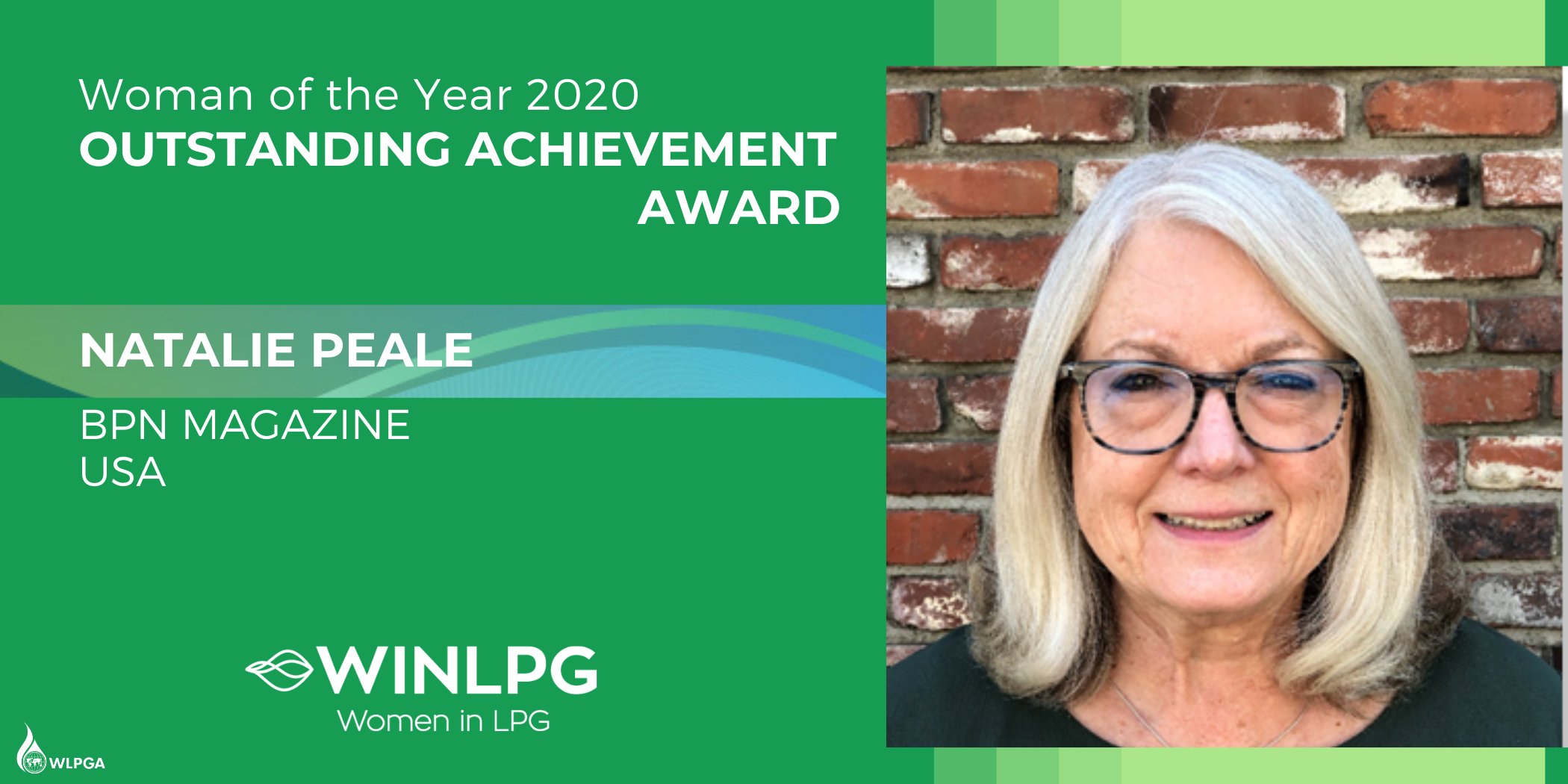 "Having dinner with others is an easy way to sit and brainstorm," she says. "In a casual atmosphere, you can ask questions and not feel someone is going to roll their eyes at you. You can have an informative discussion."
Today, as publisher of BPN and an active member of industry organizations, she tries to extend that same sort of welcome and camaraderie to other women as they join the propane industry. On Oct. 22, Peal was recognized for this with an Outstanding Achievement Award from Women in LPG (WINLPG), an initiative of the World LPG Association.
Peal was introduced to the propane industry at an early age. Her father, Bill Clark, had been an editor of BPN since the end of World War II. Then, in 1969, he bought the publication. At that time, Peal was newly married, attending college, and employed at another job. Still, she stepped in to help and gradually took on more responsibilities. "When other people didn't complete a job, I took over to get it done," she says. "My dad oversaw the business things, but I took that upon myself too. I talked to the accountants and attorneys, and I learned along the way."
As her father got older and started to back away from the business, Peal was ready to run things. One landmark moment happened not in the office, but in a bank. A salesman had talked her father, who was then in his 80s, into a questionable financial arrangement. Peal got him out of it. "I went in and fought for him. He respected that. In some ways, experiences like that got me where I am today."
Over the years, as she learned by doing, she also talked with others who were doing the same thing in their own businesses. She is a participant in WINLPG and is a founding member and current board member of the Women in Propane Council of the National Propane Gas Association (NGPA). In these groups, she has met people who have provided good counsel on business and on life.
She has also promoted these groups and their causes in BPN. In this trade publication, she shares news with the industry while also learning from those who are interviewed for articles. "The women we've featured in the magazine are good examples of what you can do in this industry."
Before the pandemic, Peal continued to have those dinners with her peers. She looks forward to returning to them when industry events resume. She also enjoys welcoming those who are attending an event for the first time. "I always try to get to know newer people," Peal concludes. "It is a natural thing for me to introduce people I have gotten to know to other women who are new to the industry. I don't want women to feel isolated; I want to make sure they can get to know people."— Steve Relyea