Tuesday, December 18, 2018
When Michelle Bruno, owner of Cleburne Propane LLC (Granbury, Texas), discussed remote business operations with her 81-year-old father recently, he commented that the fax machine back in the '90s allowed him to have three houses in three different states and still run his chemical business. "Even now, he uses a fax and cell phone to stay in touch with his staff. I told him he is in the dark ages. I'm on my laptop working remotely, especially in the slow summer season," Bruno said.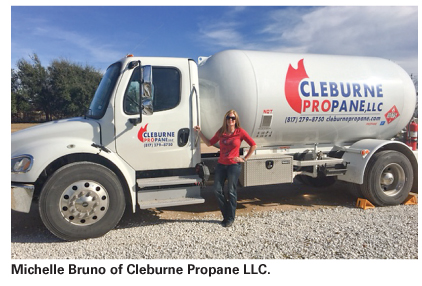 "I live on my family ranch in Weatherford, Texas, and my commute to my office, should I choose to accept it, is about 40 minutes each way. I also travel for vacations a few times a year. Don't get me wrong, I still go to the office frequently, but high-level tasks are best left for the peace and quiet of the ranch."
Like her dad, Bruno wanted to be able to check on her business from anywhere. "Computers were second nature to me ever since my first sales job in 1985 selling the IBM XT with a 10 MB hard drive. When I got into propane management, I started staying home on Fridays to work undistracted on budgets, strategies, etc.," she said. "I looked for ways to check on and assist my staff by using technology. In the past eight years, I have discovered how to make this a reality by using not just a laptop, but apps on a cell phone and web portals. I'm still finding new resources to automate and every year technology is getting better and faster by leaps and bounds."
In a suburb on the north side of Chicago, Chris Caywood keeps close watch over his family business, Caywood Propane, based four hours east in Hudson, Mich. Some weeks Caywood boards a train to Hudson to spend a few days on-site, but with the technology in place, he knows the trips are not necessary simply to know exactly what is going on in Hudson at any moment or to handle many situations that arise. BPN caught up with Caywood in Chicago as he finished a phone call that originally dialed into the company office in Hudson.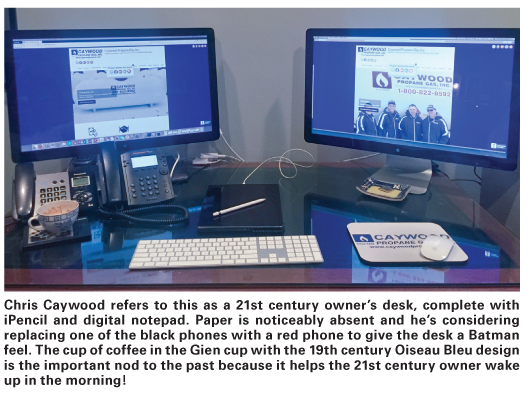 "Funny you should ask about what I can do without being in Hudson. I was just wrapping up a call with a customer. These calls are redirected to me if no one at the office can take them when they ring," Caywood said. "Having worked in several industries before returning to lead the family business, I was familiar with what technology can do for a business owner. The challenge became determining all the right software tools to utilize in the specific niche of leading a retail propane operation."
With the recent installation of the Ignite software program from Blue Cow, Caywood says he now has complete visibility into every aspect of his business. "I can see where employees are, where stops are on the route, and where the tablets are going," he said. "With the recent departure of an office manager, I can jump right in to lead route scheduling from anywhere."
He believes the new integrated solutions allow for checks and balances within his company. "From here, I can see payments made by customers in four categories: cash, check, electronic check, and credit cards. In five minutes, I can also check on bank accounts and credit card accounts. A system for monitoring physical propane inventory is also in place."
The company's employees delivering propane carry tablets for immediate processing of transactions. They can clock in and out of work remotely as well. Proper handling of phone calls is another area where Caywood tracks employee performance. "All calls are recorded and employees have instructions on handling the calls," he said. "The phone calls with customers are critical to our success, so we want to stress that the right message is conveyed."
A website for marketing the business and interacting with customers in cyberspace is another key component of the business he can manage from anywhere with an internet connection. "I had to make a believer out of my brother, Mike, who is a partner in the company. He didn't originally think a website would get us anywhere in rural communities. He does now," Caywood added.
"We use Google ads to reach prospective customers in our market area. Key words that customers enter such as 'propane' and the names of towns in our market area, will cause information on our company to appear at the top of the search information. This has drawn new customers to the business. Social media is also used to keep us on the customer's top-of-mind." The website system also allows prospective customers to get pricing quotes based on their delivery location, sign up to become a customer, and apply for credit.
Current customers can use the Caywood Propane website or newly launched smartphone app to review their account history, sign up for price-protection programs, order propane, pay their bills, or transact almost any other business that used to be done in person or over the phone.
In Texas, Bruno feels Cleburne Propane LLC is well beyond the fax machine that still works so well for her father. "A multi-function printer for scanning and printing via email takes away the need for a fax machine. Direct-deposit payroll and expanded software and credit card spending notifications instantly by cell phone also make life much more efficient." She uses email to receive daily reports from staff and often uses Skype to have face-to-face meetings and chat online even though she and the employee are many miles apart.
"Remote access to computer software allows me to log in to employee computers when they have issues as well as to view databases," Bruno said. "Outlook calendar, Google calendar, and other online cloud computing software allow for storage and for collaboration so documents can be shared as a team."
In addition, having security cameras and monitored alarms allow her to see daily activity. "You know who is there, what they are doing, and whether or not corrective action is needed," she explained.
For Caywood, remote tank monitoring is one more area in which progress has been made during the past year. "It makes us just more and more efficient to know exactly where customer tanks are inventory-wise," Caywood said. "We're able to arrange our delivery schedules just that much more efficiently."
In the meantime, anyone interested in the office manager position at Caywood Propane had better be up to speed on how the latest technology works. "It starts with the interview," he said. "I've got nine interviews set for next week using FaceTime technology." —Pat Thornton