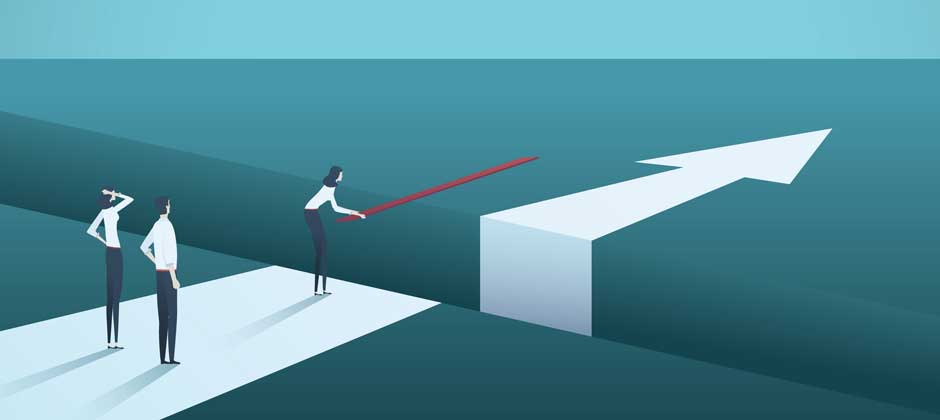 Propane industry leaders speak to past wins, plus challenges & opportunities for the year ahead
After the perils and panics of 2020, we all hoped for a better year in 2021. Let's face it: It's been a mixed bag. The propane industry has ridden the highs and weathered the lows throughout it all, and now we've reached the point where we can start fresh on a new year.
But this year is already starting out with its own challenges. BPN has provided extensive coverage on the winter supply issues the industry is currently navigating, and it continues to be a topic at the forefront of people's minds. At the NPGA 2021 Southeast Expo, NPGA President Steve Kaminski outlined that pricing, supply and logistics issues stem from less drilling of oil and natural gas, high exports to the Asian and European markets, and new port facilities in Canada.
Supply challenges taking center stage did not, however, lessen the impact of the pro-electrification movement on the industry, which according to Kaminski is still very prevalent. He noted that NPGA will continue to work in a bipartisan manner with Congress in 2022 to ensure propane is included in infrastructure bills.

Across the country, labor shortages — delivery driver shortages, in particular — are causing a stir. Trained and safe drivers fill an essential role for the propane industry, and companies are contending with a smaller workforce and the upcoming Entry-Level Driver Training (ELDT) requirement, which could make the process of hiring and training new drivers more difficult for the industry. (Look to the February 2022 issue of BPN for an in-depth look at ELDT and how NPGA is helping propane companies weather the policy change.)
All of these factors converge at the beginning of what looks to be an interesting, challenging and exciting year. To get a feel for the industry's outlook, BPN reached out to various leaders for their thoughts on the state of the market. Read on to find out more about the past year's wins and the hurdles and opportunities they see ahead for the world of propane.
1. What will be the biggest challenge(s) your company will face this year on an internal/local scale?
Robert Barry: The largest challenges for Bergquist will be to maintain our customer service levels. Staffing levels will continue to be difficult as we contend with COVID-19-related personnel losses. For NPGA, the challenge will be to continue to provide value to its members and get the members to understand the value that the national association provides.
Tucker Perkins: I think the biggest challenge we have is being clear on strategic priorities and placing our effort where the benefits are the greatest. There are so many areas of interest at PERC — safety, training, technology development, marketing, communications, partner development, marketer engagement — that a clear view of the strategy and the tactics to achieve them help focus on what is important.
Regina Guarracino: Our biggest challenge will be to continue to develop and grow our supply chains to deliver the digital transformation that our industry needs and wants, via tank monitoring and business intelligence. This means a continued commitment to not only deliver better analytics and advanced software, but also to Anova's ongoing investments in our supply partners to deliver high-quality, high-reliability tank monitoring solutions to exceed the expectations of our industry.
Christina Armentano: The biggest challenge from an internal perspective will be navigating the regulations and protocols imposed on businesses mandating vaccines or testing. The fluid environment makes it challenging to plan effectively and is straining an already sensitive workforce and budgets due to increased prices of goods and services.
2. What about the industry overall?
Armentano: The propane industry has a workforce of service technicians and long-time transport and delivery drivers who are retiring, and there is not an influx of applicants looking for physically demanding careers. In addition, the new ELDT requirement will create additional barriers to promptly getting new drivers on the road. With the help of the NPGA's ACE program, we are hoping that the new mandates will not cripple the transportation and delivery industry. The propane industry is also facing regulatory challenges in several states pushing to "electrify everything." But we are actively involved in our industry's association efforts to ensure legislators and consumers understand propane's place in the energy mix. We continue to invest and cross-train our people to offer personal and professional development for career growth and longevity. We also focus heavily on cross-training field employees and growing the apprenticeship program, so new talent is trained and ready to transition to working solo. Ensuring that our employees feel trained, supported and happy is a priority at Paraco and a staple of our culture.
Christopher Cook: The largest barrier for the propane industry to overcome is providing enough public education so that propane becomes more widely known as an efficient, clean-burning fuel. To ensure that propane is not confused with other fuels included in state mandates and/or customer perceptions, the industry needs to continue education and awareness in addition to advocating against gas bans. While there has been success in various parts of the country, it is crucial that we continue to work further toward this same goal.
Barry: The industry overall will be challenged by the need for employees. As with all other United States employers, the need for staff is paramount. The "Great Resignation" perhaps signifies a new attitude in the workforce about how to work, and all of us employers will need to learn what it will take to recruit and retain this younger workforce. The only way to overcome these challenges is to approach them with resolve and a never-quit attitude. We have to continue with ongoing recruitment, not only with potential new employees but with our existing employees, too.
Perkins: As the nation grapples with this transition in energy, by definition all of us that market propane are living this transition and facing a shift in consumer attitudes. The industry needs to recognize that fact to address how their business provides the best solutions for their customers, and then to provide the best customer service they can offer. As we enter 2022, we are well positioned to serve in our four focus areas — how to drive market growth by working with the channel partners; how to tell the story that propane is energy for everyone; how to work with the propane industry on excellent customer service; and drive excellence in safety and training.
3. How does your company plan to overcome those challenges?
Armentano: Paraco is well-known for its passion for constantly innovating. We continue to invest and cross-train our people to offer personal and professional development for career growth and longevity. We also focus heavily on cross-training field employees and growing the apprenticeship program so new talent is trained and ready to transition to working solo. Ensuring that our employees feel trained, supported and happy is a priority at Paraco and a staple of our culture.
Perkins: PERC is constantly evolving to meet changing markets, and as we enter 2022, we are well positioned to serve in our four focus areas — how to drive market growth by working with the channel partners, how to tell the story that propane is energy for everyone, how to work with the propane industry on excellent customer service, and drive excellence in safety and training.
Barry: The only way to overcome these challenges is to approach them with resolve and a never-quit attitude. We have to continue with ongoing recruitment not only with potential new employees but with our existing employees.
4. What does the industry need to do to meet upcoming obstacles head on?
Armentano: The industry needs to stay limber and be willing to pivot with the ever-changing landscape. Prices go up. The industry needs to focus on reliability. Do consumers want to be green? Then educate them on the environmental benefits of propane. Are they in support of electrifying everything? Emphasize why there is no one-size-fits-all solution. Marketers need to share the same messages so propane's voice is louder than its competitors.
Perkins: First and foremost, recognize that we must shift; the status quo is just not going to work. And that shift is in all areas of operation — employee recruitment, training and retention, marketing and public relations, operational changes and improved customer service. If we can accept that we must change, then the actual details of how we change will be easier. We have over a hundred years of success to support our future and to empower us to respond to changes in consumer sentiment and desires.
Guarracino:
Many industry leaders are retiring. We are fundamentally an industry that needs to attract bright young people who are willing to learn and be a part of the propane industry. Our younger generations represent our future industry leaders and the ones who will help innovate new practices, messaging and our growth in the future.
We need to develop a better technology base and embrace digitalization of the propane supply chain. Anova is responding to this need through its adaptability to customers' growing needs. One example of advanced, ongoing innovation is Anova Connect that was recently awarded Best Business Improvement Solution at World LPG Association's Global Technology Conference in Dubai.
We need to create unified positive messaging around the multiple uses of propane and its clean benefits and advance renewable propane in the face of rising national initiatives to limit use of fossil fuels.
Be willing to bring in new people who want to develop a career in the propane industry. For that, the industry needs to modernize its image.
5. How have supply issues impacted your company so far & what do you expect the outlook will be as we move into 2022?
Guarracino: Supply is challenging, and ever improving. Through excellent planning and deep understanding of the marketplace and customers, Anova has managed supply chain issues incredibly well through 2021. In 2022, while we're taking the stance that supply chain challenges will continue, we are managing our inventory and procurement strategies by doubling down on those key supplier partnerships that delivered resilience through 2021.
Cook: While supply chain issues have impacted industries across the board, AmeriGas has implemented several preparedness measures to help ensure prompt supply and delivery of propane to its customers. AmeriGas has invested significantly in its supply chain over the years. We have 21 terminals and 12 transflow units, approximately 700 railcars and one of the largest dedicated transport fleets in the propane industry. While supply and demand conditions change, our commitment to the surety of supply is stronger than ever. We value our relationships with our suppliers and contract for our budgeted winter demand. This surety of supply complemented by the deliberate investment in supply chain assets produces a unique combination for our supply and logistics teams to navigate several uncertain and changing market and weather conditions.
Barry: Supply issues have caused us to stock a higher level of inventory. I do not expect the supply chain issues to be resolved until early 2023.
6. What significant wins has the industry achieved over the past year?
Barry: I think the biggest win — and this is not a headline that you will ever see — is the relationships that NPGA staff have developed with legislators and regulators. We have a seat at the table when decisions are being made that affect our businesses.
Guarracino: Significantly improving customer service through difficult times. Consumers and businesses received their much needed propane to stay warm and run their industrial operations through a challenging 2021, maintaining the customer base.
Armentano: The industry has made tremendous advances within the technology realm. We have improved tank monitoring systems and their reach and capabilities, drivers' delivery tablets, vehicle tracking for safety and security, customer relationship management systems, reporting and more. Improved technology keeps propane relevant and top of mind.
Perkins: The work NPGA accomplished on the Infrastructure Act is nothing short of phenomenal, bringing not only up to $9 billion of potential investment to propane markets, but to gain consensus by a large group of energy thought leaders that propane is a fuel of the future.  [Another win is] rolling out a new brand that tells the story of how propane is "Energy for Everyone." This shift is much larger than just the brand, and it reflects the awareness that we all must engage with our customers and our community to tell the story of "why propane." The response from the industry and customers has been nothing short of phenomenal, and we will build on that momentum in 2022.
7. What are the biggest changes you've seen in the industry that have been born of a response to the COVID-19 pandemic?
Cook: The propane industry quickly adopted COVID-19 health and safety protocols to ensure the safety of its customers and workforce, as well as continuity of business operations. AmeriGas shifted many of its customer-facing operations to a virtual environment, while still enabling a smooth supply network for our customers. As part of our commitment to our customers, and before the COVID-19 pandemic, we had begun to invest in new technologies and processes with a specific focus on making it easier for our customers to do business with us. We further expanded our digital capabilities and tools, including website enhancements, upgraded online account management, text message alerts and 24/7 chat to improve the customer experience and ensure business continuity and supply. We also introduced new customer engagement services roles and a new field operating model, all supported by technology.
Guarracino:
The ability to work at home, to work smarter through remote IIoT solutions and the understanding that things still need to get done even though we cannot meet in person. Technology is allowing us to accomplish great things in the face of adversity and has for many firms been a game changer.
The ability for people who were not traditionally knowledge workers to get their job done through technology.
Anova was able to service our customers because we already had the products needed in the pipeline.
Armentano: Equipping employees with the ability to work from home and maintain productivity was undoubtedly an adjustment for the industry. Paraco was fortunate to have already begun the transition to have applicable individuals work from home to ensure we wouldn't miss a beat during inclement weather or, in this case, lockdowns. Safety is paramount, so we will continue to push practices that will prioritize the security of our employees and customers.
Perkins: Two areas come to mind, the first being in how we meet. I hope that we keep the ability to meet quickly and remotely by virtual means and learn how to mix virtual and in-person meetings. The other area is in how we meet customer expectations by moving to a more digital experience for those who seek it. Utilizing technology, whether it is how we work and meet or in scheduling service or gas deliveries, has been one of the major lessons learned in this pandemic.
8. Do you see value in continuing with those changes even beyond the pandemic?
Cook: Yes. Customer convenience and satisfaction will remain at the forefront of our operating principles. AmeriGas is continually improving and embracing new technologies and processes to evolve our engagement centers to meet our customers' needs.
Guarracino: Anova has continued to deliver technological advances for the industry. We are humbled to see the incredible impact we have made for our customers.
Armentano: We have implemented new risk mitigation practices within our organization by restricting business travel, leveraging a virtual time clock, and enhancing data and infrastructure resources to enable more work-from-home capabilities. We also added even more rigorous health and safety measures for our drivers and technicians who work in several locations throughout each day and limited walk-in traffic. We will continue with these protocols for the foreseeable future because we want all of our employees to feel as confident as possible that their health is being protected.
Perkins: With great certainty. Eliminating the expense and time sink of travel is too wonderful to not continue. And continuing to evolve the customer experience through technology is a must.
Barry: I think that the efficiencies that have been developed during COVID-19 will continue. The new ways of doing business have been found to be worthwhile.
9. To what degree does renewable propane play into your business strategy for the next five years?
Cook: We are excited about the opportunity of lowering the carbon intensity of our offerings to the marketplace. In addition to the procurement of renewable supply, UGI and SHV Energy have recently announced an intent to launch a joint venture aimed at accelerating the transition of the LPG industry to a more sustainable future. This is aimed at the production and use of renewable dimethyl ether (rDME), a low-carbon sustainable liquid gas, to accelerate renewable solutions for the LPG industry. The two companies will leverage the expertise, innovation capabilities and distribution power to develop the full potential of rDME as a sustainable solution. rDME is a complementary liquid gas that can be produced from multiple renewable feedstocks. Being a safe, cost-effective and clean-burning fuel, rDME is a viable sustainable addition to the energy mix, and it has a low greenhouse gas footprint, reducing emissions compared to fossil fuel alternatives. The opportunity of providing more sustainable alternatives while leveraging our core energy distribution capabilities is one that we welcome and complements our core current offering today: safe, reliable, affordable and environmentally responsible energy solutions to fuel the lives of our customers.
Armentano: Paraco supports the development of renewable fuels, and we are impressed with the strides being made in the production of renewable propane. Advances such as this demonstrate how much creativity and innovation are affecting the industry, which will be critical to propane's future. As a nascent part of the propane industry, we are closely watching renewable propane's growth and will continue to monitor its expansion, adoption and availability.
Perkins: I am quick to say at the start of every conversation about renewable fuels that we have no need to apologize for conventional, organic propane. It is a fuel with wonderful chemistry that fits perfectly with the needs for a powerful, versatile and clean fuel. With that said, the prospect of how we move to a lower-carbon and eventually perhaps a zero-carbon future involves adding a renewable portfolio. With several years of intense work behind us on a worldwide scale, I can comfortably say that propane and renewable propane both have a bright future as we move toward a cleaner climate with an eye to affordability and environmental justice. PERC is currently deeply involved in renewable fuels on a worldwide basis, and we have a clear plan to increase our effort and pace in this area.