Monday, November 18, 2019
(November 2019) — Amid the process of building, selling, and servicing propane trucks of all kinds, there is a group of professionals who dutifully go about their work every day to make sure the roads will be safe as thousands of propane trucks go out to take care of customers' needs. "This past winter was rough and the people who keep everything rolling really need to be recognized," said Tim Schweppe, general manager—propane division at
Arrow Tank and Engineering
(Cambridge, Minn.), "I will start with my better half (in the workplace), Kelly Schlickenmayer, our production manager, and his crew. He is the 'absolute No. 1 premier' production manager and a lifeline to so many people in the industry who have relied on him to carry out their day for the past 25-plus years."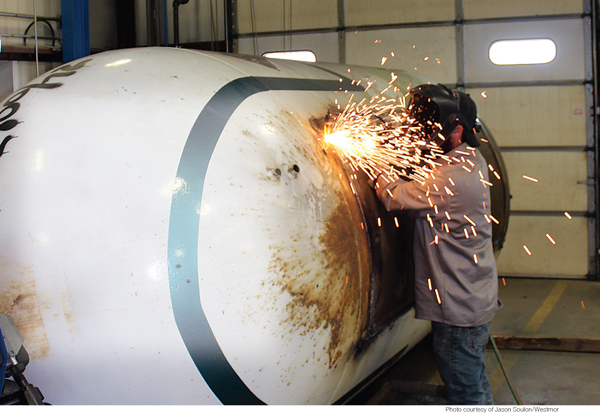 "Kelly needs to balance our new production schedule for new bobtails, DOT/ASME documentation, requalification, forecast inventory, and, most importantly, conduct random repairs and field calls and help during the day," Schweppe said. "This is an extremely tall order…I can only imagine he does this for his absolute passion and love for his work and the industry. He is a very essential ingredient to the industry—not just Arrow."
"Safety starts with the employee, the hands-on people," Schlickenmayer explained. "I can give the training and resources, but the knowledge and confidence the employee brings is what builds the value in a safe bobtail. Safety is a must and always a top priority in our industry." For the customer, he believes knowledge is a must to ensure a bobtail is managed safely. "Knowing the standard operating procedures; testing the CTMV emergency shutdown system; meter creep testing; understanding the gauges and valves; inspecting the delivery hose for cuts or abrasions; and being aware of the area they work in are all critical to daily safety," he said. "I haven't seen many in our industry cut corners over my 25 years of experience…only some unauthorized shops and a few do-it-yourselfers."

Schweppe also gave high marks to a new employee at Arrow Tank and Engineering, Nate Jacobsen, who serves as production manager for its new transport trailer business. "We started this division in January of this year," Jacobsen said. "There is a lot of hands-on training for staff. New employees must learn what every valve does. They must know what is in every tank that comes into the facility and the associated safety concerns." His memories of starting in a manufacturing plant, learning the ropes, and moving into management are as fresh as when he began his first job in 2007. "There is always a lot to do, but a mind-set of always following safety procedures is very important. In a given week, tasks include talking with customers, finding work, doing estimates, ordering parts, and training guys to build and fix the trucks." In his first year, Jacobsen already has new customers in several states, including Texas, Oregon, Nebraska, Iowa, North Dakota, South Dakota, Michigan, Wisconsin, and Georgia.
Regarding safety precautions for drivers, Jacobsen recommends regular maintenance and not putting it off until tomorrow. "Tomorrow and next week never come. Cleaning a transport truck, washing the road salt and grime off equipment, is important and should be done regularly."
At
Bulk Truck and Transport Service Inc.
(Hanover, Ind.), Jason Wilson, the company's service manager, grew up in the retail propane business before getting into truck building. "One of the most important challenges is troubleshooting the pumping system with a customer over the phone and walking the customer through repairs in a safe manner," Wilson said. "In the production process, we perform redundant check sheets in each department, and we also perform live tests to assure all components are installed per manufacturer's recommendations and are functioning as designed." Wilson suggests that customers familiarize themselves with requirements set forth by DOT in 49 CFR Part 180 and follow them monthly.
CEO John Hawkins of
H&H Sales
(Huntertown, Ind.) has nearly 50 years of industry experience specializing in crane service trucks, cylinder delivery trucks, and propane storage cabinets for forklift and 20-lb grill cylinders. "We do a complete walk-around with customers and go through the owner's manual with them. We point out all PTO warning valves. Customers can always reach us by phone if necessary," Hawkins said. "With cranes and tanks onboard, operators need to always be aware of how full the tank is and the radius of unobstructed area. Crane trucks should always be operated on a level surface. They need to be aware of electrical lines." Another area of concern is transporting tanks and cylinders, according to Hawkins. "Securing the cylinders and tanks is very important. Running a strap is often necessary to secure them. The straps should be checked regularly for fraying, cuts, or abrasions."
Other areas noted by Hawkins include inspecting for PTO leakage, watching speed based on the load being carried, checking every two months to make sure U-bolts are tight, and replacing lights that go out.
"Having heavily experienced, trained personnel…a mature, experienced staff is very key to our success," said Steve Bloomstrand, who has been with
Rocket Supply
(Roberts, Ill.) for 25 years and is its sales and marketing manager. "For the customer, the daily inspection is extremely important. We feel a very high percentage of our customers take safety very seriously. Being familiar with the vehicle will help you notice when something has changed that ought to be looked at further. It's important to be cognizant of anything out of the ordinary while performing the daily inspections and to pay attention during pumping to any irregularities in performance or sound." Bloomstrand notes that many new features such as rear-vision cameras and improved LED lighting are helping to further enhance safety. "The industry is doing a good job," he added.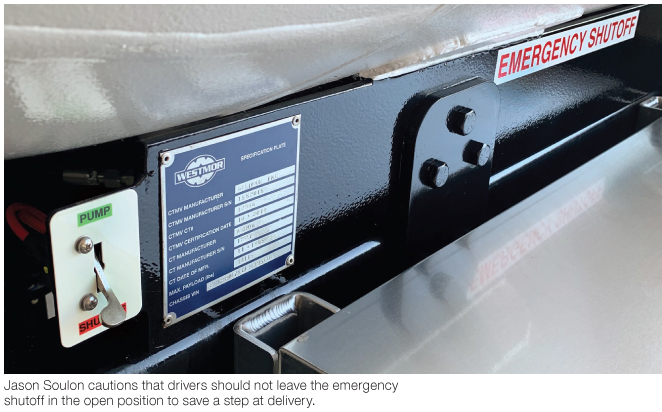 "Conducting regular safety meetings and holding everyone accountable for safety are important steps to make sure it is always a priority," said Jason Soulon, branch manager at
Westmor
(Shawnee, Kan.). He explained regular meetings include stretch exercises at the beginning of each shift, as well as discussions of safety and production concerns for that day. "We have a safety coordinator at each facility," Soulon said. "It is a key function for at least one employee at each of our locations. Employees know that they can raise concerns at any time through our 'care to share' process. They can document any safety concern from something as small as an air hose having a bubble to making suggestions for improving an entire production process."
"Protection and restraint from falls is very important in the truck building process," Soulon said, noting the OSHA (Occupational Safety and Health Administration) requirements. "In designing a safe vehicle, weight scale and weight distribution analysis are important. When we order a chassis, we want to understand the jurisdiction the vehicle will operate in. As an example, New England weight laws are much different than those in the Midwest." In addition, Soulon and his team take into account any safety features the customer wants, such as safety-interlock devices to prevent pull-aways at loading racks; camera systems for backing up, including 360 degree camera systems and obstacle detection systems; and roll stability systems. "Electronic stability control minimizes the risk of rollover and may someday be mandatory on tank vehicles."
For customers, Soulon also stressed problems that regular inspections can help resolve. "Tank corrosion is a problem that can lead to more and more expensive repair costs if not resolved when first detected. The spread of corrosion to tank rails and tank rail pads can add $2000 or more to the cost of refurbishing a bobtail." He also recommends washing the bobtail at least weekly, not only for better maintenance, but to maintain a good brand image.
Soulon noted a few pet peeves regarding how some drivers operate their bobtails. "Drivers sometimes leave the emergency shutoff in open position to save a step at every delivery. This can cause it to freeze in the open position and not allow the emergency shutoff device to function when it is needed. Another concern relates to the filling of cylinders from the bobtail. With bobtails typically able to fill tanks at 60 gallons per minute, it is best to fill cylinders using a bypass valve that can vary the flow rate, such as the Versa-Fill bypass valve from
Marshall Excelsior
. The sale of more and more cylinders is making this a bigger issue." Soulon also encouraged the use of Ergoload decks, which are designed to make it easier to load bobtails. "It puts a lot less strain on the driver's back. This makes a difference over time." — Pat Thornton