(July 27, 2018) — In just two short days, the Propane Education and Research Council's (PERC) "Can-Do" Conference will bring propane industry professionals together with marketing experts for two days of presentations on fresh thinking, innovation, new strategies and tactics, and more, all designed to help increase digital outreach, propane sales, and take marketing efforts to new heights.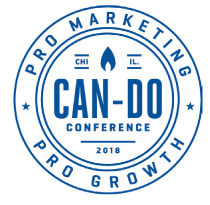 "As retailers are making their marketing plans to promote their companies, I would suggest that they join us in July for the Can-Do Conference," said Gregg Walker, director of communications at PERC. "There, they will be able to learn from experts how to make connections with current and prospective customers.

"This is our first such conference," he added. "It was developed in response to increased demand for resources about how to reach customers with positive messages. As we all know, there are so many demands on people's attention today. How can we get their attention with the many reasons for using propane? That's one of the things the conference will help retailers do."

The conference will be held at the JW Marriott in downtown Chicago, and kicks off at Noon on Monday, July 30th with a luncheon featuring Keynote Speaker, Nilofer Merchant, author and top ranked TED Talk speaker. Merchant has served in various capacities at Fortune 500 companies as well as startups. She was also awarded the Future Thinker Award from Thinkers50.
Can-Do Conference attendees can select from dozens of training sessions to gain tools to help make sure marketing dollars are growing gallons as effectively as possible. It doesn't matter what size the company, attendees will be able to get the information needed by choosing the sessions most useful to their business. Presentations will include topics such as paid advertising for beginners, Search Engine Optimization (SEO) and Pay Per Click (PPC) advertising, data analytics, marketing automation, branding, social media networking, video, to name just a few. One topic covered that applies to every business in the industry focuses on the "Google My Business" free listing that helps businesses increase their chance of showing up in Google searches. Attendees will gain an understanding of how to take advantage of this opportunity to optimize their company's rankings in local Google searches.
Registration is available onsite for those still needing to do so. Don't miss out on this once-in-a-lifetime opportunity. To review the full agenda or for registration information visit CanDoConference.com. See you in the Windy City!