Sunday, November 22, 2020
U-Haul has made a big addition to its efforts to promote propane as a clean-burning energy source. The company has purchased its first million gallons of renewable propane. This is now available to customers at U-Haul autogas facilities across Southern California. The company says it plans for this product offering to be ongoing.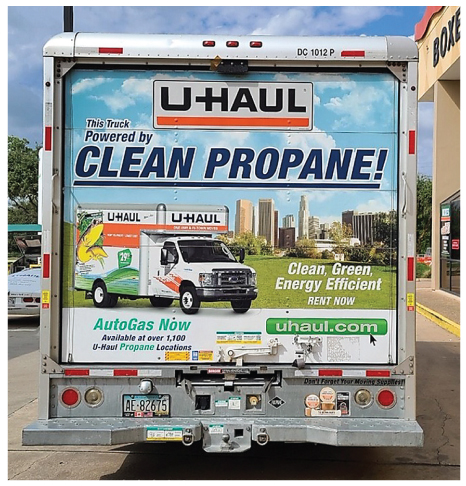 "California's goal is net zero emissions, and propane gets us there," John Barnett, U-Haul propane program manager, tells BPN. "Going the renewable route makes a major change to emissions with no change to the engine."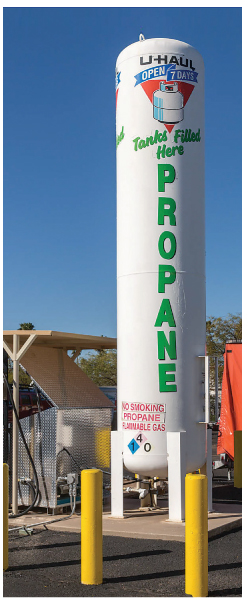 Renewable propane is identical to traditional propane—it's C3H8—so it can be used in propane engines and other equipment, he explained. At the same time, its carbon intensity (CI) score is lower. While traditional propane has a CI of 83, the renewable propane U-Haul has purchased from Suburban Propane Partners LP has a CI of 45. This renewable propane is a byproduct of biodiesel, which is made from fats and greases. "It's really clean," Barnett notes.
At each U-Haul store offering renewable propane, all the propane dispensed for use in vehicles and other applications will be renewable. U-Haul will absorb the extra cost of the product, so consumers will pay no additional charge. Signage is being prepared so that consumers will know that the propane they are buying is renewable.
"As a California native, I know the culture of the state is always looking into the future when it comes to being green," Barnett says. "I haven't heard much about renewable propane, though. Why aren't people talking about it like they talk about electricity? Propane is much cleaner than the coal burned to create electricity."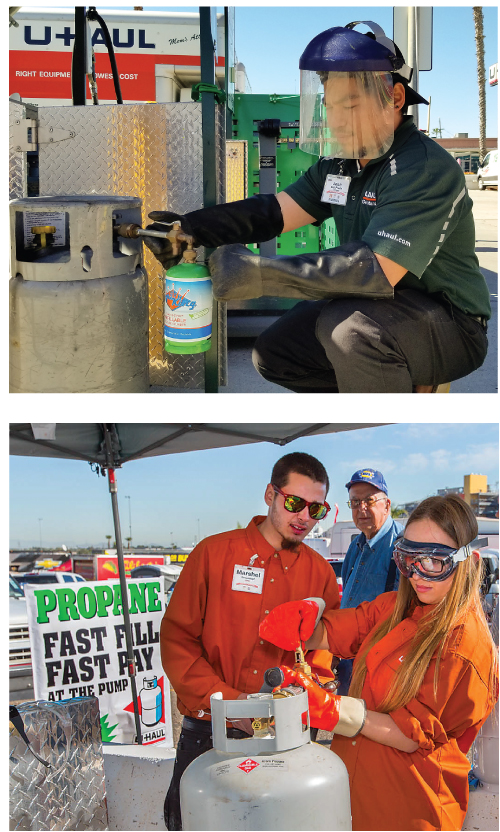 He added that he hopes U-Haul's announcement of its purchase of these million gallons will build that kind of talk about the green benefits of propane. In addition, by encouraging others in the industry to move in the direction of renewable propane, it will encourage more production.
This is one of several measures U-Haul has taken to promote green living, sustainability, and safety.
To encourage fleets to convert to autogas, the company dispenses autogas along with propane for other applications at 1150 locations across the country. "They don't have to invest in infrastructure; they can use ours," Barnett says. It offers fleet pricing on autogas. "Whether you have one vehicle or 100, you can get a negotiated fleet price." U-Haul also sets an example; its own fleet includes 250 area field manager vehicles and an undisclosed number of rental trucks that are fueled by autogas.
To reduce wasted packaging and the other problems of disposable one-pound cylinders, the company offers reusable one-pound cylinders at every store in California and at some stores in Arizona, Colorado, Texas, and Wisconsin. "Forty million disposables end up in landfills every year," Barnett says. "Propane is a green product in every other respect, yet the industry puts 40 million cylinders in landfills." He notes that U-Haul's one-pound cylinders are promoted to consumers as "reusable," not "refillable"; the company recommends the cylinders be refilled by trained professionals.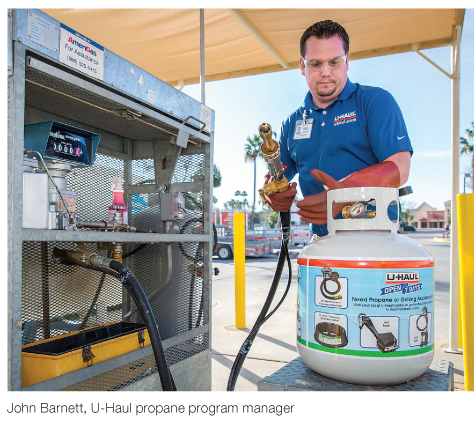 To ensure consumers were following safety protocols while fueling their grills last summer, the company offered free qualification checks on all cylinders at all U-Haul stores that sell propane. The inspections were free to consumers, whether or not they bought propane. Barnett notes that a majority of the cylinders in circulation are outside their original manufacturer's qualification date. "Of course, we inspect cylinders every time we fill them, but consumers need to be educated about rust, dents, and dings. So we advertised that we would check the safety of their cylinder and make sure there were no leaks."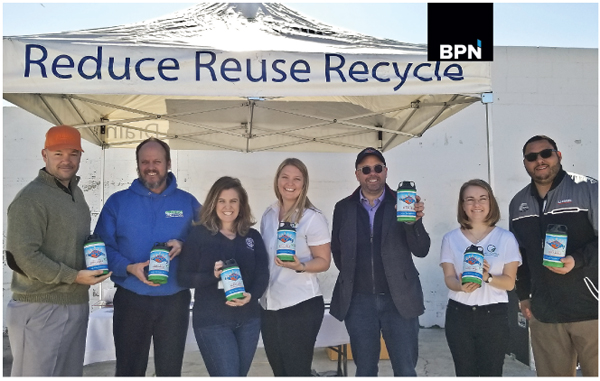 U-Haul promotes sustainable solutions in a number of other ways. These include operating trucks that are lower and have rounded corners to reduce fuel consumption; distributing boxes and other moving materials that are reusable, biodegradable, or made from recycled materials; and, of course, a having a business model that enables consumers to rent a truck when they need it, rather than having to hold on to a truck of their own that may be old and rarely used.
"Adding renewable propane moves forward our renewable efforts," Barnett concludes. "We plan to buy more and push suppliers to produce more. I encourage other marketers to look at renewable too."— Steve Relyea