Thursday, December 12, 2019
(December 13, 2019) — Over the summer, visitors to
Suburban Propane
Partners' websites and social media began seeing new messaging related to three themes: Suburban Commitment, SuburbanCares, and Go Green with Suburban Propane. These are the pillars of a brand refresh the company launched in June.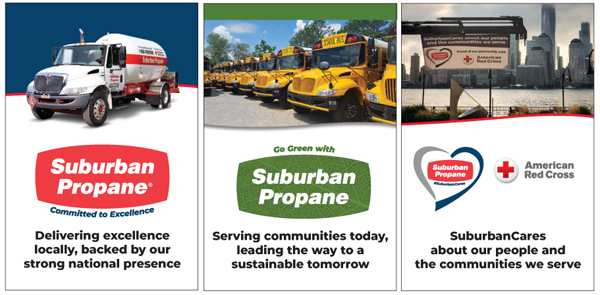 "This brand refresh elevates the focus of Suburban Propane's many strengths in serving our customers, our commitment to our employees and the communities we serve, and the sustainability of propane as a clean American energy source," says Nandini Sankara, assistant vice president, marketing and brand strategy and spokesperson for Suburban Propane (Whippany, N.J.). "The refresh will highlight Suburban Propane's use of advanced technology, our dedicated safety efforts, and the longevity and tenure of our dedicated employees and the associated expertise that comes along with them."
Sankara shared with BPN the ways Suburban Propane demonstrates its commitment to the three pillars that are the focus of the brand refresh.
Customer Service
Suburban Commitment to Excellence is supported by the tagline, "Delivering excellence locally, backed by our strong national presence." This pillar showcases the Partnership's commitment to customer service. In practice, it includes adherence to the highest level of safety standards, highly trained employees, and access to supply even in the most extreme weather scenarios.
"It also encompasses our pledge to be there for our customers and their families 24/7/365, and the flexibility in doing business with us to meet the needs of each customer," Sankara says.
Delivering that level of customer service starts with the 3300 employees who serve as brand ambassadors at 668 locations in 41 states, she adds. "We support that overriding mission by setting clear expectations supported by an extensive training program, including an intense focus on safety, optimizing the customer interaction experience, and technical training. We set clear expectations and follow through by the exceptional leadership we have across all levels in our organization."
Employees, Communities
The second pillar, SuburbanCares, is supported by the tagline, "SuburbanCares about our people and the communities we serve." It showcases a commitment to employees and community outreach.
One measure of the Partnership's commitment to staff is employee longevity: 34% of Suburban Propane's employees have been with the company for 15 years or more.
"The long tenure of our employees speaks to high levels of employee satisfaction that starts with our 90-plus-year legacy, combined with the unique set of opportunities that each one of our jobs offer," Sankara says.
Among those opportunities are many career development and apprenticeship programs. The apprenticeship programs provide the tools needed to begin a career as a delivery driver or service technician. They supply full-time, company-led training, including both a detailed curriculum and on-the-job training. Opportunities also include tailored training opportunities, a tuition reimbursement program, and continuing education via both instructor-led classes and self-paced e-learning courses.
"From developing your skills as a driver to building a foundation to take the next step in our Manager in Development program, there is a wide range of training opportunities available—an advantage of working for a large organization like ours with over 600 locations nationwide, where it provides opportunities for our employees to work in a multitude of available positions in the company and to define a clear career path to unlimited job possibilities," Sankara says.
Other employee-focused initiatives include the Live Well Program, which focuses on preventative care, education, and awareness of healthy lifestyles; many other assistance and recognition award programs for employees; and Heroes Hired Here, which includes hiring, training, and assistance programs for both military veterans and their spouses.
The community outreach aspect of SuburbanCares includes Suburban Propane's national partnership with the American Red Cross, as well as partnering with Toys for Tots, Caring Capital, local Touch-A-Truck events around the country, and many other sponsorships and events at the local level.
"Our employees are heavily involved in all of these efforts, from helping us identify, plan, and host community events at the local level, to acting as volunteers during the American Red Cross' annual 9/11 Blood Drive in Jersey City," Sankara says.
Green Living
The third pillar of the brand refresh, Go Green with Suburban Propane, is supported by the tagline, "Serving communities today, leading the way to a sustainable tomorrow." It focuses on promoting propane as a bridge to a green energy future. Here, the Partnership will work to educate customers and the general population on the green benefits of propane.
"These efforts can be seen on our website and social media channels, as well as in Suburban Propane's internal and external marketing assets moving forward," Sankara explains. "Currently, we are focusing on the use of propane as an autogas for school buses, fleet vehicles, lawn maintenance equipment, generators, agricultural uses, and more."
The brand refresh does not change Suburban Propane's logo or its business motto—"Our Business is Customer Satisfaction." Instead, it emphasizes the Partnership's commitment to the practices represented by the three pillars.
The rollout of Suburban Propane's brand refresh began with an announcement in a June 26 press release. It expanded with the launch of a dedicated landing page on the Partnership's website and targeted internal communications. Different aspects of the three pillars will continue to be showcased on Suburban Propane's social media channels (Facebook, Instagram, and Twitter) and the blog page ("Fuel for Thought") on its website.
Sankara says this will "ensure our brand, and what we stand for as a good corporate citizen, are well represented to our customers, the local communities we serve, and, as a public company, our investors." — Steve Relyea