Friday, November 22, 2019
(November 22, 2019) —
Rural Computer Consultants Inc.
of Bird Island, Minn., is celebrating 40 years in business this year. A look back makes it clear that nearly every aspect of the business has changed dramatically since its early days at the end of the 1970s. What began as two brothers, Brian and Kevin Sheehan, in a small office inside the family retail propane business is now 60-employees strong and led by Brian Sheehan, his sister Susie Peterson, four of their grown children, and 54 more employees.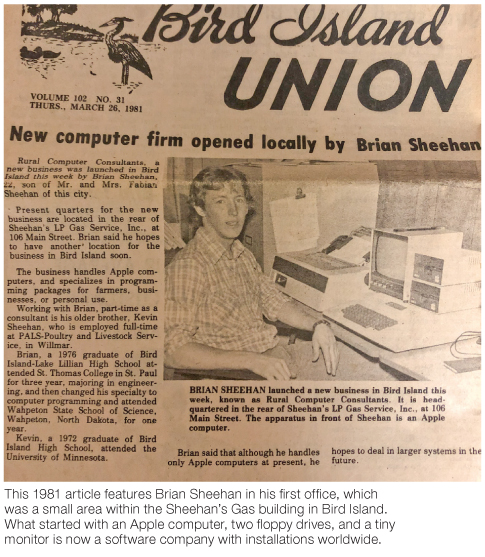 The home office, originally in Bird Island, a small town of approximately 1000 people, was moved briefly to Redwood Falls and then Willmar before returning to Bird Island near the end of its first decade of business in 1987. Currently, staff in Bird Island now totals 46, with 14 more employees based in Alabama, Montana, Mississippi, Virginia, and Maine.
Current owners Brian Sheehan and Susie Peterson spoke with BPN about the genesis and evolution of Rural Computer Consultants, or RCC, as it is known to many in the propane industry. Touted as "For Fuel People, By Fuel People," RCC's roots go back to the small, family-owned retail propane business, Sheehan's Gas, which was founded in Bird Island in 1952 by their father, Fabe Sheehan. The need for a quality software program to support the family propane business initially presented an entrepreneurial opportunity for his young sons Brian and Kevin. "One of our older brothers, Mike, was leading the family propane business at the time and sought an automated system to help run the business efficiently," Brian Sheehan explained. "Our business and programming skills were put to the test. A software program specific to a retail propane company was developed and we felt we could be successful marketing the program to other fuel companies."
"Kevin's passion for programming was found in college while he was seeking to find his niche," Peterson said. "He got a lot of programming training in college and had further honed his skills working at Control Data." With professional guidance from the Southwest Minnesota Small Business Development Center, Brian and Kevin had the confidence to market their software nationwide. Within a short time, "a lot of people wanted to see the new program that was working for Mike," Sheehan said.
"We went to the propane convention in Atlanta and stressed that our roots in propane guided our development process to be successful for our company as well as others. Our program was designed to run on a lot of machines and did well." In the early years, the program ran on Cado machines. Later, the system also ran on Altos computers, which were sometimes sold with the programs. IBM and Surface computers were also sold with the programs. From the beginning, the plan was to design and maintain a technically advanced, low-cost system that could be used nationally. "We wanted to be a company not too small to handle corporate organizations or too big to handle independent offices," Sheehan said. "At that time, being in an open, transportable Unix operating system where we could choose our computer program made us very price competitive. This made the program and computer systems available to even the smallest companies."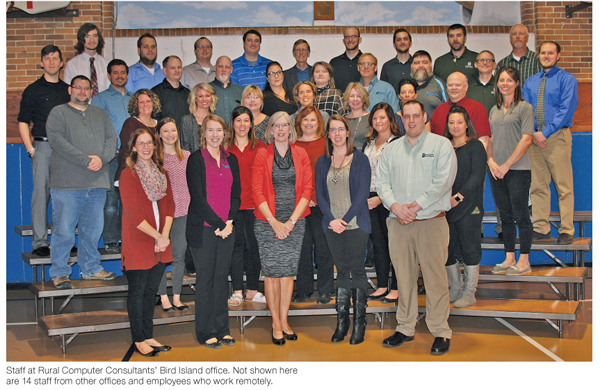 "The first trade show we attended was in Atlanta in 1984," Peterson said. "The guys learned quickly about needs of other fuel companies in other parts of the country that did not run exactly as the Sheehan retail company did." Some quick adjustments were made to the software.
"Nonetheless, the guys had a lot of real world propane experience that paid off," she added. "As an example, there was a time when we were going to assign tanks to be moved in the yard by serial number. The guys quickly knew some flexibility in the computer program would be a lot better in cases where the tank needed to satisfy the serial number match was in a stack under six other heavy tanks. It was better to make a serial number change in the system."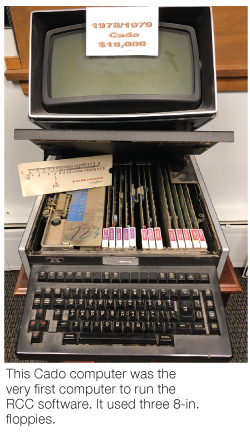 In 1987, the company expanded its product offering when it acquired Bird Island Computer Services, a mutual insurance software marketing company. "We rewrote the software package and started marketing it to the insurance industry nationwide." In addition, their sister Susie Peterson adapted the software for use in her retail clothing stores in Bird Island and Renville. Eleven years later, in 1998, Peterson joined brothers Brian and Kevin as an owner of RCC, bringing her unique knowledge of accounting and retail to the company.
"For many years, I was a sounding board for my two brothers," Peterson explained. The three of them were the youngest of their parents' eight children, so they were especially close. "As adults, we could talk through life and business challenges. Before I was an owner in RCC, we had an agreement that if my brothers couldn't come to a decision together on something, they would walk across the street to my store and I would listen to both sides and break a tie. They would go with my decision." This happened only a very few times, according to the siblings.
Just a few years ago, Kevin Sheehan retired and sold his share of the business to his brother and sister. A fourth partner, Brian Fagerstrom, who was also an owner for several years, has since sold his share. Before the departure of Kevin Sheehan and Fagerstrom, they, along with Brian Sheehan and Peterson, were named Minnesota Small Business Persons of the Year in 2011 by the U.S. Small Business Administration. This prestigious award is given to a company that demonstrates growth in the number of employees or increased sales, markets innovative products, or makes a contribution to community-oriented projects.
Not long ago, the company sold the insurance software division but has continued to grow in the areas of propane, natural gas, and fueloil. With more than 1800 software installations at 1500-plus companies, many with multiple locations, the company has grown significantly through sales of the software and acquisition of other software companies including PSI, Data Control, and Fuel Pak. "We now have invested significantly to have the latest technology available to our customers," Peterson pointed out. "Certainly, a lot has changed since 1979. Email, high-speed internet, smartphones, and tablets have come about; cloud hosting is a new technology; and many more changes have occurred. It is important for a company wanting its customers to have the latest, most efficient business software to always keep up."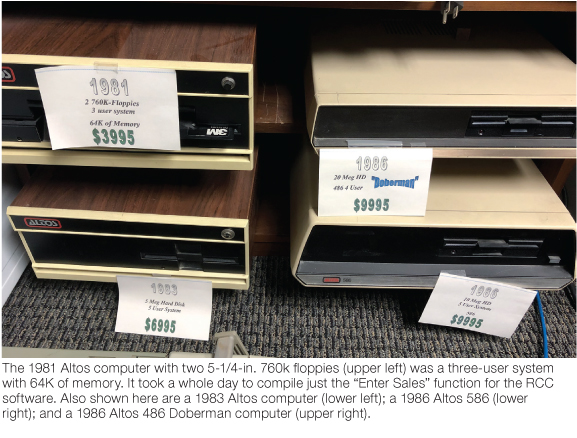 "The needs of the Sheehan retail propane business were one factor that led to new programming strategies," Peterson said. "As time went on, it was really the needs of all of our users driving future upgrades. We often sent out an email seeking input. Furthermore, we hold a user group training seminar for three to four days every year. After several days of formal training and mingling, we have a lot of valuable feedback regarding future development."
Peterson and Sheehan credit a great staff for most of RCC's growth and success. "We have such a top-notch staff in our information technology department. It is amazing and keeps us on the forefront of current technology to many more areas," Peterson said. "Our programming department works to keep our legacy programs running for customers who have not moved to our new version and works tirelessly on the rewrite to our new v10 product."
According to Peterson, the administrative and sales departments work together well to handle existing and new accounts to RCC. "The MOGO [Mobile Office on the Go] and fuel support departments put in very long hours assisting customers, training customers and supporting them," she added. "If a customer has something difficult going on, that could mean our staff helps them at some unusual times of the day and night. Our father grew his business with a focus on service and support and it is truly how we have grown ours."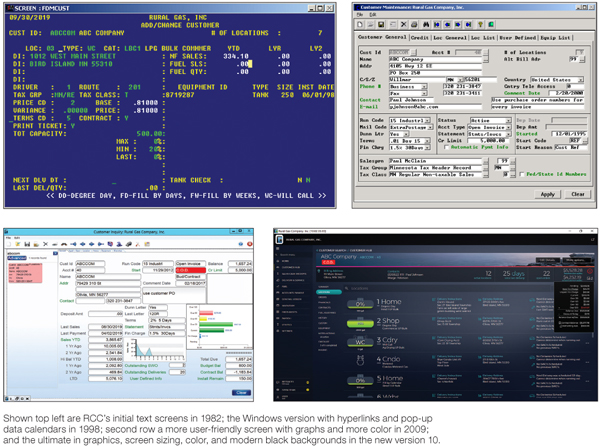 Growth for a successful software company in a small town does have its challenges. "Fortunately, little Bird Island has three fiber internet sources," Sheehan said. "That is unprecedented for such a small town, but it has been wonderful for us. The technology has allowed us to keep our business here." In 2010, with a downward trend in the economy, the timing was good for RCC to expand and renovate the St. Mary's Convent that the company had moved into. "Interest rates were lower and construction costs were down. We put some people to work. Fifty years after the foundation was laid for the convent, we were renovating and expanding to accommodate our rapid growth."
Recently Sheehan accepted a large role as second vice president of the International Lions Club. "This has him traveling much more all over the world. We are so excited for Brian," said Peterson. "It is a seven-year commitment. He will go through all of the offices including president." Sheehan, who has already been to South Africa, Bosnia, China, and Zambia in this role, said he looks forward to the heavier travel and Lions Club activities. He feels confident in his sister as well as the next generation and many other employees who handle the day-to-day work of leading RCC.
While the technology and growth have changed RCC dramatically, the basic goals of the company have largely remained the same: to create, maintain, and enhance software that is quality, affordable, complete, and, wherever feasible, self-supporting. Sheehan said, "We will continue to provide the highest quality support for all customers." — Pat Thornton