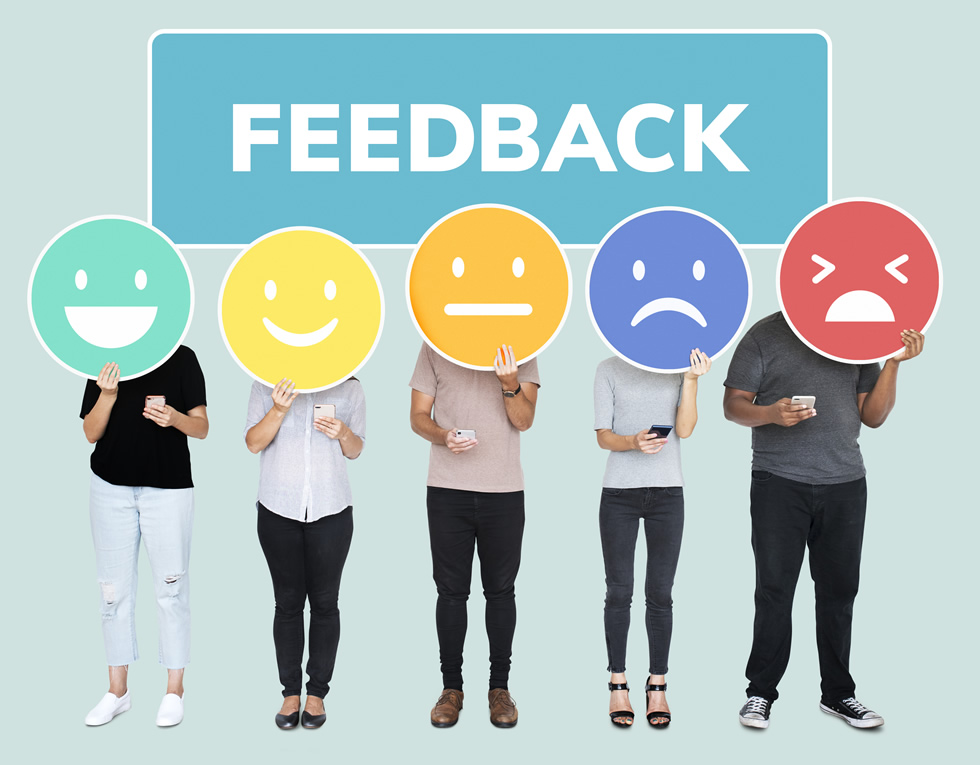 Monday, December 28, 2020
When asked how they resolve complaints from customers, two propane marketers gave similar answers.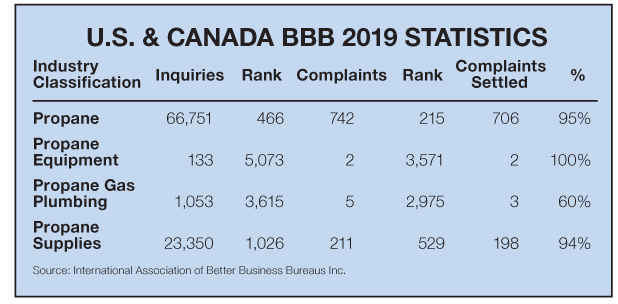 "I try to satisfy the customer," Steve Chase, president and CEO of
FSi Oil and Propane
(South Hadley, Mass.), told BPN. "I will bend over backwards, and I think most companies will. But if I can't satisfy the customer, then we part as friends."
"I calm it down and actually have a discussion," Tyler McCormick, president of
Collett Propane
(Xenia, Ohio), answered. "I very rarely lose a customer on bad terms. If they do want to end the relationship, I try to end it on positive terms."
Both Collett Propane and FSi Oil and Propane have A+ rankings from the
Better Business Bureau
(BBB), are BBB accredited, and have won awards from their local BBBs. The propane industry as a whole offers a similar level of service. According to statistics recently released by the International Association of Better Business Bureaus, 95% of the complaints received by propane companies in the U.S. and Canada in 2019 were settled.
"I completely believe it," said Rich Goldberg, president of Warm Thoughts Communications (Clifton, N.J.), a marketing firm focused on propane, heating oil, and HVAC-related business. When asked by BPN about the high percentage of complaints settled, he replied, "Most propane companies are owned by good guys who care about customers and their reputation."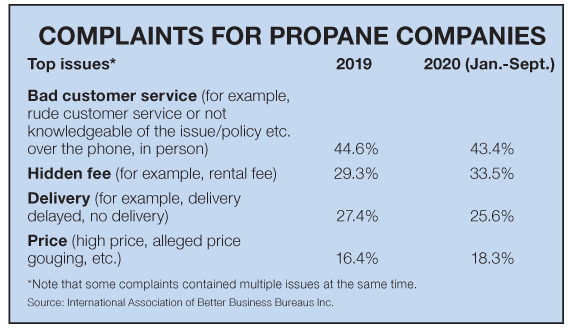 ISSUES, SOLUTIONS
BBB reports that consumers made 742 complaints against propane companies in the U.S. and Canada in 2019. That was down from 795 complaints the previous year. The organization shared with BPN the top four complaints made against companies in four propane-related industry classifications: propane, propane equipment, propane gas plumbing, and propane supplies. (Some complaints contained multiple issues at the same time, BBB notes.) Goldberg, McCormick, and Chase then shared their thoughts on how propane marketers can prevent or resolve complaints.
No. 1: Bad customer service.
This tops the BBB's list, accounting for 44.6% of the complaints about propane companies in 2019 and 43.4% in the first nine months of 2020. BBB says this issue includes, for example, rude customer service or not being knowledgeable of the issue, policy, etc.
Solutions
. Warm Thoughts has learned in focus groups with propane customers that "rude employees" is the top thing that would cause the customers to look for a new supplier. "Often the problems we see aren't because of bad people, but bad systems, which allow cracks to open, particularly if a customer issue requires multiple 'departments' to be involved—i.e., delivery, customer service, maybe sales," Goldberg said. He added, "Sometimes, companies just have the wrong people answering the phones. But often, they just don't arm them with the tools and training to impress customers and win fans."
No. 2: Hidden fee.
This is the second most common complaint, at 29.3% in 2019 and 33.5% in the first nine months of 2020. The issue includes, for example, a tank rental fee.
Solutions.
The key here is transparency, the propane marketers said. "What fees a company charges is completely up to them, but they should take time to explain them to the customers," McCormick explained. "It is best to be transparent up front and tell people from the get-go. It's not fair to the customer when they see it for the first time on a bill." Chase summed up the solution this way: "Fees shouldn't be in fine print. It should be clear what the fees are."
No. 3: Delivery.
This is third on BBB's list of complaints, measured at 27.4% of the complaints in 2019 and 25.6% in the first nine months of 2020. Issues include, for example, delayed delivery or no delivery.
Solutions.
A common issue here is will-call customers who think they can get a delivery on the day they call. "Sometimes people have unrealistic expectations; they say, 'If I call today, why can't you deliver it today?" McCormick said. "We explain why we do what we do. We also explain why it is important they adhere to policies. They understand; they might not like it, but they understand." Chase said his company has specific days on which it delivers to will-call customers in remote areas. It will not change routes if a will-call customer wants a delivery tomorrow. "Even then, if they are out, we try to get there," he added. "We have to assume it might be a leak, so we fill the tank and do a pressure test and safety check." If the customer is not out, the customer service representative (CSR) explains the cost for will-call delivery. Then, Chase says, the customer often replies, "Oh, that's OK, I'm fine."
No. 4: Price.
This is the fourth most common complaint, accounting for 16.4% of the complaints in 2019 and 18.3% in January through September 2020. Issues include, for example, high price and alleged price gouging.
Solutions
. A likely cause of this is fluctuations in the price of propane. "Price gouging complaints are usually associated with times when wholesale prices are surging, and propane marketers are just trying to keep up," Goldberg said. "It's not the company, it's the market. But propane companies don't do themselves any favors, because they don't explain it to people well enough, either through their customer service people or via written communication. Erring on the side of over-communication works wonders in mitigating customer service complaints." McCormick noted that some customers buy gas only twice a year, so the price difference between deliveries might be large. "CSRs must be trained to explain why the price might be higher than it was during the summer," he said. "They should also sell our seasonal and contract buying options." Chase, too, noted that pricing varies. "I have a one-price policy," he said. "It's a set price and everyone knows what they pay. If they use a certain amount, they get a discount."
BEST PRACTICES
As well as suggesting solutions to the four most common complaints, the propane industry experts shared some best practices having to do with customer service.
Take it offline.
If an unhappy customer posts a bad review online, don't argue, Goldberg suggested. "It is much better to post something like, 'We're so sorry to hear that you felt like you were not treated fairly. We're going to reach out to you directly about this,' or something to that effect," he said. "Get it out of the public domain, and then work to either solve it or reduce the heat. Often, if you can work something out, you can ask the customer to go back and update or delete their original complaint."
Listen to staff.
"I keep an ear to the ground with the people who deal with our customers, including CSRs, drivers, and technicians," McCormick said. "I don't talk with customers every day like they do, so I listen to them about what they're hearing." Chase, too, keeps in touch and asks about complaints. "I want to know about it—what the complaint was, whether it was resolved, and, if not, why."
Train.
"We listen to CSRs, take what they're hearing, and give them knowledge of how we would like them to answer," McCormick said. "That way, they are comfortable answering." Chase, who recently completed a term as chairman of the Propane Gas Association of New England (PGANE), said he makes use of the training available from that association and from the Propane Education & Research Council (PERC). He has also had customer service trainers from Warm Thoughts do CSR training at FSi Oil and Propane. "Training is paramount to your success," Chase said. "We want all our customers to have a good experience, and we want the same story told by every CSR, technician, and driver, so we spend a lot of time and money on training."
Participate.
In addition to participating in propane associations, the marketers are members of their local BBBs. Chase, in fact, sits on the board of directors of the BBB serving his area. "I have been on the board since 2005," he said. "I get involved because I want to see what goes on, what the complaints are, and what BBB does. They are pro-consumer, but also defensive of business. They just want you to try to satisfy the customer." Collett Propane is a member of two BBBs that serve the areas in which it has offices. "We try to stay in the mix with them," McCormick said. "It's important to take a worldwide view of customer service."
De-escalate
. Warm Thoughts provides training for propane companies who are trying to improve their customer experience and increase sales. To help them de-escalate any conflicts with customers, the firm teaches a technique called Listen, Empathize, Solve, Smile (LESS is More!). "Customers want to be heard and they want their frustrated feelings validated," Goldberg said. "If you jump into a solution before hearing them out and letting them know you feel their pain, they are much more likely to push back and escalate. Saying, 'I'm so sorry you are frustrated; I would be frustrated too,' is not the same thing as saying, 'We messed up.' Only after you handle that part should you move to proposing a solution that could work for both parties. A great question to ask is, 'What do you think would be a fair solution?' Sometimes they want much less than you were prepared to offer. If they ask for too much, you can always say, 'You know, we can't really do x, but what if we did y?' The Smile part is what you maintain throughout the conversation and how you end it."
The three experts concluded with three general policies that have helped them maintain their high BBB ratings and that can help the industry keep up its high rate of settling complaints.
"The biggest thing is, if a customer has a problem, take time to understand what the issue is," McCormick said. "If we've made a mistake, we fix it. If the issue is a policy we have in place, we explain it to them. We find we can resolve 99% of the issues."
"Customers want to do business with people they like, who they think care about them," Goldberg said. "That isn't just about the owners, it's about the whole organization."
"The No. 1 thing is, stand behind your business," Chase concluded. "Be up-front with customers and then live up to what you told them."