(March 19, 2018) — Alliance AutoGas (Swannanoa, N.C.) has aligned with Donaldson Co. (Valencia, Calif.) to release a new line of clean LPG filters that remove potentially harmful particulate matter and heavy ends from propane systems. The filters were designed specifically for the propane industry.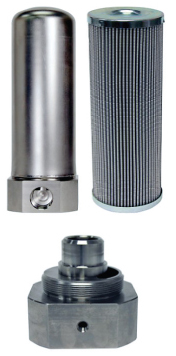 While it's common for gasoline and diesel fuels to be filtered multiple times as they are transported to an end-user, propane has historically not been filtered. As propane, or in this use, autogas, has gained popularity as a transportation fuel, the need for consistent fuel quality has become greater for fleet customers. Two new filters, available from Alliance AutoGas (AAG) and Donaldson Co., have been explicitly designed to eliminate potential fuel contamination issues with autogas fuel dispenser systems. A highly efficient primary LPG particulate filter was developed to remove 99% of harmful particulates 0.5 micron and larger.
Additionally, through Donaldson's expertise in carbon filtration products, a secondary absorbent carbon filter was specifically engineered to remove heavy ends without removing the odorant from propane.
Industry experts were consulted during the R&D process, resulting in a design that exceeds the highest industry safety standards. The filter housings are made from a high-phosphorus nickel-plated steel, seeing current NFPA 58 (5.17.1.3) requirements for pressure-containing metal parts, unlike other currently available autogas filtration products.
According to the companies, fleets demanding maximum performance from their propane vehicles benefit from the implementation of filtration products through reduced vehicle downtime and maintenance. The dual-filter design can be tailored to a fleet's specific needs: the filters can be sold and installed separately or together, to ensure a customized solution.
AAG will showcase the new Donaldson Clean LPG Filtration System at the 2018 NPGA Southeastern Convention in Atlanta, Booth 5784.