Monday, November 16, 2020
Chris Caywood, owner and president of
Caywood Propane Gas, Inc.
(Albion, Coldwater, and Hudson, Mich.) was attending an NBA basketball game with
National Propane Gas Association
(NPGA) Benchmarking colleagues last March in Texas when a notice he saw on his cell phone told him that the basketball season was coming to an abrupt halt. A player on another NBA team had tested positive for the coronavirus. The game between the Dallas Mavericks and the Denver Nuggets continued to its completion and Mavericks owner Mark Cuban was caught on television at the game learning about the suspension of the season on his cell phone just as Caywood had. "I told my benchmarking colleagues that we were attending the last basketball game of the year," Caywood later told BPN.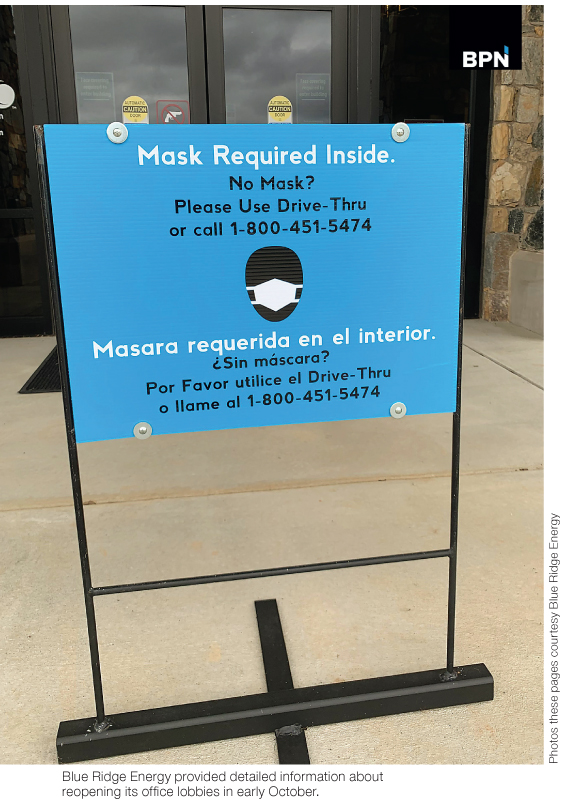 In Maryland, Jeff Petrash, vice president and general counsel of NPGA, returned from a week's vacation in March to news that a quarantine would require him and other employees to work from home for the foreseeable future. He has not returned to NPGA's Washington, D.C., office since then and his usually busy travel schedule slowed to a halt.
Caywood and Petrash, who both have law degrees, would soon be using their legal knowledge in new and different ways to help themselves and fellow industry members navigate a new challenge: COVID-19. For Caywood, taking all necessary precautions for a retail propane operation would become a priority, and exchanging and comparing best practices with benchmarking colleagues would come with the territory. For Petrash, the "general counsel" part of his title would also mean advising industry members as well as resolving urgent situations on behalf of the association.
AS THE PANDEMIC HIT...
"It was suddenly all-hands-on-deck," Petrash recalled. "We had over a dozen contracts related to the NPGA Expo in Nashville to renegotiate. We had the sudden realization that supply challenges could arise fast if demand for crude oil and natural gas dropped quickly. And, of course, we had our membership needing answers on all matters of how to handle a variety of situations. To add to the challenge, we had to face these challenges with everyone working remotely."
In Michigan, Caywood was soon cancelling travel plans for several months and discussing with employees new protocols to protect themselves and their customers. "With changing consumer habits, we were already moving toward more contactless customer relationships. We had been making a push for more digital interaction options to be adopted by customers. COVID-19 has only increased the interest in contactless interaction with us," he said.
"We are in a much better position supply-wise than we thought we might be back in April," Petrash said in a discussion with BPN in mid-October. As for future concerns, Petrash said we've learned a lot about COVID-19 since April, but it will remain a challenge until there is a silver bullet treatment or vaccine.
"In April, we were successful in getting most of our retail personnel classified as critical employees with the Department of Homeland Security (DHS); we obtained numerous face masks from the Federal Emergency Management Agency (FEMA) for companies throughout the industry; and we collected and posted a lot of important documents about policies and procedures from various agencies including the Centers for Disease Control (CDC) in the members section of our website," Petrash said. "Throughout the summer, we monitored and addressed wholesale supply concerns. With the threat of much lower production, four webinars were created to educate retail members on the best practices for dealing with all phases of the supply management process."
AS WINTER APPROACHES…
As we move forward, Petrash is pleased that by mid-October, production in the U.S. was expected to be approximately 2.2 MMbbld while demand is expected to be in the 2.1 MMbbld area. "So, with less concern about having adequate supply, infrastructure and distribution are key," he said. "The human factor is critical to keeping the infrastructure working." Petrash stressed the importance of keeping drivers and other essential personnel healthy as much as possible. "Following CDC guidelines, maintaining social distancing, wearing masks, washing hands thoroughly, and limiting interaction with customers to what is absolutely essential are critical," he said. "A lot of productivity is lost with one driver sick. With a contagious disease that spreads quickly, it is so important to keep staff members from spreading the disease to one another."
On the financial side, he noted that retail propane companies may experience collections issues with commercial accounts struggling and many residential customers out of work or working fewer hours. "We have not heard about a lot of problems yet, but it has not been wintertime since the pandemic began," he said. "The natural gas and electric industries are likely experiencing tougher collections issues because they tend to bill more after usage than propane providers." He noted that government requirements that natural gas and electric customers not be cut off in certain circumstances have caused stocks for many of these providers to fall. "Uncollectible debt tends to be spread across the board. Propane companies will likely need to take a stricter stance on credit worthiness and collections."
NOT YET TIME TO DECLARE VICTORY
"I think we need to be wary of those who are declaring COVID-19 defeated," Caywood said. "This is not a time to be landing a fighter plane on a carrier and celebrating victory like we did 100 days after the start of the Iraq war in 2003." While he is happy the death rate has declined, he notes that new cases are up 40% to 50% in Michigan. "At the same time, we have a population that has become complacent because the disease is less lethal. And, quite frankly, people are tired of the disease and are willing to take more risks. In Michigan, the governor's orders were declared unconstitutional in October as more citizens just don't want to be required to follow them anymore. It's harder for us to require customers to continue to follow safety precautions, but we continue to do it and it's worth it."
Caywood feels that after the disease has truly run its course, business owners should establish or modify infectious disease protocols. "If we as business owners don't take steps on our own, we will be regulated more," he said. "It will come about when lawsuits start to happen. Any one of us in the propane industry could potentially be sued if a death occurs and the company is blamed for not following CDC recommendations." Other protocols Caywood envisions include having a plan if multiple employees become sick at the same time. "Perhaps other locations within the same company can pick up the slack. Smaller companies may have to work closely with another provider, likely a competitor, to keep customer's tanks filled." Caywood believes that if propane companies are proactive about having infectious disease protocols, government officials will be less likely to create the protocols for the companies. "This is a real opportunity to show regulators that we are capable of self-regulation!"
IN FLORIDA…
In Orlando, Fla.,
Lovelace Gas
faced a dilemma when one member of the family-owned business, Alina Hanna, suddenly had her children's school make the quick switch to remote learning. "Suddenly my daughter Alina was faced with having to be at home helping my grandchildren with their schooling," said Lucinda Lovelace. Lovelace Gas is owned by her husband Garry and brother-in-law Bill. She and the company leadership decided that perhaps the best plan would be for her to fill in for her daughter at the company. "I hadn't been in the workplace for 38 years. I was busy raising children for many of those years, but this has been an interesting seven months. I was not only learning a job, but learning a job during a pandemic where some of the longtime procedures were being turned upside down."
Lovelace said she feels blessed that only one employee had been diagnosed with COVID-19 and has since recovered. "The employee is a service tech who is also a firefighter. He came in contact with the virus in his firefighter role. We've been pretty diligent about our social distancing rules, so we're glad we prevented a spread of the disease to other staff members or customers." Masks, stickers on the floor encouraging distancing, only one entrance, and contactless cylinder refills are major new protocols at Lovelace Gas. "We're seeing people exercising caution throughout the area. Restaurants are reopened but people aren't flocking to them," she said. "I am noticing that people are settling in to the new normal more now than in the beginning. They are more accepting of the recommendations and requirements that will keep them from getting or sharing the virus."
IN OHIO…
At
McMahan's Bottle Gas
(Dayton, Ohio), manager Brian Buschur said the ever-changing COVID-19 situation is causing companies to be more flexible. "We've had a location shut down for a period of time while several office personnel got COVID-19, quarantined at home, and recovered," Buschur said. "This happened despite employees using masks, hand sanitizer, and practicing social distancing. In the meantime, we saw our cylinder business double overnight as people were staying home so much more."

Further north in Ohio, George Walton serves as both president and chief operating officer of
Prism Propane
(North Baltimore, Ohio) and president and CEO of Hancock Wood Electric Cooperative (North Baltimore, Ohio). The electric cooperative is a nonprofit company owned by the members served, while the propane company is a for-profit entity owned by the electric cooperative.
"Initially we closed the offices of both companies, and office personnel managed the companies from their homes for a couple of months," Walton said. The operation employees' hours for Prism and Hancock Wood were staggered for nearly four months to keep crews more socially distanced. "When we reopened the offices, employees were required to maintain social distancing requirements and had to perform self-medical evaluations from home each morning to ensure that there were no symptoms of the COVID-19 virus. We only had one employee get COVID-19. He was an employee on the electric side whose wife worked at a hospital and got it first. He quarantined at home for 14 days and returned to work after testing negative."
When COVID-19 first hit, Walton said there were some negative impacts on propane sales, mostly stemming from commercial accounts cutting their operations back. In some cases, commercial accounts were operating at 50% production. A big loss was due to schools closing down. "The need for autogas to fuel the buses immediately died," Walton explained. "All this came at the end of a mild winter in which sales were already down 12%. We had to cut some costs and freeze some forecasted expenditures in the budgets as a precautionary measure."
"The electric side saw an 8% decrease through the end of June, but two hot summer months in July and August helped make up for it," Walton said. "Both sides applied for Paycheck Protection Plans (PPPs) and received several thousand dollars, which helped make up for lost sales. The PPPs have been critical to minimizing the impact on the businesses due to reduced sales. Based on the Ohio governor's order, restaurants and other businesses are still required to operate at 50% customer capacity in their facilities, which limits the number of potential customers that can come into their stores. Restaurants are losing money and if more PPP money is not available, some of these restaurants will be closing their doors for good this winter."
Walton noted that while it is unfortunate that many people lost jobs in the area, he was pleased that the increased pool of prospective employees brought some really good new hires to Prism Propane and the Hancock Wood Electric Cooperative. "We are pleased to have some new team members who are an excellent fit at the propane company and the cooperative."
IN WISCONSIN…
During October, amid a spike in cases in Wisconsin, BPN spoke to small business owner Gary France of
France Propane Service
(Schofield, Wis.). France is also a past chairman of the NPGA. "Keeping employees safe is critical to a small business," he said. "An outbreak would affect our ability to do customer deliveries, so we are staying ahead of schedule as much as possible. We are trying to keep employees upbeat with a focus on running with a commonsense attitude." Regarding NPGA, France believes postponing the NPGA Expo to October 2021 was a good plan and he was pleased with the educational supply planning webinars provided during the summer. "Complacency feeds disaster. I'm glad we're focused on a commonsense and responsible attitude to get us to the finish line with this pandemic."
IN NORTH CAROLINA…
Blue Ridge Energy
, an electric cooperative with a propane and fuels subsidiary, provided detailed information about reopening its office lobbies in early October. According to the news release, special measures were being taken to protect visitors and employees as the COVID-19 pandemic continues. Visitors are limited to 10 at a time and all visitors are required to wear a mask and observe social distancing of at least six feet. Personalized showroom appointments continue to be available by calling ahead to schedule a time.
To reduce risks, the company implemented the use of contactless tools such as an office drive-through, kiosks at each office and community locations, the website with "my account" log in, and a customer service phone line. Assistance with energy bills is offered through the "In This Together" COVID-19 Crisis Relief Fund. Residents can call their local helping agency or go to the page about relief on Blue Ridge Energy's website. It was announced that while discontinuations have been extended past the governor's timeline, they were reinstated in October. Furthermore, touch-free sanitizing areas are being placed at entrance/exit areas; mask requirements are enforced, and masks are available for those who need them; clear acrylic sneeze guards for lobby customer service areas have been installed; social distancing markers are placed on lobby floors; and single-chair seating for waiting will be available.
According to Renee Whitener, director of public relations, Blue Ridge Energy's main focus has been to take all precautions to ensure the safety of employees and customers. "Prior to our offices reopening on Oct. 5, we allowed private showroom appointments beginning in May so that consumers could still purchase products we sell (such as gas logs, water heaters, etc.) while offices were closed to the general public. Masks and safe distancing were required and this was discussed with the customer when their appointment was scheduled."
Whitener said there are also similar safety protocols for outside operations so that delivery employees and service technicians have minimal exposure risks as well. "Customers have been very appreciative of the steps we have taken to continue to provide great service in a manner that ensures the highest level of precautionary measures are in place to maintain operations through COVID-19."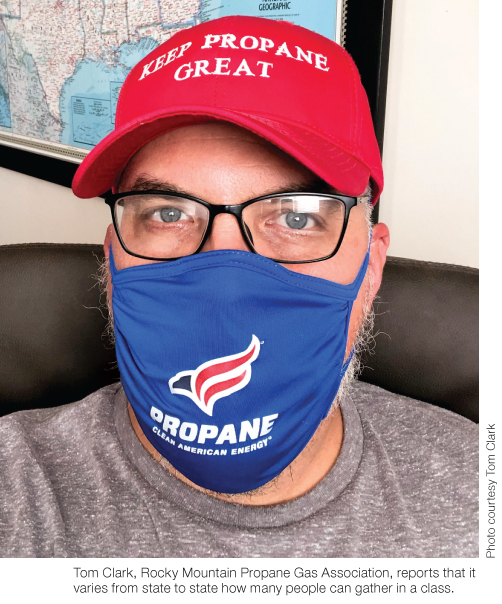 IN THE ROCKY MOUNTAINS…
BPN spoke with Tom Clark, executive director of the
Rocky Mountain Propane Gas Association
, which includes the states of Utah, Idaho, Wyoming, and Montana. "We developed a plan whereby marketers would send staff to assist other companies in the event of a quarantine of several employees at one particular company," Clark said. "I doubt we will have to use this plan, but our members have the peace of mind that there will be help if needed."
Clark mentioned that many members throughout his four-state region are limiting the number of people who come through the front door of the company office. "We are also very mindful that requirements and restrictions vary from state to state and county to county," he said. "In our CETP training, it varies from state to state how many people can gather in a class. Generally, we are having to do smaller meetings."
"The state propane executives are not able to get together in person for the time being, but I feel we are closer than ever through regular monthly calls," Clark said. "We are currently doing six weeks of two-hour online meetings in lieu of a longer in-person meeting that we have most years."
IN THE NORTH CENTRAL AREA…
Derek Dalling, president and CEO of Kindsvatter, Dalling and Associates, heads the
Michigan
,
Ohio
, and
Indiana
Propane Gas Associations. "From an impact standpoint, obviously the lack of meetings in person cannot be understated. All of us are now on ZOOM fatigue," he said. "There is only so much that can be accomplished over a conference call or a Zoom meeting. And so much more gets accomplished when there is the personal contact with each other. We are getting things accomplished, but we definitely miss seeing and meeting with our members." Dalling noted that he is seeing a lot of interest in digital communication among retail propane marketers. "We have seen a lot more members engage with the association, we saw more and more members using social media—some probably for the first time. We had members inquire about credit card resources to add that capability or expand it for their customers."
Dalling said cylinder sales have definitely increased across the membership of his associations. "With COVID hitting in spring forcing people home, we heard of record sales for the spring months," he said. "[The soaring sales of cylinders] makes sense with people staying home, working there, and having kids learning from home. That also led to more people cooking on grills and using cylinders for outdoor living. With all that, we heard of touchless cylinder sales, retailers adjusting cylinder fill processes, having people stay in their vehicles, and more portable credit card paying options."
IN NEW YORK AND SURROUNDING STATES…
"This has been a unique experience," said Christina Armentano, third generation and executive vice president at
Paraco
Gas
(Rye Brook, N.Y.), "Customer behavior has changed as a result of the pandemic. Telecommuting and virtual school programs have had a dramatic impact on residential usage to start," she added. "We have also observed a spike in the overall outdoor living category as the Coronavirus cancelled summer vacations and travel plans for many at home. We've seen an increase in demand for barbecue grills, outdoor heaters, firepits, and pools. All of this adds more propane usage at home."
Armentano and Andy Mirchin, national accounts manager with 35 years of experience at Paraco, visited with BPN about proactive things retail propane marketers can be doing to showcase the unique ways propane can be used in these circumstances. "In my 35 years, I can't think of another time where propane played a more crucial role in keeping people in business," Mirchin said. "With restaurants not able to operate at capacity, many are adding space outside. This may be outdoors or in a large tent, but it is allowing for more space to serve more customers safely." Armentano feels propane is the unsung hero of the mom-and-pop businesses in the restaurant industry.
Mirchin stressed that Paraco treats all cylinder exchange providers it works with as partners. "We are always working with our partners to look for ways propane can be a solution for critical needs that people have. The pandemic has brought out some of those needs." Together with their partners, Armentano and Mirchin have seen propane as a product that is saving businesses and a product that is bringing families together. "My heart goes out to all those impacted by the pandemic," Armentano said. "But, if there is a silver lining, it is that more and more people are seeing the benefits propane can provide at a time when there are forces trying to steer people away from propane with electricity and other energy sources." — Pat Thornton