Wood fireplaces are cozy, inviting, warm, captivating, and nostalgic. They're also drafty, inefficient, inconvenient, and dirty to operate and maintain.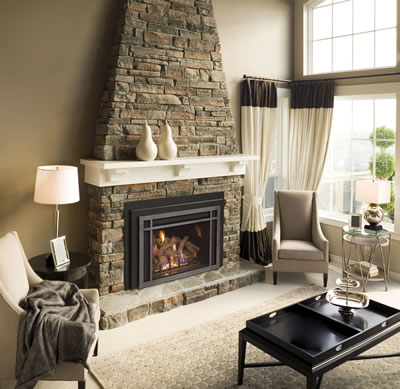 Casey Harvey points this out and notes that it creates an opportunity for propane marketers to sell direct vent gas fireplace inserts. These offer the benefits of a wood fireplace without the drawbacks.
As director of sales at
Ray Murray Inc.
(RMI; Lee, Mass.), Harvey has found that propane marketers who are already doing HVAC work are in an excellent position to add a gas fireplace insert to a job they've sold and will soon be doing. They can start the conversation with customers by asking what they like and don't like about their existing wood fireplace. Then, explain the advantages of an insert.
A wood fireplace is between 5% and 10% efficient, as far as providing heat. Not only does 90% to 95% of the heat generated by the fire go up the chimney, but warm air from the house is drawn into the fire for combustion. "It has been likened to leaving a window open in your house," Harvey says. Plus, the homeowner has to cut and store wood, tend the fire, and clean up afterwards.
Contrast that with a direct-vent gas fireplace insert. This is a completely sealed system that is 60% to 80% efficient; pulls its combustion air from outside; burns with no sparks, smoke, or odors; and starts with the push of a button.
Propane marketers who do HVAC work already handle gas appliances and venting and are ready to install this solution. Installation of a direct-vent gas fireplace insert takes a crew of two people four hours. "It's not new fireplace construction, involving masonry, paint, and tile; this is a retrofit opportunity," Harvey notes. "With no construction involved, it's no muss, no fuss, for the consumer."
He suggests marketers start this conversation when they are already in the customer's home on another job. Close the main sale first, then ask, "I see you have a wood fireplace; do you use it often?" Whether the answer is yes or no, explain how a clean, efficient, easy-to-use gas fireplace insert can increase their enjoyment of their home. If you're there to install a high-efficiency furnace, explain that much of the heat it generates will be lost up the chimney of that old fireplace. Note that a fireplace insert can be completed the same day.
"Fireplace inserts are uniquely suited for in-home sales as most consumers have no idea that this solutions exists," Harvey says. "The time to sell is when marketers are in the house for something else like a furnace, boiler, or A/C repair or replacement call. There is no construction involved, so this is something that most LP marketers can and should do. The homeowner can have a brand-new gas fireplace in half a day."
Having a script ready is important. Talk with your supplier and fine-tune your in-home sales process. Ray Murray Inc. offers an app that includes tools to help make the sale and also offers full-size insert panels that make it easy to show the consumer what a newly retrofitted fireplace would look like.
"You are already there to service the home, you are a trusted home comfort advisor, and you have a solution," Harvey says. "Explain how you can help them enjoy their fireplace."
This is an opportunity to sell both the appliance and the propane that fuels it. Consider the numbers: Half of all single-family homes have a fireplace. Half of the fireplaces are gas and half are wood. That means a quarter of all Americans have a wood fireplace and are candidates for a gas insert retrofit.
On average, each direct vent gas fireplace insert will use 300 gallons a year. A customer's propane consumption may range from 50 gallons a year at the low end to 500 gallons a year at the high end, depending on the climate, how often it's used, and whether it's used for ambience or as a space heater. If it's used to heat the space, it can be tied to a thermostat and can run many hours. "An advantage of a fireplace is that it heats the space you're in," Harvey notes.
"We believe there are about 25 million homes in the U.S. that are candidates for fireplace upgrades," he concludes. "If we upgraded 10% of them to LPG, that's 2.5 million consumers loving propane at an average usage of 300 gallons a year. That's 750 million gallons of new propane usage annually!" — Steve Relyea