Tuesday, December 29, 2020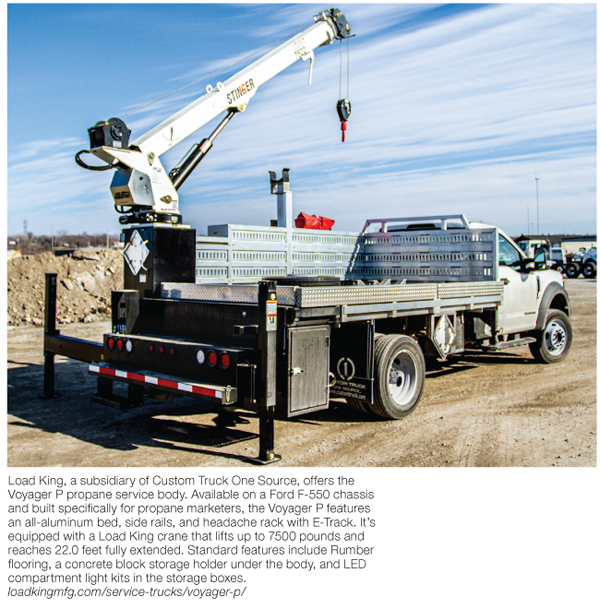 As you're selecting the chassis and equipment for a new service truck or crane truck, you should also be thinking about your business, how it has changed since you last bought a truck, and how it may change over the next several years. Ready with that information, you will be better able to work with a truck builder to create a truck that will meet your needs throughout its operating life.
Ten representatives of propane truck builders and truck equipment manufacturers shared with BPN some
questions buyers should be prepared to answer when they sit down with a builder to spec out a new work truck
.
What Operations Will the Truck Be Used to Perform?
Knowing how the truck will be used will help determine the model and equipment that will serve you best. "I start out by asking the customer to tell me about their business," said Jason Soulon, regional sales manager for
Westmor Industries
(Morris, Minn.). "Are they carrying cylinders, or 500s, or 1000s? Are they using the truck every day? How many tank sets are they doing per day?" The number and size of tanks you want to haul at once will tell you the length of the body. The anticipated payload will tell you the GVWR you will require in a truck. Your willingness to set a tank where the customer wants it, even if it's far from where the truck can park, will determine the reach you'll need in a crane. "I just ask the customer to talk so I can get a 10,000-foot view of their business," Soulon added. "If you are going to own the truck for six, seven, eight, or nine years, you need to think about what your business is going to grow into."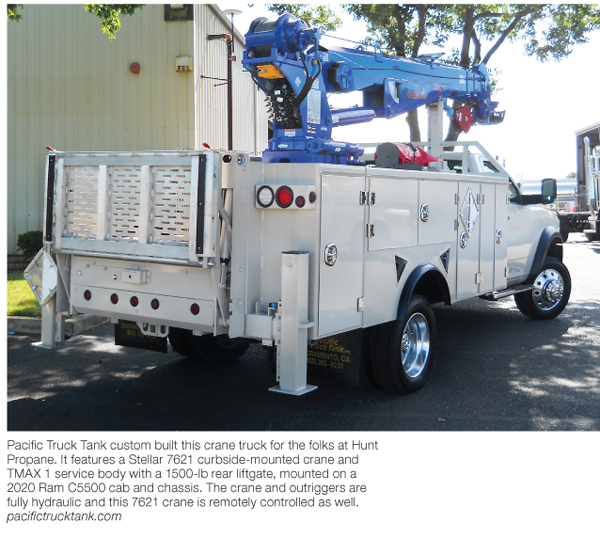 What Size Tanks Will You Be Moving, and Where Will You Be Moving Them?
When buying a crane truck, these questions will help you determine how much reach and how much weight capacity you need. Knuckleboom cranes have a longer reach, but stick cranes are more popular. "At the end of the day, the serviceman wants to set a tank where it is most easily accessible," explained Jerry Jones, co-owner and vice president of
Pacific Truck Tank
(Sacramento, Calif.). A 21-foot reach is most common, but a 30-foot reach is becoming more popular. "For the price difference, guys want the extra nine feet of reach, even though most of them want to set the tank close."
What Is The Largest Tank You Are Going To Transport and Set With the Truck?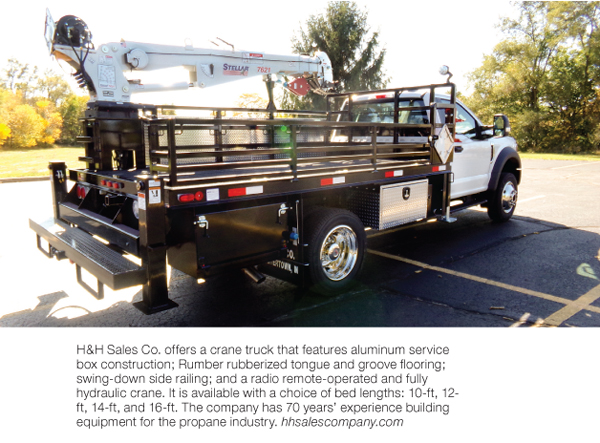 "If it's a 1000, you'll want a truck with at least a 14-foot body so the majority of the length of the tank is on the truck bed floor, to keep it level," said John Hawkins, CEO of
H&H Sales Co.
(Huntertown, Ind.). "If you want a liftgate, you'll want to go to a longer, 16-foot body." If the truck is going to be used for service work as well as tank setting, you might want to consider a 22,000 GVWR chassis, like the Ford F-600 or the Chevrolet Silverado C6500, rather than the 19,500 GVWR that has been commonly used. "The amount of equipment people want to haul will put a load on the 19,500 GVWR truck, especially if it's going to be a multipurpose truck that is used for not just tank sets, but also service work."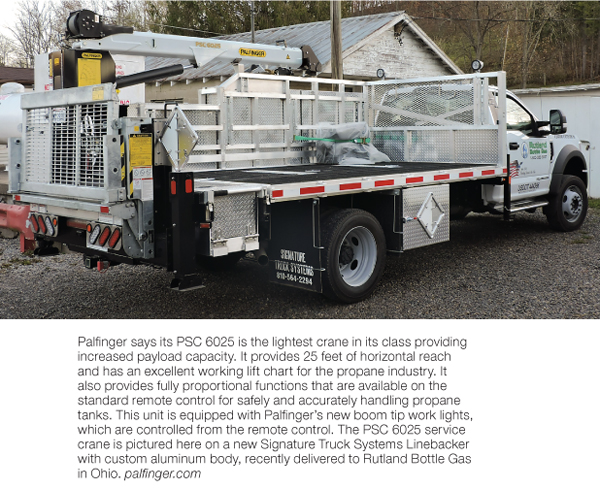 Who Will Service the Hydraulic Equipment?
Anthony Gentile at truck equipment manufacturer
Omaha Standard Palfinger
(Council Bluffs, Iowa) suggested asking about the hydraulic equipment. As regional sales manager—eastern and national key account manager of work truck bodies & lifting systems, he advises buyers to ask: Will operator training be provided for the hydraulic equipment? What are the service requirements for it? Where and how can I get service for it? What is the warranty on the components? Beyond these concerns, Gentile said buyers of crane trucks generally ask about new features; payload availability; and warranty coverage on the entire unit, if any. "Larger fleet customers normally have standard specification requirements," he reported. "Smaller fleet customers may know what they want to do with the new unit, but not exactly what chassis, body, and crane they need. More often than not, they ask for guidance from the truck builder in regards to updates on a new chassis, crane, body features, and/or regulations."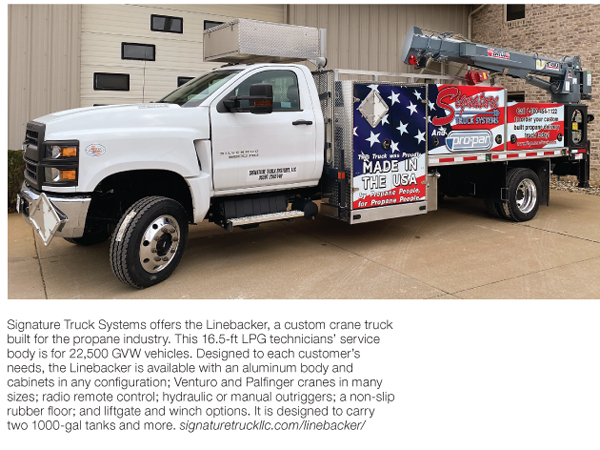 What Will You Be Carrying and What Kind of Storage Will It Require?
If you have components that you want to keep out of the weather, such as HVAC parts, Eric Salinas, general manager at the Houghton Lake facility of
Signature Truck Systems
(Clio, Mich.), suggested building your service truck on an extended cab pickup. "With an extended cab, you can keep sensitive components in the cab, without having to squeeze it in behind the seats," he explained. On any truck, cabinet sizing, storage systems, materials, and tie-down locations can be customized to secure the cargo you know you'll carry. Mike VanDenBoom, president of Signature Truck Systems, suggested also telling the truck builder of any in-cab equipment the serviceman might use, such as a tablet. "We ask if there is anything inside the cab they want us to install," he said. "We want to deliver a turnkey truck that is ready to go on day one."
How Wide Is Your Service Area?
This will help you determine how much storage you'll need. "If you are out 35 miles from the office, you want to make sure you have all the parts you'll need," said Wayne Terpstra of
Custom Truck One Source
(Kansas City, Mo.). "That will save time, because you won't have to run back." The answer here is cabinets—having enough of them and the right kind. "Fittings, regulators, tools, straps... it's amazing how quickly a guy will fill that up."
What Material Do You Want Used For the Storage Cabinets?
Choices include aluminum, stainless steel, and steel that is painted. Most buyers choose aluminum in order to save weight. "Everything you add to the truck, adds weight," explained Salinas of Signature Truck Systems. "We make sure we are mindful of the total weight to make a useful truck." Some buyers favor stainless steel or mirror stainless. "They want that show look and bling factor. They like that shiny surface on as many items as possible." VanDenBoom of Signature Truck Systems added, "Many marketers take advantage of the large, smooth aluminum doors on our Linebacker to display their logo or specific advertising"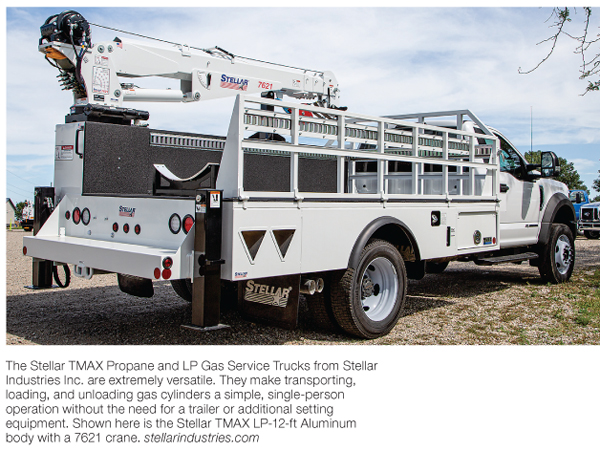 Do You Know About the Latest Innovations?
Hydraulic truck equipment manufacturer
Stellar Industries
(Garner, Iowa) has added two innovations to its product line that may be new since the last time you bought a truck. One is an aluminum LP crane body, which was introduced within the last three years. "Customers have really appreciated the weight savings aluminum offers along with corrosion resistance," said Adam Oppermann, product manager. The second innovation is the evolution of the handheld crane remote. For instance, the Stellar CDTplus crane remote features an LCD screen that shows an operator how far out the crane is, how much weight is being lifted, and how much more it can lift. It also alerts an operator as the crane gets close to its maximum lifting capacity by increasing vibrations as it nears the maximum capacity. "This allows the operator to keep their eyes on the lift and not having to look down at the remote, making it safer for everyone in the area," Oppermann explained.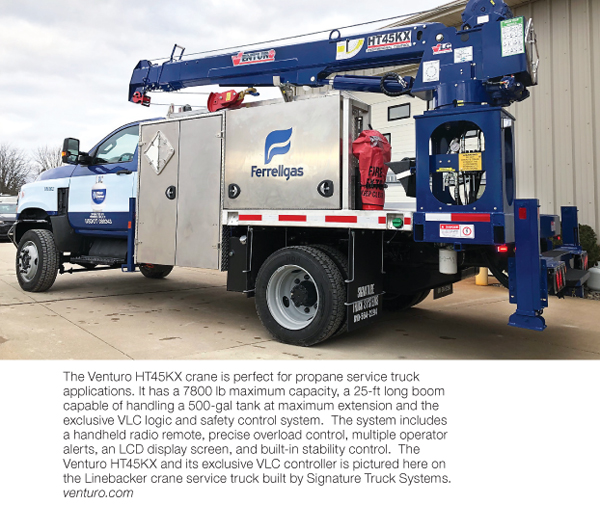 Do You Want to Equip Your Crane With the Latest Safety Equipment?
Automatic safety systems began appearing on cranes in the 1990s, but they've become more prominent in the last five years. "The same thing that happened in the auto industry has happened in the crane industry," said Brett Collins, owner/president of crane manufacturer
Venco Venturo Industries
(Cincinnati, Ohio). "Cars went from carburetors to ECMs; the same has happened in cranes, with safety systems, sensors, and programmable logic controls." The technologies offering safety-related benefits include vehicle stability and grade indications, overload protection, and warnings of malfunctions. "There are multiple alerts that tell you if you are doing something wrong," Collins explained. "These systems can help compensate for operator error. Even if a guy tries to do something he shouldn't, these will stop him."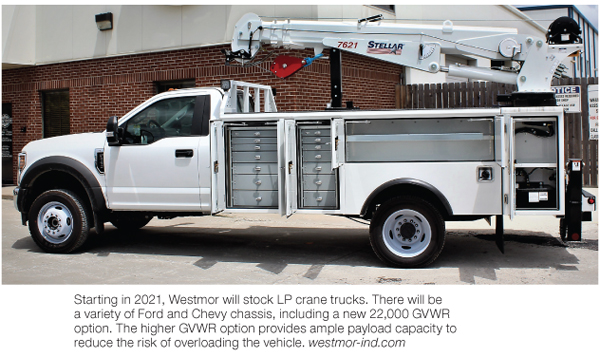 Do You Want to Equip Your Truck With The Latest Safety Systems?
Two options that have been growing in popularity in the last two or three years are back-up cameras and rear obstacle detection systems, reported Soulon of
Westmor Industries
. "I've seen data that the biggest expenses related to accidents are backing accidents," he explained. "That's especially true when trucks operate around trees and garages." A back-up camera provides cheap insurance to prevent such accidents, and a rear obstacle detection system supplements that by giving the driver an audible warning. "These are now reasonably reliable and more affordable than they used to be," Soulon said. "They're not cheap cheap, but they will pay for themselves if they prevent an accident."
Have You Considered These Details?
Oppermann of Stellar Industries suggested several basic questions to consider when choosing an LP crane and body. What size of crane is needed? "This is based on the reach needed of the crane and the weight of the tanks they'll be lifting," he noted. Will the crane be on the curbside or the street side? Is a lift gate or a workbench-style bumper better suited to your needs? What type of stabilizers do you need? "For example, manual out, manual down or power out, power down?" What length of body is needed? "This is usually based on the size of the tanks and amount of storage needed for equipment and parts." How many tank saddles are needed on the body? Is corrosion and/or payload an issue? "This helps determine if a steel body or aluminum body would be better suited to their needs." What do you want to go in the compartments to hold equipment and parts? "This is used to determine the type and how many drawer sets and shelves are needed in the body," Oppermann added.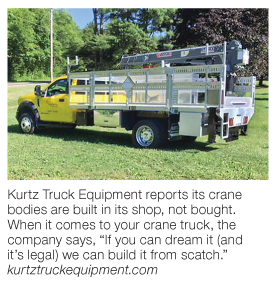 What Kinds of Equipment Are Your Peers Using?
One way to make sure you're aware of the latest options and are considering everything you'll need, is to see what kind of equipment others in the industry are using. "We show people pictures of trucks we've built in the past," said Roger Smith, general manager and vice president of marketing, propane sales, at
Kurtz Truck Equipment
(Marathon, N.Y.). "They take bits and pieces of each and design their own." That's especially true when it comes to storage cabinets, he added. "Most people's biggest concern is storage. For some people, it's a security blanket. The more cabinets they have, the more they can carry."
What's It All Going to Weigh?
When specifying the equipment to be added to the truck, consider its weight. "If it's a 19,500 GVWR truck, by the time you add a couple of tanks, the tools, and the driver, you can be at the top end GVWR of the truck," said Terpstra of Custom Truck One Source. "You want to stay legal and safe, and you don't want to wear out the truck over time. When you're at the top end of the truck's capacity, you're putting stress on it and it will wear out faster." To save weight, he added, most buyers are going with aluminum truck bodies. "That way, they can put more payload on the truck because the bed and body are not as heavy."
Where Will You Have the Truck Serviced?
When selecting a chassis, consider where you will have the truck serviced. If you have already have a dealer service shop you know and trust, that will help you make the choice. At Pacific Truck Tank, the chassis most commonly used for crane trucks are the Ram 5500 and the Ford F-550, typically equipped with up to a 7000-pound crane. "Trucks are a personal preference," said Jones. "I usually ask the buyer which dealer is closest or has the best service."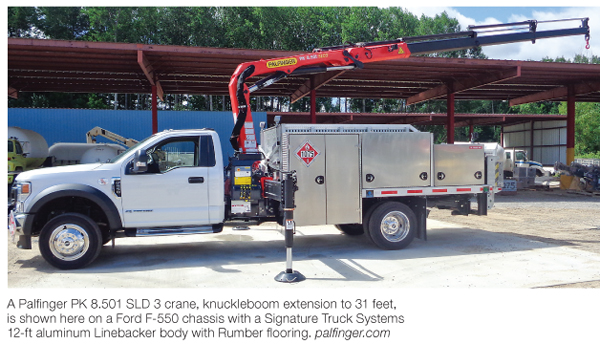 What Kind of Engine Do You Want?
H&H Sales Co. is seeing more customers buy crane trucks with gasoline engines, especially the new Ford 7.3-liter. "A customer just picked up one and he was really impressed with the power," said Hawkins. H&H Sales Co. also converts that motor to propane using dual-fuel systems from Alliance AutoGas or ICOM. Just make sure there is a shop in your location that will work on a propane or dual-fuel engine, Hawkins suggested. Gasoline and dual-fuel engines are gaining ground because diesel engines are more expensive to buy and they require more frequent oil changes and filter replacements.
What Do Other Customers of the Truck Builder Say?
Before selecting all the equipment, you'll be selecting a truck builder. Smith of Kurtz Truck Equipment suggests asking each builder for references and then talking with those customers. "The biggest thing is, buy your crane truck from someone who is known for quality," he said. "I advise talking to different manufacturers, getting references, and talking to their customers. That way, you'll end up with a truck you will be happy with."
With your answers to these and other questions, a truck builder can customize a truck to the jobs you expect it to do, the loads it will be hauling, the terrain it will be covering, and the personal preferences of both the business owner and the driver/technician. When it hits the road, that truck should deliver state-of-the-art safety and productivity. — Steve Relyea