Thursday, January 19, 2017
It sounds like a simple slogan: "Custom Truck Bodies and Equipment." But those words are important to H&H Sales Co. (Huntertown, Ind.), which recently celebrated its 65th anniversary. The company, started by Lynn Harlan and Ted Brindle in 1951 as H&H Equipment Co., builds vehicles to just about any configuration. That seems to fit the modern times in which people are seeking products customized to their exact needs.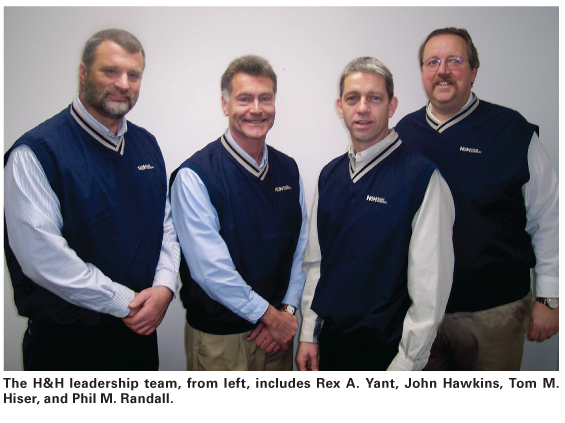 "We don't just build cookie cutter-type bodies and equipment," explained John Hawkins, CEO of H&H. "Everything has been so specialized over the years, and a lot of customers have relied on us to take a body style that might be standard for someone else, tweak that, and build it to meet their needs."
H&H sells crane service trucks, cylinder delivery vehicles, and propane storage cabinets for forklift and 20-lb grill cylinders. The business also performs propane gas conversions for over-the-road vehicles.
For 65 years, the company has strived to produce equipment to help propane marketers better serve their customers.
Original owner Harlan ran a retail propane business along with a propane equipment operation in LaOtto, Ind. As time went on, he and Brindle began producing different transportation equipment lines to make it easier for propane dealers to move tanks to service their customers. The two worked together from 1951 until Brindle died around 1970. Hawkins' father, Lloyd J. Hawkins, worked for H&H's propane business starting in 1959. Lloyd, who died in 1995, had previously worked as general manager for independent propane dealer Maumee Propane in Fort Wayne, Ind. and before that in appliance sales for Speed Queen.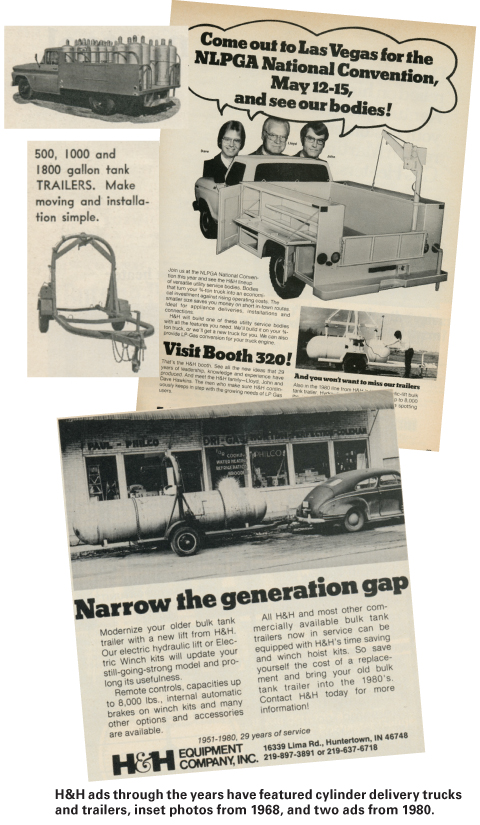 John Hawkins joined H&H after college in 1971, working on the propane side. Not long afterward, the propane and truck equipment businesses separated, and H&H moved its truck equipment operations to its current location in Huntertown. H&H Equipment Co. reorganized as H&H Sales Co. Inc. in 1991.
John Hawkins is now a senior owner in the company and CEO. Three additional stockholders include Phil M. Randall, president; Tom M. Hiser, VP of engineering; and Rex A. Yant, VP of operations. "We've all been together since the mid-'90s," Hawkins said. "Right now, we're still quite busy, and that's a good thing. With the mild winter last year, I thought the industry might really drop off, but it's stayed real strong."
In addition to its main customers—the propane and welding gas industries—the company also serves the HVAC industry and general construction sectors. "We sell to any service-related industry that would use vehicles," Hawkins noted.
More specifically for the propane industry, H&H focuses on service-related trucks. That would include installing interior packages on cargo vans and other vehicles, and equipment manufacturer Adrian Steel is one of the various suppliers for H&H.
Hawkins is proud that his company has become what he calls a one-stop shop. The business will put together the entire vehicle for the customer, including chassis, body, and equipment. "We'll even decal the trucks for them if they want us to. We make it an easier transition to buy a new vehicle. They can just call, we find out what brand of chassis they are looking for, and from that point we put together a complete package for them. We provide the shipping if they want us to deliver to their location, or they can still come in and pick up the vehicle."
Hawkins knows the importance of industry involvement. He serves on the conventions committee for the National Propane Gas Association (NPGA) and is a past president of the Indiana Propane Gas Association. He also serves on his local building contractors association. H&H is a member of the Ohio and Michigan propane gas associations and the National Truck Equipment Association and attends all the major trade shows.
In his approximately 45 years in the propane truck industry, Hawkins has seen various changes in how his propane company customers buy trucks. One change is that they now buy their trucks year-round rather than right before the busy winter season. Summer has become H&H's busy time because it comes after propane marketers have made their money in the winter and are ready to spend. Marketers look ahead more for their purchases rather than take a last-minute approach.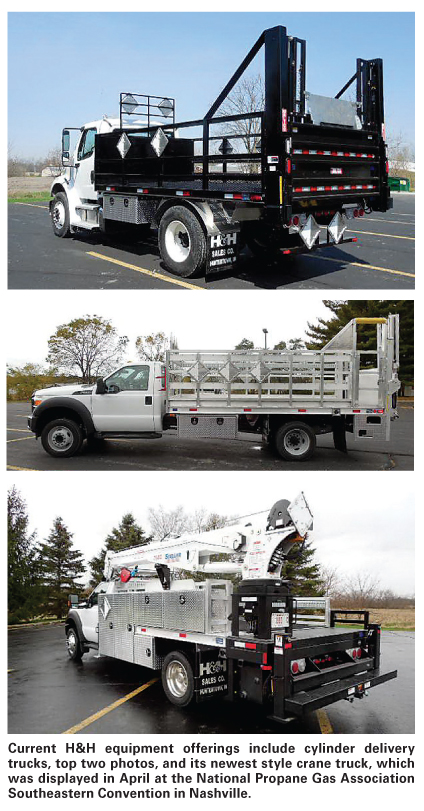 "They're not going to wait until the truck is on its last legs to replace it," Hawkins said. "They start getting their inquiries and orders to us much sooner than that." Some propane marketers still "run their trucks into the ground," but most don't. Many of the larger propane companies work off of a vehicle lifecycle of 10 to 12 years; the smaller independents often go toward a longer lifecycle and take better care of the vehicles.
H&H has been able to keep up with the trends and has persevered over the years through good times and bad. The Great Recession of 2008 was tough on most businesses, but Hawkins says his company has been able to grow from those experiences.
"Just like all companies, we had to tighten our belts and learn to do with less, but we came out of it, and we've been strong ever since." He is proud that his company is acknowledged as a Ford Qualified Vehicle Modifier (QVM), an endorsement that is given to Ford vehicle modifiers that meet certain manufacturing guidelines. In addition, H&H is a member of the National Truck Equipment Association's Member Verification Program (MVP), which recognizes companies for implementing specific business standards and processes and for taking steps to comply with applicable government regulations.
"We've always had a good reputation, building good-quality equipment that stays with the dealer for many years, and we still continue to offer good personal service when it comes to repairs. If there is a problem with the equipment, we stand by it and don't make excuses. We stand behind what we build and sell. We have had good relationships with propane gas dealers over the years. Our key component is good personal relationships." —Daryl Lubinsky