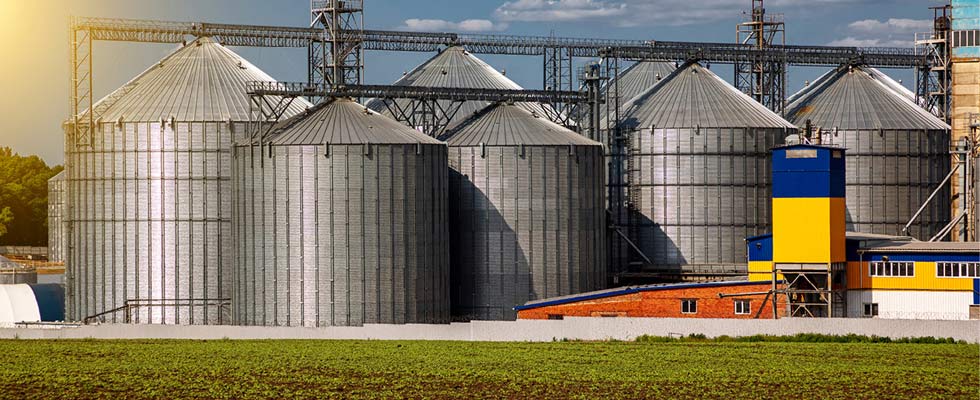 Propane irrigation engines give farmers a boost for higher performance & fuel savings when they need it most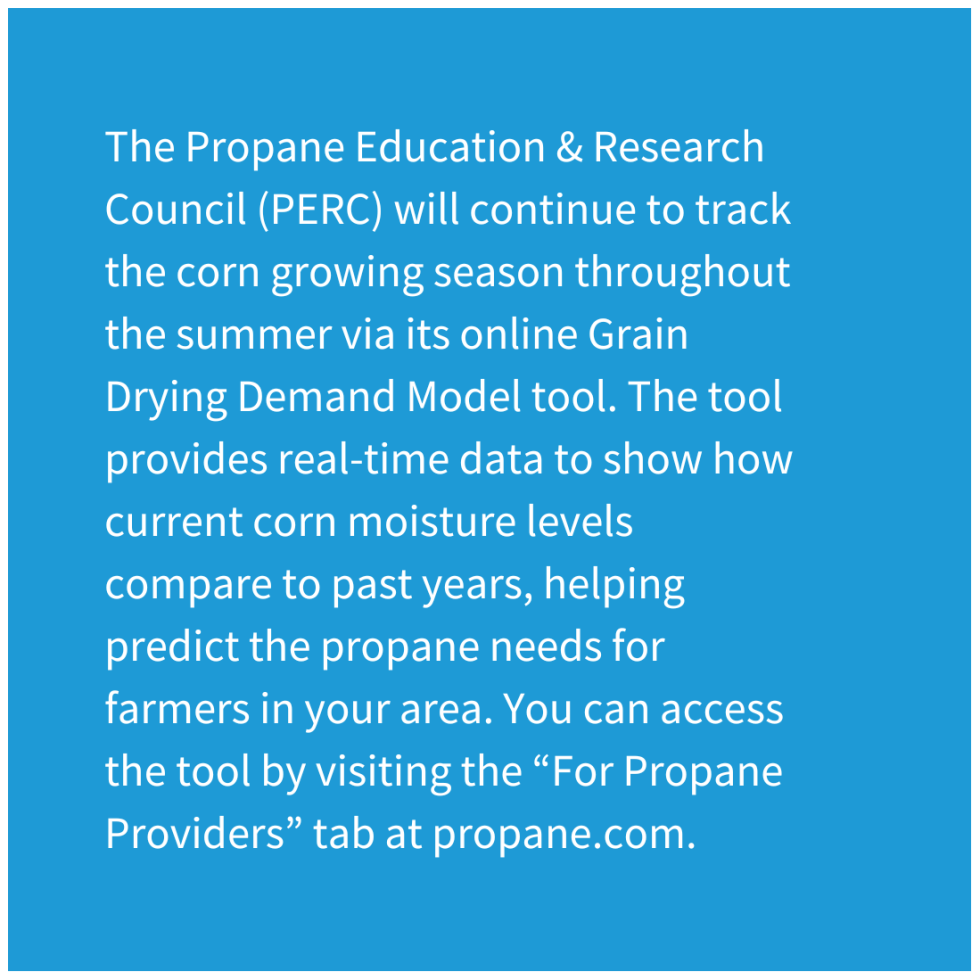 Based on corn planting dates across the Midwest, agriculture producers are expecting a "normal" growing season and grain drying year in 2023. Unlike last year's extensive wet start, the dry spring provides an ideal opportunity for marketers to educate farmers about all the advantages of choosing propane irrigation engines when adding to or replacing outdated equipment.
Propane units are more efficient, reliable, cleaner and cost-effective compared with diesel-powered engines. In fact, farmers who made the switch reported 28% higher performance than previously owned diesel engines, as well as fuel savings of up to 45%.
Today's Environmental Protection Agency (EPA)- and California Air Resources Board (CARB)-certified propane engines have been designed and built from the ground up by leading engine manufacturers. They are engineered specifically to run on propane, so farmers get consistent power that's available when and where they need it. And because propane is portable and operates on an independent system, your customers don't have to worry about grid-related power interruptions or gas line fluctuations.
Propane-powered irrigation engines include the latest technological advancements and features that can provide up to 300 horsepower of continuous power. Beyond the engines themselves, remote monitoring and operating systems are also available to help producers better manage their operations.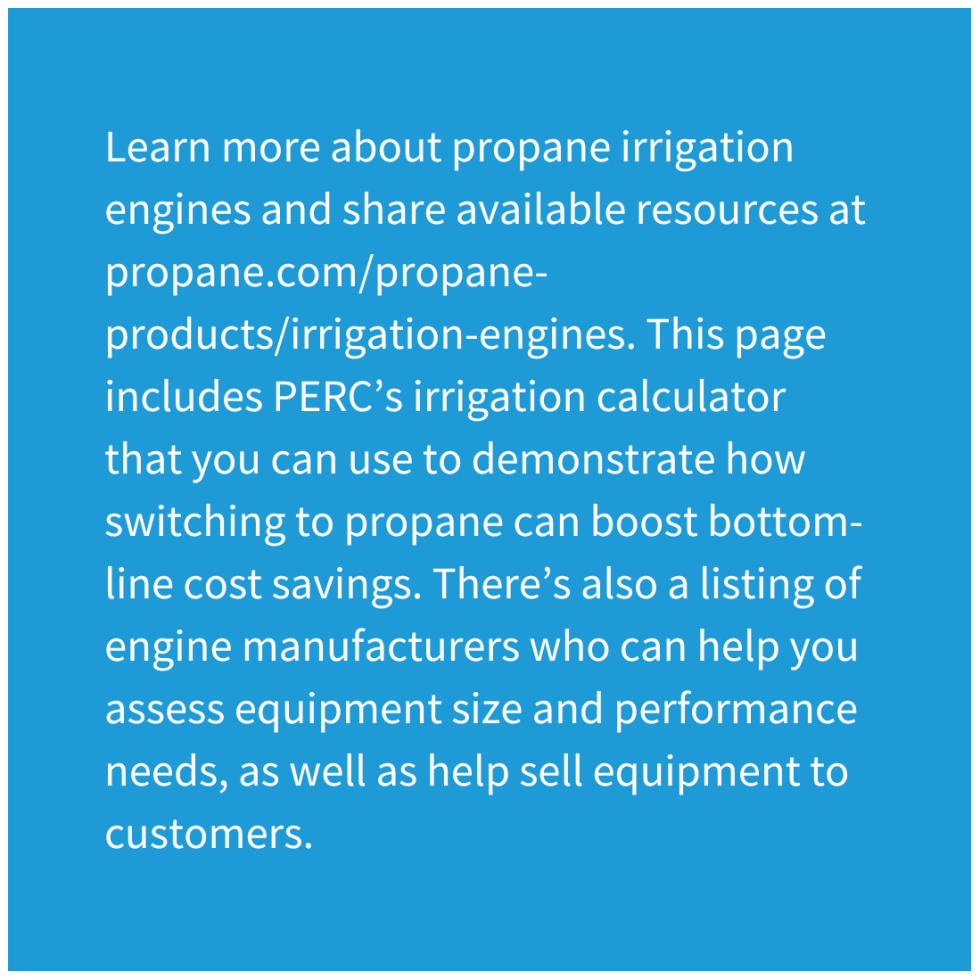 Equally important these days, propane-powered irrigation engines produce up to 18% fewer greenhouse gas emissions than gasoline and diesel alternatives. That helps keep engines clean, too. Fewer deposits on engine components can contribute to a longer engine life with fewer overall maintenance issues.
And unlike diesel and gasoline options, there's no need for farmers to produce complex EPA spill prevention plans when they choose propane. EPA- and CARB-certified propane models are available for sale in all 50 states.
An exciting engine that will be utilized within the agriculture industry is the new 7.3L offering from EDI. This engine will be used in many applications — and heavily in the agricultural irrigation market. (For more information on the 7.3L engine, visit edi-dist.com.)
Double Incentives
Purchasers of these same propane-powered irrigation engines qualify for payouts from PERC's Propane Farm Incentive Program (PFIP). New EPA- and/or CARB-certified engines can earn $300/liter of displacement for pumping.
PFIP is a research program that provides a financial incentive up to $5,000 toward the purchase of new propane-powered farm equipment. In exchange, participants agree to share real-world performance data with PERC. (Applications are open through the end of the year at propane.com/farmincentive.)
In response to the deadly Midwest tornado outbreak in March and April of this year, incentives are doubled for up to $10,000 toward eligible propane-powered equipment for agricultural operations directly impacted. Through Dec. 31, 2023, affected farmers can earn double the incentive amount for the same qualifying propane-powered equipment — $300 per liter of fuel displacement for propane-powered irrigation engines, up to $30/kW for generators, $1,500 for flame weeding systems and $2,000 for agricultural heaters. (Applications will be verified both by ZIP codes and National Weather Service data.)
Since it's impossible to prepare for these types of natural disasters, the hope is for these additional incentive dollars to be helpful as producers recover from the sudden destruction tornados can bring.
Early Tank Fill Encouraged
We are urging marketers to plan ahead with agriculture customers to ensure they have the propane they need to power their farms throughout harvest and winter and take advantage of savings by filling tanks early.
Given the additional challenges of the industrywide driver shortages — and the new emergency driver training requirements that extend the time it takes to onboard new hires — early fills of customer tanks are more critical than ever. Fill tertiary storage early and often while pipeline capacity is available and demand is calm. Remember, pipeline infrastructure is not intended to be the sole source of supply during peak demand.
Now is the time to communicate with customers about the best early-fill strategies. Let them know how and when to contact you using PERC's free, downloadable outreach materials located in the resource catalog on propane.com.