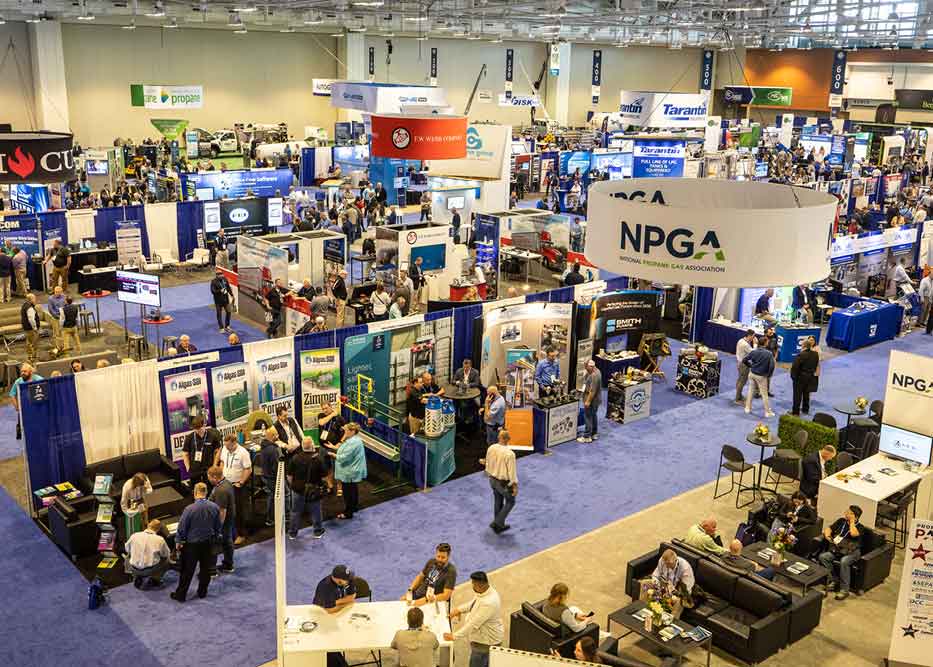 Show attendees converge upon Nashville for face time with industry colleagues
The National Propane Gas Association (NPGA) hosted more than 3,800 attendees and more than 210 exhibitors at the 2023 Southeastern Convention & International Propane Expo in Nashville, Tennessee, April 23-25.
This year marked the 75th anniversary of the Southeastern Expo, and with three quarters of a century under its belt, the show featured some of the industry's significant history interwoven with innovations and plans for how the propane sector can and will remain a viable energy solution on the path to decarbonization.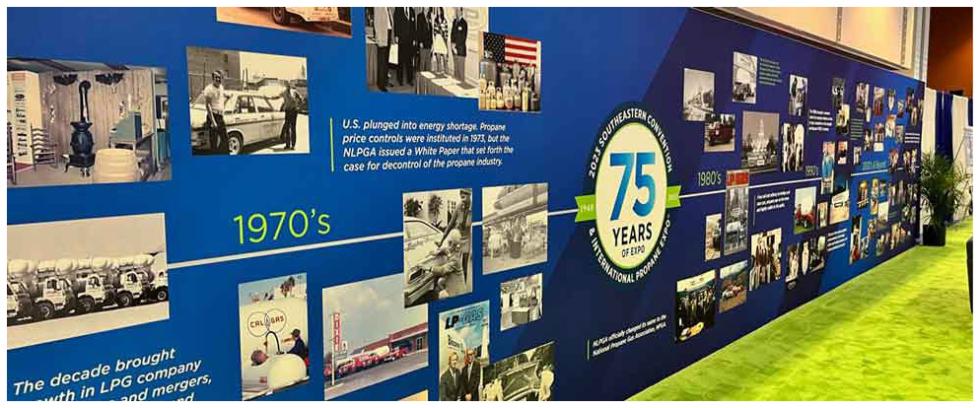 NPGA hosted "Lounge 1075," which featured a retrospective of the past seven decades of the industry to celebrate the show and recognize the industry's accomplishments. This exhibit included a 60-foot wall with historical photos and a display of vintage propane industry artifacts on loan from several exhibitors. Meanwhile, 40 educational sessions and workshops focused on topics like renewable propane and technological advances that can move the industry forward.
Steve Kaminski, NPGA president and CEO, opened the welcome session with updates on government regulations and how NPGA is handling bans and legislations that affect the industry. Kaminski also shared his thoughts on 75 years of the Southeastern Expo and how far the industry has come.
"If you look at where we've come in 75 years since Expo first started, it's incredible — advances in technology, in safety, in training and reliability, efficiency, infrastructure and innovation. Seventy-five years ago, President Truman was reelected. The World Health Organization was just formed. The Big Bang theory of the universe was first postulated. Orville Wright passed away, King Charles was born, World War II rations on propane had just been lifted, and propane sales hit 1.5 billion gallons. Today we're at nine."
Michelle Bimson Maggi, NPGA chair and vice president of law at AmeriGas, shared her thoughts on the industry's future.
"Now is the time to reflect on our wonderful history and at the same time look to the future to map out where we are going. I recently saw a quote that resonated with me about how we need to think about our future. 'Ordinary people believe only in the possible. Extraordinary people visualize not what is possible or probable, but rather what is impossible. And by visualizing the impossible, they begin to see what is possible.' … It is up to us to imagine the impossible so that we can make it possible."
Tucker Perkins, president and CEO of the Propane Education & Research Council (PERC), gave his update on where the industry is moving and how propane is being used in new and continuing avenues, such as in agricultural settings, in propane-powered engines, and in meeting the demand for heating homes with an energy-efficient and affordable fuel. According to Perkins, it's all about innovation.
"We have to continue to innovate. … The path to innovation is a critical part of our journey as we move to a modern world. … We get there with renewable propane."
The 2024 Southeastern Expo will take place April 5-7 at the Charlotte Convention Center in Charlotte, North Carolina. We look forward to seeing you in Charlotte next year!
Heard From the Trade Show Floor
Curious what your fellow industry colleagues took away from the show? Below, hear from three industry veterans — Lauren Abbl, producer at PT Risk Management Insurance Services; Joe Montroy, vice president of sales at Bergquist Inc.; and Scott Slocum, director of marketing and training at Propane Resources — on hot topics at the show, their biggest takeaways from the experience and where they think the industry will be in the next 75 years.
Where do you hope to see the industry — and the expo — go in the next 75 years?
Abbl: It's my hope that the expo continues to flourish. I know sometimes it's hard to find time out of the office or to justify costs to attend or exhibit, but there is just no substitution for face-to-face interaction. If the propane marketers continue to attend and are ready to do business, the exhibitors will continue to come to market with anything and everything they might be looking for!
Montroy: It would be exciting to see more ways for marketers to provide total energy solutions to our customers, as well as opportunities to promote our clean energy message.
Slocum: The industry should increase its top-of-mind presence in the United States as one of the best and cleanest sources of energy, and the expo (and NPGA and PERC) must remain in the forefront of helping marketers and consumers to understand and appreciate propane's undervalued advantages.
What element of the expo did you find the most valuable?
Abbl: As an exhibitor, of course it was the trade show!
Montroy: I'll pick two areas: Showcasing and discussing new equipment provided us with a lot of great opportunities. And networking with all of our industry friends is always a great learning experience for us.
Slocum: Spending quality time with serious propane business owners and operators provided the most value and insight into present-day issues and solutions.
Was there a session you attended that was of particular interest to you?
Abbl: I always enjoy the sessions hosted by the Women in Propane council. They do such a great job of migrating away from the technical "nuts and bolts" of propane and focusing on great leadership topics. I think these are some of the most underrated sessions that are offered!
Montroy: The renewable propane session was informative. Renewable propane is an incredible asset for all of us on our path to zero emissions.
Slocum: My meeting with the Leadership in Energy Ambassadors put me in contact with the thought leaders within the industry and highlighted some best practices for getting out the "propane = clean energy" story.
What were the hottest topics of conversation at the expo?
Abbl: I heard a lot about the qualified labor shortage. It's something that seems to be a staple topic at all the different state and regional shows that I've attended over the past couple of years.
Montroy: Smart meters and reinforced thermoplastic pipe. It seemed like everyone wanted to learn more about the products.
Slocum: My conversations with operators uncovered great interest in using technology to better serve the customer base, with tank monitors and improved hardware for efficient deployment of personnel and rolling stock.
What was your biggest takeaway from the experience?
Abbl: You never know who you're going to see or where you might see them, so always be on your game!
Montroy: Our industry faces a huge challenge from the 'electrify everything' movement. We need to continue showing the public and government officials that propane is a great solution to affordably reduce carbon emissions right now.
Slocum: The technology is really moving the propane industry forward. Rather than be concerned about public misconceptions around a fossil fuel-based energy source, the increased efficiencies and forward-looking attitudes are encouraging.
What are you looking forward to at next year's expo?
Abbl: I'm hoping that the issues plaguing our industry start to ease up. And secretly, I hope that a whole lot of propane marketers need insurance for their businesses. LOL!
Montroy: Seeing even more of our industry friends and partners in Charlotte.
Slocum: I'd like to see more demonstrations and data on the combined heating and power opportunities, as well as those in renewable propane.
What was your favorite experience in Nashville?
Abbl: Nashville is always a good time. As one of my customers told me, 'You have to try pretty hard to not have fun in Nashville!'
Montroy: Spending time with our friends in the industry.
Slocum: The expo itself provided my favorite experiences, with the chance to share opinions and industry trends with people from across the globe.