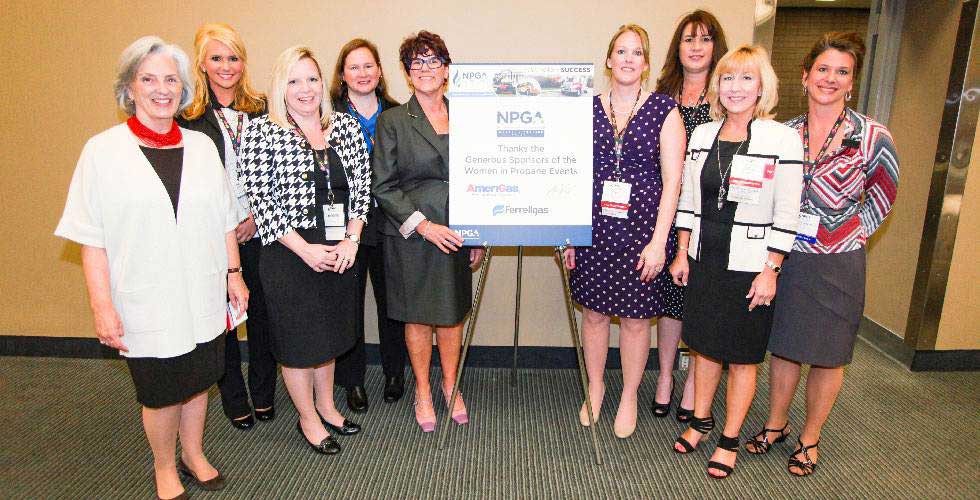 Female industry leadership discusses the importance of member involvement & a unified message in promoting diversity
These days, diversity is a business buzzword no matter what industry you're in, and it's gaining traction in propane, too. The increasing discussions around diversity are necessary and beneficial to the industry, but what a good number of companies get wrong — in every industry — is the direct follow-up to creating a diverse working environment: creating an inclusive one, too. And it's not just a follow-up. Sometimes one of the biggest factors holding a company back is the lack of a welcoming and inclusive company culture for all employees.
The National Propane Gas Association's (NPGA) Women in Propane (WIP) Council was founded to tackle just that — assist members of the propane industry (both men and women) by providing a supportive community founded in promoting diversity AND inclusion (D&I). According to Nancy Coop, founding chair of the council and current marketing director of Cetane Associates, the conversations that brought about the founding of the council were started by Tom Jaenicke, who mentioned he had noticed similar organizations in other industries and there was a need for one in propane.
Members of NPGA, including Jaenicke and Coop, worked together to form a steering committee to help formulate the group's mission and how it would operate within NPGA. In 2012, the national board of directors approved the creation of the association's third business council: the NPGA Women in Propane Council.
"It was — and is — a business council," Coop said. "That spring, we had our first meeting, which was a roundtable session in Atlanta, Georgia. All of us that came together at that meeting decided then what we wanted the council to be. [Attendees] were very clear. They wanted training, connectivity, a forum for their voices to be heard and resources to help them advance their careers. And they had many and specific ideas."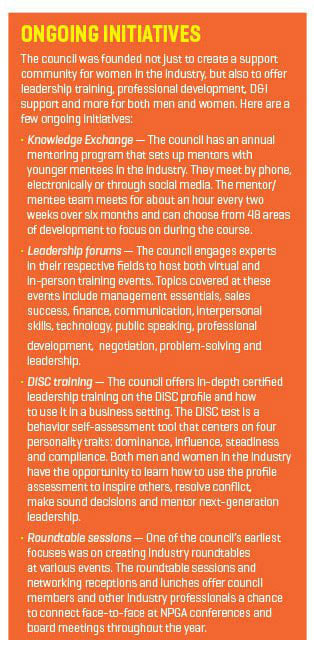 Nancy and the rest of the founding members compiled those ideas and figured out what was feasible for the board to achieve. Some of those original ideas are still ongoing initiatives that have proven their value over and over again. The council's mission — to inspire industry leaders through training, development and collaboration — is lived out through its various programs (see sidebar image).
The council's governance includes a volunteer executive board, committee leaders and the council's members. Meetings are held throughout the year via Zoom to manage council initiatives, progress and general business. Memberships are available on an individual or corporate level. The council has had up to 1,000 members at one time or another, but currently has around 500 members. Industry leader Amerigas has been a frontrunner in terms of corporate involvement in the council. Jennifer Jackson, current chair of the council and region director with Amerigas, said UGI Corporation and Amerigas have prioritized D&I across its organization, so its involvement in the council is just the next step in the right direction.
"They understand how important it is to the success of the company, and they are consistently working to put policy and action in place to achieve their goals," Jackson said. "We are an organization that truly appreciates the talent that we have and invests in our people to build development and create career opportunities."
"Numerous studies show gender-diverse boards have improved company performance. Historically, our industry has had extremely low percentages of women, especially in key leadership positions. This is an incredible industry for women, and it's important that we share that message," Jackson said.
Coop agreed, saying that while the industry is quick to adopt some progressive trends, it can be slow in welcoming others. "I think it was a benefit, though, for this council to be coming of age when the entire nation was becoming more aware of the need for D&I in the workplace," Coop said.
This year, the council has shifted its focus slightly from growing membership at a national level to connecting with members first on a state and local level. The council launched an Association Engagement Committee, which Jackson said will be crucial in bridging the gap of communication to the industry's state associations and increasing involvement and leadership opportunities.
The state-level involvement strategy has been a topic of conversation for the council's board for a few years now, but never gained traction. In early 2021, Leslie Anderson, president of the Propane Gas Association of New England and a member of the council, volunteered to bring the conversation to her state meetings, saying that the move would be a win-win for the council and both the national and state associations.
By creating a community at the state level for women, NPGA would see increased involvement at national meetings as well, according to Anderson.
According to Coop, the model for this initiative started with the Western Propane Gas Association (WPGA) board meetings. Coop had started requesting time to discuss the new council, and, next thing she knew, people from WPGA were coming to events and joining the council. "That's what we see happening across the country," Coop said. The council is currently recruiting state ambassadors who will spread the council's message throughout the industry.
"They are responding positively and see the value of Women in Propane programming for their own members. At this early stage, there are some state leaders who are already putting Women in Propane presentations on their agendas," Jackson said.
Laurie Irish Jones, CEO of Irish Welding and Irish Propane, past president of the New York State Propane and Gas Association, and current executive board member of the council, said the states have the ability to reach out to all potential employees in the industry. "This in and of itself will further D&I in our industry. When you have training for all types of positions available, this gives many opportunities for the individual to seek out their best career path with no limits," Jones said.
At the end of the day, the goal of the state-level involvement initiative is the same as the overall goals of the council: to increase D&I on an industry-wide level.
"We need to make a concerted effort to look at all positions in our industry and have the mindset that women can be truck drivers, technicians, CEOs, etc. We have seen movement in this regard, but we need a conscious effort and priority to make it happen," Jones said.
Interested in getting involved? Email wip@npga.org with questions or visit NPGA's website to learn more.